THE CASTLE RADOSNO, THE REMAINS OF THE TOWER OF THE LAST DEFENSE
---
here is no certainty regarding the time of the construction and the founder of the sto­ne cas­tle in Ryb­ni­ca Les­na. This in­vest­ment is ge­ne­ral­ly con­nec­ted with Bolko I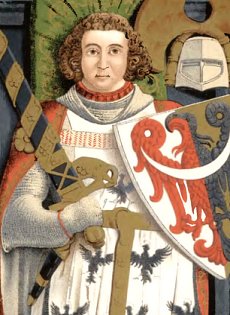 (+1301), Duke of Swid­ni­ca and Ja­wor, al­though ac­cor­ding to some historians this region in the first half of the 14th century be­lon­ged to the Lu­xem­bourg go­vern­ment, and the for­tress was built by the Czechs as a counterbalance to the ne­ar­by Ro­go­wiec for­tress be­lon­ging to the Si­le­sian principality. In 1350 the castle, mentioned as Vredinberg das Haus, be­ca­me, to­get­her with the as­so­cia­ted es­ta­tes: Mieroszow, Unislaw Slaski, Golinsko, Rozana, Kowalowa and So­ko­low­sko, a knight­ly fief that was u­sed by Mer­tin von Schwenkfeld. Later, in 1355, it belonged to brothers Reyncz, Han­nos and Je­ri­slav von Schwenk­feld, who ha­ve been ac­cu­sed by some sources of rogue activity, and as a re­sult the for­tress was to be ta­ken a­way from them by the ro­yal ar­my. In the following year, Hersco de Roz­dia­lo­wicz bought it as a he­re­di­ta­ry fief for 140,000 gros­chen, but the ti­me of his reign at the cas­tle could not be long, be­cau­se al­re­a­dy in 1359 the dis­cus­sed ter­ri­to­ry was incorporated into the Duchy of Swidnica ruled by Bolko II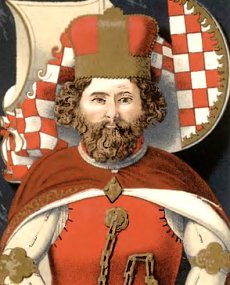 , and after his death in 1369 - to his wife Agnieszka (+1392). At that time the Radosno bur­gra­ve was al­re­a­dy the bis­hop of Wroc­law, Precz­law von Po­ga­rell (+1376). In 1388, Heinrich von Rechenberg be­ca­me the ow­ner of the fief with Fes­ten Frew­den­berg, then planned the rebuilding of the castle, and perhaps even car­ried out its re­a­li­za­tion, as evi­den­ced by the pro­vis­ions gua­ran­te­eing the re­im­bur­se­ment of costs in­cur­red, which we­re pro­bab­ly the re­sult of the fa­mi­ly's spe­cial me­rits and the du­chess's ca­re for the for­tress.
THE TOWER ON THE T. BLATTENBAUER'S DRAWING FROM AROUND 1885
fter the death of Ag­niesz­ka in 1392, the cas­tle and the who­le Swid­ni­ca-Ja­wor Prin­ci­pa­li­ty be­ca­me the pro­per­ty of Czech ru­lers and sin­ce then it has chan­ged ow­ners se­ve­ral ti­mes. Du­ring the Hus­si­te wars it was be­sie­ged at least twi­ce (1427, 1434), but it is not known whe­ther the at­tac­kers suc­cee­ded in ca­ptu­ring it. As a re­sult of the po­li­ti­cal chaos pre­vai­ling in Si­le­sia and the we­a­ke­ning of cen­tral po­wer cau­sed by the de­vas­ta­ting re­li­gious con­flicts, the ow­ners of Ra­dos­no, as well as the ad­mi­ni­stra­tors of ma­ny ot­her su­de­tian strong­holds, en­te­red the cri­mi­nal rou­te by sup­por­ting them­selves from at­tacks on mer­chants and lo­cal pe­ople. Their ac­ti­vi­ty did not re­main un­an­swe­red and al­re­a­dy in 1443 one of the re­ta­lia­to­ry ex­pe­di­tions or­ga­ni­zed by the Wro­claw burg­hers con­que­red the cas­tle and then par­tial­ly de­stro­yed it. Ho­we­ver, it was re­built be­fo­re 1466 by brot­hers Hans and Ni­ko­laus von Schel­len­dorf, who con­ti­nu­ed a rogue' 'tra­di­tions' of the pre­vious in­ha­bi­tants. Fi­nal­ly, in 1497, by or­der of the King of Bo­he­mia Wla­dys­law Ja­giel­lon­czyk
(+1516), the sta­rost Georg von Stein (+1497) in­va­ded the for­tress, con­que­red it and or­de­red the de­mo­li­tion of the cas­tle walls. Sin­ce then, Ra­dos­no has re­main­ed in ruins.
| | |
| --- | --- |
| | |
---
| | |
| --- | --- |
| | |
ARCHIVAL PHOTOGRAPHS OF THE CASTLE RADOSNO, IN THE UPPER LINE A MEMORIAL POSTCARD FROM 1902 AND A PHOTOGRAPH FROM 1920
AT THE BOTTOM A PHOTO FROM THE 30s XX CENTURY AND A WINTER VIEW SHOWING THE CONDITION OF THE TOWER IN THE 60s
---
lthough the castle was first men­tio­ned in the mid­dle of the 14th cen­tu­ry, it seems hig­hly pro­ba­ble that the ol­dest part of the cas­tle was built a­round 1300 or e­ven ear­lier. The ori­gi­nal for­ti­fi­ca­tion con­sis­ted of a cy­lin­dri­cal to­wer, 8 me­tres in dia­me­ter and un­known height, sur­roun­ded by woo­den and ground for­ti­fi­ca­tions, with an en­tran­ce at a height of 4 me­tres a­bove ground le­vel. Con­struc­ted from the lo­cal me­lap­hyr, the buil­ding oc­cu­pied the high­est, south­east­ern part of the hill, on which in the 14th cen­tu­ry a re­si­den­tial hou­se was built on a rec­tan­gu­lar plan with di­men­sions of 9.5 x 10.5 me­ters, and de­fen­si­ve walls for­ming a for­ti­fied cir­cuit of 30 x 17 me­ters with an court­yard a­bout 300 squa­re me­ters. Ac­cess to it was pro­tec­ted by a 6-me­tre squa­re-sha­ped ga­te to­wer in­te­gra­ted in­to the north-wes­tern sec­tion of the walls, and 3 to 7-me­tre wi­de and 4-me­tre deep mo­ats. The eco­no­mic func­tions of the cas­tle we­re per­for­med by a re­la­ti­ve­ly small su­burbs lo­ca­ted in the south­ern part of the pla­te­au, who­se a­rea did not ex­ceed 250 squa­re me­ters.
PLAN OF THE CASTLE IN THE MIDDLE AGES ACCORDING TO R. MRUCZEK: 1. CYLINDRICAL TOWER, 2. RESIDENTIAL BUILDING, 3. GATE TOWER
---
RECONSTRUCTION OF A CASTLE FROM THE XIV CENTURY ACCORDING TO R. MRUCZEK
---
he ruins of the tower, about 12 me­ters high, as well as the re­cen­tly un­co­ve­red mo­dest re­mains of a re­si­den­tial buil­ding in the north-wes­tern part of the for­mer de­fen­si­ve com­plex ha­ve sur­vi­ved to this day. Ac­cess to the cas­tle is un­li­mi­ted re­gard­less of the ti­me of day or year. Ho­we­ver, due to the sys­te­ma­ti­cal­ly de­te­rio­ra­ting con­dit­ion of the un­su­per­vi­sed ruins, one should be ve­ry ca­re­ful when ap­pro­aching the to­wer, as the­re is a risk of ac­ci­dent cau­sed by fal­ling sto­nes. It is al­so worth put­ting high shoes on your feet, be­cau­se you can meet a zig­zag vi­per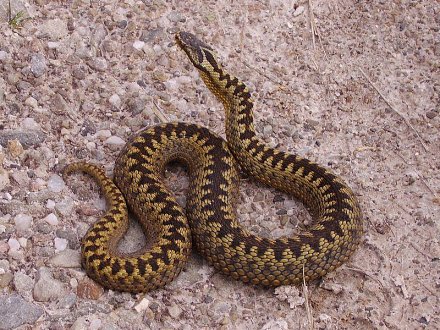 in the sur­roun­ding me­a­dows.
CASTLE RADOSNO: EASTERN PERSPECTIVE ON THE LEFT, WESTERN PERSPECTIVE ON THE RIGHT WITH THE REMAINS OF THE BUILDINGS IN THE FOREGROUND
---
RELICS OF THE RESIDENTIAL BUILDING AND THE GATE TOWER IN THE WESTERN PART OF THE HILL
---
YOU CAN ALSO LOOK INTO THE TOWER, ALTHOUGH IT'S NOT VERY SAFE...
---
adosno Castle stands in the westernmost part of the nameless hill, at an al­ti­tu­de of about 770 m abo­ve sea le­vel. It is less than a ki­lo­me­ter from the tou­rist shel­ter An­drze­jow­ka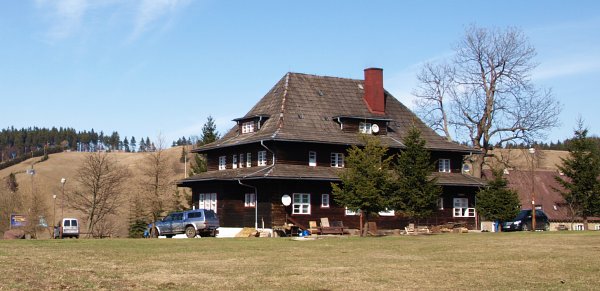 . To get the­re from the shel­ter, fol­low the green trail to the west and af­ter a few hun­dred me­tres chan­ge to the yel­low trail. Fur­ther on, the road leads to a hig­her and hig­her rid­ge straight to the cas­tle. Tho­se tra­vel­ling by train should get out at Wal­brzych Glow­ny rail­way sta­tion, from whe­re a 10 km long walk a­waits them. An al­ter­na­ti­ve to this health­iest form of tran­sport is the pu­blic tran­sport bus li­ne 12, which runs se­ve­ral ti­mes a day from Wal­brzych di­rect­ly to An­drze­jow­ka. The shel­ter can al­so be re­a­ched by car, ho­we­ver, due to the ne­ces­si­ty to pass through the quar­ry area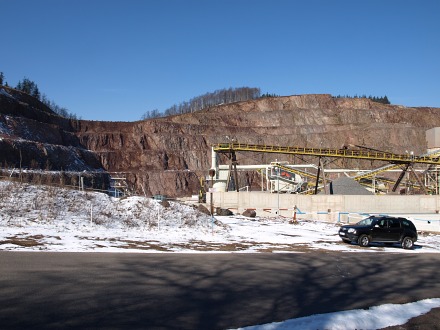 , in cer­tain hours the road may be clo­sed for sa­fe­ty re­a­sons. (map of cas­tles)
---
1. M. Chorowska: Rezydencje sredniowieczne na Slasku, OFPWW 2003
2. L. Kajzer, J. Salm, S. Kolodziejski: Leksykon zamkow w Polsce, Arkady 2001
3. R. Luczynski: Chronologia dziejow Dolnego Slaska, Atut 2006
VIEW OF THE RUINS FROM THE GREEN TRAIL LEADING TO SOKOLOWSKO
Castles nearby:
Grzmiaca - the ruins of a duke's castle Rogowiec XIIIw., 4 km
Walbrzych - the remains of castle Nowy Dwor XIVw., 9 km
Zagorze Sląakie - the ruins of a duke's castle Grodno XIV/XVIw., 18 km
Grzedy - the remains of a duke's castle Konradow XIVw., 20 km
Czarny Bor - the ruins of a duke's castle XIVw., 20 km

---
The Kamienne Mountains with the largest and most beautiful part of them called the Suche Mountains, in the heart of which stands the castle Radosno. This range is sometimes called "Sudeten Tatras" because of the steep and vio­len­tly sha­ped slo­pes and point­ed peaks, which are reflected in some of their names. The highest peak of the Su­che Moun­tains is the Wa­li­go­ra (934-936 m abo­ve sea le­vel) without tourist trails, rising above the pic­tu­res­que Three Val­leys Pass with the pre-war An­drze­jow­ka hos­tel built on it. Most of their surface is covered by artificially planted spruce forests in­ha­bi­ted by mouf­flons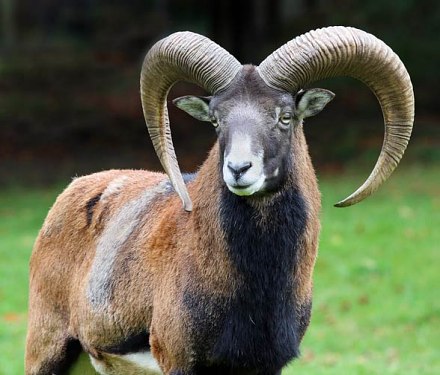 , which I had the ple­a­su­re to meet he­re my­self. In the western part of this mountain range the pic­tu­res­que town of So­ko­low­sko (Ger. Gor­ber­sdorf), which in the 19th cen­tu­ry enjoyed great fame as the first tuberculosis sa­na­to­rium in the world, in which a ski jum­ping hill was built and which was not accidentally called "Silesian Davos". Where Tytus Cha­lu­bin­ski hos­ted and Krzysz­tof Kies­low­ski spent his child­hood. Today there is little left of this splendour and al­though the town no­wa­days looks li­ke a half-dead, so­me­ti­mes even repulsive, devastating architecture of old pavilions, a neglected spa park and the com­mon at­mos­phe­re of the com­mu­nist era of de­ge­ne­ra­tion at its worst, it is hard to resist the charm of So­ko­low­sko, which still gi­ves ho­pe that its col­lap­se is not de­fi­ni­ti­ve. When considering the monuments, it is also worth to mention one of the ol­dest wood­en tem­ples in the Su­de­tes, the 16th century church of St. Jadwiga of Silesia in Rybnica Lesna. It is ac­com­pa­nied by a 400-year-old wood­en bel­fry, and the whole is well visible from the road leading to Andrzejowka.
In the photographs from above and from left: 1. Fragment of the green trail on the way to Sokolowsko, 2. View from the green trail to St. Mi­cha­el's Ar­chan­gel Orthodox Church in Sokolowsko, 3. Panorama of Sokolowsko, 4. Green trail from Andrzejowka to Ra­dos­no cas­tle, 5. An­drze­jow­ka on the Three Val­leys Pass, 6. The yellow trail on way to the ruins of the castle (author in the photo), 7. St. Jad­wi­ga of Si­le­sia Church in Ryb­ni­ca Les­na, 8. St. Mi­cha­el the Archangel Orthodox Church in Sokolowsko, 9. Street­view of So­ko­low­sko
---
tekst: 2019
fotografie: 2012, 2014
© Jacek Bednarek