RUINS OF SZCZERBA CASTLE, VIEW FROM THE NORTHEAST
---
H
is­to­ry of the cas­tle re­mains a mys­tery to a large ex­tent, as few source doc­u­ments have been pre­served about it. The founder of the cas­tle and the time when it was erect­ed is al­so un­known. Ac­cord­ing to leg­ends, al­ready dur­ing the reign of pol­ish king Bo­le­sław Chro­bry there was a small wood­en strong­hold here, but so far such ori­gin has not been con­firmed in ar­chae­o­log­i­cal re­search and is on­ly a free in­ter­pre­ta­tion with no greater his­tor­i­cal val­ue. It is known, how­ev­er, that in 1294 the Czech king Wen­ce­slas II
do­nat­ed the land near Mię­dzy­le­sie with some cas­tle to Cis­ter­cian Or­der from Ka­mie­niec, and that the cas­tle was de­stroyed in 1318. We al­so know that in 1358 the own­er of the lo­cal es­tate was Ot­to Schu­ler (d. 1397), son of knight Ot­to Glau­bicz (Głę­bisz, Glu­bos, Glu­bocz, von Glaub­itz), who was first men­tioned in 1318, and in 1323 list­ed as the land­lord of Mię­dzy­le­sie. The Glaub­itz fam­i­ly prob­a­bly re­ceived the prop­er­ty at the be­gin­ning of 14th cen­tu­ry, short­ly af­ter King of Bo­hemia Jo­hann von Lux­em­burg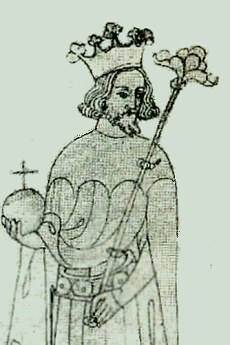 took over the Kłodz­ko area. Lit­er­a­ture is dom­i­nat­ed by opin­ion that the brick cas­tle was built on the ini­tia­tive of one of rep­re­sen­ta­tives of this knight­ly fam­i­ly, and its lo­ca­tion was close­ly re­lat­ed to the need to con­trol the trade route lead­ing from Prag­ue to Kłodz­ko. It al­so served as a cen­ter of feu­dal pow­er over the so-called Śnie­lin State, cov­er­ing part of the By­strzy­ck­ie Moun­tains, the area around Mię­dzy­le­sie and the west­ern slopes of the Snie­żnik Mas­sif. Per­haps the ad­min­is­tra­tors of Mię­dzy­le­sie re­gion's es­tates al­so resid­ed here.
HISTORICAL NAMES OF THE CASTLE

Śnielin ?, Śnielinek ?
Snellinsteyn (1360), Snellenstein (1393), Snellinstein (1404), Schnellinstein (1408)
Snallstein (1411), Snallsteyn (1415), Schnellenstein (1416), Snallenstein (1417)
Snalstein (1421), Schnalenstein (1428), Zamek Wacława (1947), Szczerba (1950)

WOODCUT PRINTING ACCORDING TO T. BLATTERBAUER, F. SCHROLLER SCHLESIEN, 1885
U
nder the rule of von Glaub­itz fam­i­ly (Nick­las d. 1411, Bern­hardt d. 1428), the cas­tle prob­a­bly re­mained un­til the third decade of the 15th cen­tu­ry, al­though some sources sug­gest that it may have been leased for some time by rep­re­sen­ta­tives of En­gel­hardt von Schnel­len­stein fam­i­ly. The end of the build­ing was pre­sum­ably re­lat­ed to the out­break of Hus­site re­li­gious war in Bo­hemia - it was prob­a­bly de­stroyed by Czech Hus­sites in Oc­to­ber 1428. In 1433, a note ap­pears about Bern­hardt, lord of Szczer­ba (prob­a­bly Bern­hardt von Glaub­itz, starost of Kłodz­ko), who was sup­pos­ed­ly al­ready dead by then. Since then, role of the strong­hold as the seat of land­lords was lim­it­ed and even if it was part­ly re­built, these in­vest­ments were rather aimed at adapt­ing to per­form cer­tain aux­il­iary func­tions. How­ev­er, the cas­tle was still for­mal­ly a feu­dal ti­tle, re­main­ing the nom­i­nal cen­ter of Śnie­lin State. Af­ter 1428 it was for some time in the hands of the may­ors of near­by Gnie­wo­szów (the sur­name En­gel­hardt ap­pears here again), and from 1491 it be­longed to Paul Pre­bir. In 1538 the land was leased to von Tschirn­haus fam­i­ly, and in the 17th cen­tu­ry it be­came the hered­i­tary prop­er­ty of Counts von Al­thann of Mię­dzy­le­sie, Wil­ka­nów and Roz­to­ka. At that time the cas­tle was al­ready a ru­in, par­tial­ly de­stroyed in the 16th cen­tu­ry for the pur­pose of build­ing a church in Gnie­wo­szów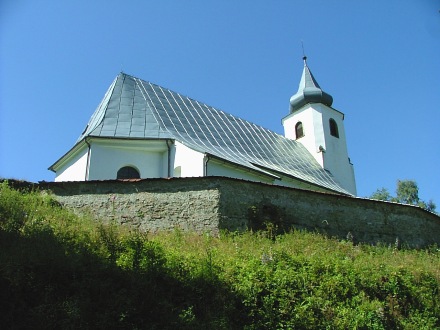 . Its dev­as­ta­tion was deep­ened by con­struc­tion of a brew­ery in the near­by vil­lage of Różan­ka, for the pur­pose of which the en­tire north­ern part of the cas­tle was de­mol­ished in 1769-70.
DURING THE SPRING-SUMMER SEASON, THE RUIN IS HIDDEN BEHIND THE PLANTS, A PICTURE TAKEN IN EARLY SPRING
I
n 1784 Szczer­ba and sur­round­ing es­tates were bought by Michael Ray­mund, Baron Still­fried und Rat­tonitz of No­wa Ru­da (d. 1796), and then bought from Ray­mund's heirs by Count An­ton Alex­an­der von Mag­nis
of Boż­ków (d. 1817). In 1838, the plot of land with the ru­ins of the fortress be­came the prop­er­ty of Ma­rian­na Orań­ska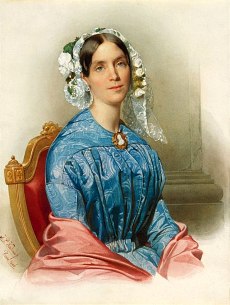 (d. 1883), Duch­ess von Preus­sen of Ka­mie­niec, and lat­er, un­til 1945, it be­longed to her de­scen­dants, the Ho­hen­zollern side line. In years 1986-96 ar­chae­o­log­i­cal re­search was car­ried out in the cas­tle, as a re­sult of which the orig­i­nal out­line of the walls was made clear­er and the stages of its func­tion­ing were de­fined more pre­cise­ly. These works abound­ed in dis­cov­er­ies of many valu­able ar­ti­facts, in­clud­ing sev­er­al hun­dred frag­ments of me­die­val armour and buck­les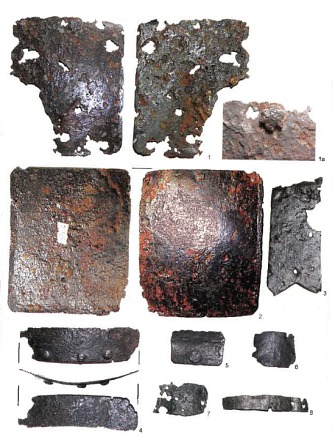 . The largest con­cen­tra­tion of these items near the cas­tle gate in­di­cates that they may have be­longed to par­tic­i­pants of the bat­tle of 1428. To­day all this col­lec­tion is stored in Ar­chae­o­log­i­cal Mu­se­um in Wro­cław.
| | |
| --- | --- |
| | |
FRAGMENT OF THE NORTHERN WALL WITH A WICKET GATE ON GERMAN POSTCARDS FROM THE 1930S
One of the lo­cal leg­ends tells about the daugh­ter of Wild John, who gained very bad rep­u­ta­tion as the ad­min­is­tra­tor of Szczer­ba Cas­tle. This knight, hat­ed by sub­jects for his cru­el­ty, was cursed, as a re­sult of which nei­ther he nor his clos­est fam­i­ly could have peace af­ter death. Many years lat­er, one sum­mer's day, to a poor peas­ant from the vil­lage of Ró­żan­ka, a phan­tom of that Jan's daugh­ter ap­peared, ask­ing him to pray in a near­by con­vent for her cursed soul. Such a prayer could free her from the curse. Pro­vid­ed, how­ev­er, that the pray­ing man is a thor­ough­ly hon­est man, who ab­hors ly­ing and steal­ing. Full of good in­ten­tions vil­lager prayed for the la­dy, but com­ing back from the church he ate berries grow­ing in the for­est, prob­a­bly think­ing that they were no­body's prop­er­ty. How­ev­er, it turned out that the for­est, and thus berries, be­longed to the lords of Mię­dzy­le­sie. So the con­di­tion was not ful­filled and the beau­ti­ful daugh­ter of Wild John still wan­ders among the cas­tle ru­ins guard­ing her fa­ther's trea­sures. Hid­den un­der­ground, she guards bar­rels of valu­ables that on­ly a pi­ous and thor­ough­ly hon­est man can find. And naive still be­lieves that such some­one ex­ists...
| | |
| --- | --- |
| | |
SZCZERBA CASTLE TODAY: (ON THE LEFT) FRAGMENT OF SOUTHERN CURTAIN, STAIRS LEADING TO THE GATE IN NORTHERN PART OF THE CASTLE
---
T
he cas­tle was built on a rocky gneiss hill, closed from the north by Głow­nia small riv­er and from the south by Go­ło­do­wnik stream. It was built of stone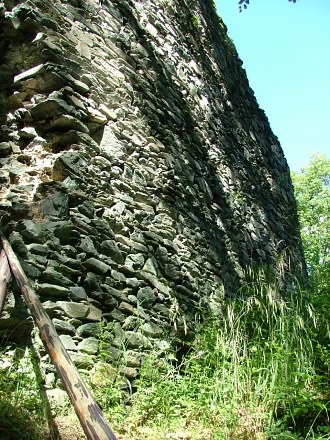 , on ir­reg­u­lar plan sim­i­lar to an oval, straight cut from the west and with a small tri­an­gu­lar pro­tru­sion from the north. Its out­line is de­ter­mined by de­fen­sive walls
mea­sur­ing up to one and a half me­ters thick, which orig­i­nal length was over a hun­dred me­ters. They closed an in­ter­nal court­yard mea­sur­ing 40x10-18 me­ters, filled in the north­ern part with quadri­lat­er­al res­i­den­tial build­ing. This house, mea­sur­ing 9.5 x 19.5 me­ters, con­sist­ed of two storeys, where one or two small rooms were lo­cat­ed on the ground floor, and a larg­er (prob­a­bly rep­re­sen­ta­tive) cham­ber equipped with a hypocaus­tum oven. The out­build­ings, such as sta­bles, crew quar­ters and kitchen, were prob­a­bly con­cen­trat­ed in the south­ern part of the cas­tle court­yard. An open ques­tion is the ex­is­tence of a free-stand­ing tow­er in the cas­tle, men­tioned in some stud­ies as an in­te­gral part of the stronghold, but traces of which have not been found so far. The en­trance to the court­yard led from the west through a wide gate lo­cat­ed close to the res­i­den­tial build­ing, in the north­ern wall there was al­so nar­row pe­des­trian gate
. From the south, south­west and west, the de­fense of the cas­tle was sup­port­ed by deep, forged in the rock dry moat.
MEDIEVAL CASTLE PLAN ACCORDING TO C. FRANCKE: 1. COURTYARD, 2. RESIDENTIAL BUILDING, 3. OVEN, 4. MAIN GATE, 5. WICKET GATE
BIRD'S-EYE VIEW TO THE WESTERN PART OF COURTYARD, ON THE RIGHT SIDE YOU CAN SEE RUINS OF RESIDENTIAL BUILDING
---
D
ur­ing ar­chae­o­log­i­cal re­search car­ried out at the end of the last cen­tu­ry, frag­ments of walls were dis­cov­ered, thanks to which the cas­tle is to­day a clear­ly vis­i­ble ru­in with most­ly pre­served stone cir­cuit
, whose cur­rent height re­aches 9 me­ters. In the court­yard
, one can see de­bris of the cel­lars and low­er floors of res­i­den­tial build­ing with relics of vaults. A walk­ing path around the cas­tle was led along a dry moat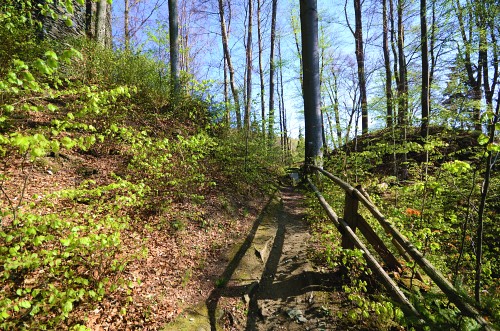 . The ad­mis­sion to the ru­ins is free.
| | |
| --- | --- |
| | There is a not too strenuous path leading to the ruins, just right even for a fat dachshund. The castle is located in the forest, so the dog should be kept on a leash. |
| | |
| --- | --- |
| | We fly very carefully over the ruin due to the large number of branches. Photographing from the sky makes sense only when the trees are devoid of leaves. |
VIEW FROM THE COURTYARD ON THE WALL IN EASTERN PART OF THE CASTLE, BELOW YOU CAN SEE THE WICKET GATE
---
P
ic­turesque, al­though hid­den in a for­est, ru­in is lo­cat­ed in the south­east­ern part of By­strzy­ck­ie Moun­tains, on the left side of the road lead­ing from Mię­dzy­le­sie to Gnie­wo­szów and a few hun­dred me­ters north from Ró­żan­ka vil­lage. You can on­ly get here di­rect­ly by pri­vate trans­port - even a small parking lot is avail­able for drivers. Peo­ple trav­el­ling by train should get off at Do­masz­ków sta­tion and walk 4 kilo­me­ters along the pic­tures­que but steep road, which is the be­gin­ning of so-called Su­dec­ka High­way, stretch­ing through By­strzy­ck­ie Moun­tains up to Zie­le­niec. I es­pe­cial­ly rec­om­mend this route to cyclists
- emo­tions guar­an­teed ;-) (map of castles)
---
1. L. Kajzer, J. Salm, S. Kołodziejski: Leksykon zamków w Polsce, Arkady 2001
2. J. Lamparska: Zamkowe tajemnice, Asia-Press 2009
3. M. Lech: Średniowieczna zbroja z zamku Szczerba, Acta Militaria Mediaevalia IV 2008
4. R. Łuczyński: Chronologia dziejów Dolnego Śląska, Atut 2006
5. A. Wagner: Murowane budowle obronne w Polsce X-XVIIw., Bellona 2019

TOURIST INFRASTRUCTURE IN THE IMMEDIATE VICINITY OF THE CASTLE
Castles nearby:
Międzylesie - castle and palace complex from 14th-18th century, 10 km
Bystrzyca Kłodzka - residential tower from 14th century, 16 km
Gorzanów - Renaissance castle from 16th-17th century, 24 km
Żelazno - residential tower from 15th-16th century, 24 km
Stara Łomnica - residential tower from 14th-16th century, 26 km

text: 2007, 2020
photographs: 2007, 2019
© Jacek Bednarek