CASTLE RUIN IN STARA KAMIENICA, 2019
---
mong his­tor­ians and re­se­ar­chers of the Lo­wer Si­les­ian past, the­re is an o­pi­nion that in the pla­ce whe­re the re­mains of an old sto­ne fort­ress are lo­ca­ted to­day, one of the for­ti­fied set­tle­ments de­fen­ding the Si­les­ian-Czech or Czech-Sa­xon bor­der may ha­ve exis­ted al­re­a­dy in the 11th or 12th cen­tu­ry. Pre­su­ma­bly at the be­gin­ning of the 13th cen­tu­ry, the set­tle­ment was trans­for­med in­to a wood­en-earth cas­tle for the needs of Prin­ce Hen­ry the Pious, and then han­ded o­ver by Bo­les­law II Ro­gat­ka as a he­re­di­ta­ry fief to­get­her with the vil­la­ge of Chem­ni­ce and se­ven fields of land to the cas­tel­lan Si­bot­ho Schof, al­le­ged­ly the pro­to­plasm of the ex­cel­lent and migh­ty fa­mi­ly of Si­les­ian knights von Schaff­gotsch. Al­though the no­te a­bout the act of gran­ting sig­ned on 30 De­cem­ber 1242 co­mes from a coun­ter­feit, it does not af­fect the cre­di­bi­li­ty of the fact of han­ding o­ver the fort­ress.
---
Accor­ding to the ol­dest pre­ser­ved sour­ce writ­ten in the first half of the 13th cen­tu­ry the vil­la­ge was na­med Chem­ni­ce (1242). In the sa­me cen­tu­ry, the term was con­ver­ted in­to the form of the Kem­nitz (1297), and through­out the 14th cen­tu­ry it con­ti­nu­ed to e­vol­ve. The na­mes co­me from this per­iod: Kemp­nitz (1305), Kem­nicz, Kem­me­nicz, Ka­me­necz,(1370), and e­ven Kemp­nicz Su­per­ior (1384). In 1446 the vil­la­ge was des­cri­bed as Gross Kem­nitz, and the first ti­me it was men­tio­ned as "old" was in 1765 when Alt Kem­nitz was u­sed. In the 19th cen­tu­ry we meet Ger­man Chem­nitz (1825), Sla­vic Ka­me­ni­ca (1845) and Ka­mie­niec (1900). The cur­rent na­me has been in use sin­ce 1946.
---
THE OLDEST PRESERVED VIEW OF THE CASTLE IN STARA KAMIENICA MADE SEVERAL YEARS BEFORE THE GREAT FIRE
F. B. WERNHER TOPOGRAPHIA SILESIAE 1744-68
nly Jo­han­nes Hein­ze and Ul­rich Schoff, and la­ter Got­sche Schoff I (+ ca. 1380) are known from the ear­ly suc­ces­sors of Si­bot­ho Schof. The son of the lat­ter, Got­sche Schoff II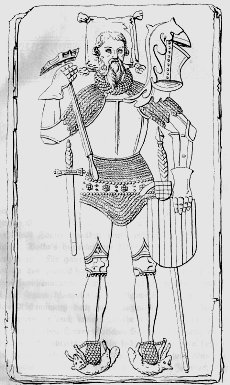 (+1419), a mem­ber of the ba­rons' coun­cil to the Czech king, ow­ner of Cie­pli­ce and the for­ti­fied cast­le Chojnik, con­tri­bu­ted gre­at­ly to buil­ding the po­wer of the fa­mi­ly and its great wealth. On the wa­ve of po­pu­la­ri­ty of his na­me, his sons ad­ded the na­me Got­sche to the exis­ting seg­ment and from then they na­med Schaff­gotsch. The vil­la­ge of Ka­mie­ni­ca was in­he­ri­ted by the son of Got­sche Schoff II and An­na von Ber­ka Hen­ryk, who la­ter han­ded it o­ver to the grand­son of his great an­ces­tor Jo­han­nes Schaff­gotsch (+1480). At the end of his li­fe, Jo­han­nes wro­te the vil­la­ge and the cas­tle in his will to his sons Hen­ryk (+1500) and Pe­ter (+1503), who died ear­ly, but did not ha­ve any off­spring, and with their death at the be­gin­ning of the 16th cen­tu­ry the li­ne of the fa­mi­ly ex­tin­guis­hed. As a re­sult, Sta­ra Ka­mie­ni­ca be­ca­me the pro­per­ty of the Fisch­ba­chers, but this sta­te did not last long, be­cau­se al­re­a­dy a­round 1550 the vil­la­ge be­ca­me the pro­per­ty of Kas­par von Schaff­gotsch (+1573), son of the ad­mi­nis­tra­tor of the Du­chy of Swid­ni­ca and Ja­wor. He was the foun­der of the great re­con­struc­tion of the cas­tle, as a re­sult of which it lost his raw Got­hic forms in fa­vour of a Re­nais­san­ce pre­sen­ce con­si­de­red by his con­tem­po­ra­ries to be one of the gre­a­test in the Je­le­nia Gó­ra Val­ley. Af­ter Kas­par's death, the es­ta­te was ta­ken o­ver by his nep­hew Chris­toph (+1601), fol­low­ed by Hans Ul­rich von Schaff­gotsch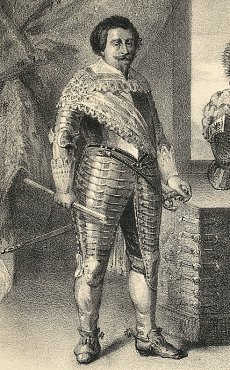 (+1635), a tra­gic fi­gu­re of fu­tu­re e­vents at the court of Em­pe­ror Fer­di­nand
.
| | |
| --- | --- |
| | |
THE RUINS OF THE CASTLE TOWER ON THE DRAWINGS FROM THE BEGINNING OF THE XX CENTURY
---
In Decem­ber 1615 Bern­hard von Schaff­gotsch, a cou­sin of the ow­ner of the lo­cal es­ta­te - Hans Ul­rich, vi­si­ted the cas­tle in Sta­ra Ka­mie­ni­ca. The two young men, al­though their so­cial sta­tus was dif­fe­rent, stu­died to­get­her at se­ve­ral uni­ver­si­ties and tra­vel­led ex­ten­si­ve­ly across Eu­ro­pe. And it was this im­po­ve­ris­hed cou­sin who be­ca­me a vic­tim of the tra­ge­dy that took pla­ce in the cas­tle cel­lars on the 17th of the month in the eve­ning, for re­a­sons un­known to us. It was then that Wolf Fried­rich Rot­tig, Bern­hard's ser­vant, pus­hed his lord with a rap­per into his left chest and pier­ced him through. The mur­de­rer, des­pi­te at­tempts to es­ca­pe, was quick­ly cap­tu­red, im­pri­so­ned and, two weeks la­ter, exe­cu­ted with cruel sen­ten­cing: Rot­tig's right hand was cut off, then the exe­cu­tio­ner pier­ced the heart, which af­ter a whi­le was cut out of the dead bo­dy. La­ter the cor­pse was chop­ped up and nai­led to four pil­lars of the gal­lows, han­ging at most the head and the cut off hand.
---
A GRUSS POSTCARD FROM 1900, THE CASTLE TOWER IN THE UPPER LEFT CORNER
oon ca­me the bad ti­mes for the cas­tle and its ow­ners. Their pre­lu­de is the fi­re in the sum­mer of 1616, when the buil­ding bur­ned down, pre­ser­ving on­ly the barns and stab­les. Re­con­struc­tion be­gan quick­ly and a­round 1630 the buil­ding was on­ce a­gain shi­ning with its for­mer splen­dour. Ho­we­ver, less than ten ye­ars la­ter, it was oc­cu­pied by the Swe­dish troops of Ge­ne­ral Tors­ten Stal­hand­ske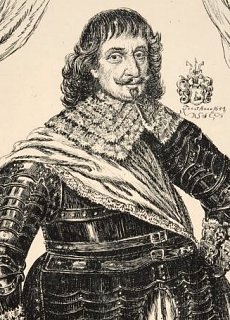 , who cau­sed large da­ma­ges, deep­en­ed du­ring the bat­tle with Prus­sian u­nits. Hans Ul­rich von Schaff­gotsch, the ow­ner of this land, was al­re­a­dy dead fi­ve ye­ars earl­ier ac­cu­sed of a con­spi­ra­cy a­gainst the Austr­ian Em­pe­ror, im­pri­so­ned in the Klodz­ko fort­ress, and la­ter in Vien­na and Re­gens­burg, and then be­he­a­ded. All his pro­per­ty was con­fis­ca­ted, par­cel­led and sold - the vil­la­ge of Sta­ra Ka­mie­ni­ca and its sur­round­ings we­re bought for 100,000 guil­ders by the Hun­gar­ian mag­na­te Ni­ko­laus, Count Palf­fy von Er­dod. Af­ter the death of the Count in 1679 the es­ta­te be­lon­ged for a short ti­me to Ele­o­no­ra von Palf­fy, Coun­tess von Har­rach (+1693), and then to Wal­ter von Gal­lo (+1685) and his wi­fe Sybille, Coun­tess von Zie­ro­tin. In 1706 Jo­hann Jo­a­chim von Zie­ro­tin (+1716) be­ca­me the ow­ner of the cas­tle, but he was rat­her ra­re­ly he­re, ma­na­ging the es­ta­te with the help of a trus­ted of­fic­ial. His son Lud­wig, Count von Zie­ro­tin, Ba­ron von Lil­ge­nau (+1761), the land­lord of Sta­ra Ka­mie­ni­ca from 1718 to 1756, did the sa­me. In 1756 it was bought by a mer­chant from Je­le­nia Gó­ra, Fried­rich Schmidt. A few months af­ter his sud­den death in 1757, a fi­re bro­ke out in the vil­la­ge, which de­stro­yed the cas­tle with its dy­ee­ry and ten ot­her hou­ses. The old buil­ding was no lon­ger re­no­va­ted and fell in­to ruin, alt­hough un­til the end of the 19th cen­tu­ry its to­wer was u­sed to sto­re crops, which re­sul­ted in a new roof in the 1880s. Ho­we­ver, the re­main­ing cas­tle walls we­re tre­a­ted as a de­pot for cheap buil­ding ma­ter­ial and gra­du­al­ly dis­mant­led. Af­ter the end of the Se­cond World War, and with the be­gin­ning of a new or­der, the re­mains of the for­mer fort­ress be­ca­me 'un­der the ca­re' of the lo­cal kolk­hoz, which did not pro­tect them from furt­her de­vas­ta­tion.
---
THE CASTLE TOWER BEFORE THE REVITALIZATION OF THE CASTLE WALLS, 2007
---
he Got­hic fort­ress was built of bro­ken sto­ne on a plan si­mi­lar to a rec­tang­le with si­des of 37x55 me­ters, and then sur­round­ed by a moat, per­haps ad­ja­cent di­rect­ly to the walls, hen­ce so­me­ti­mes the ob­ject is con­si­de­red to be a so-cal­led wa­ter cas­tles. It was a two-win­ged sys­tem of unk­nown height, with a three- or four-sto­rey to­wer ad­ded on the west­ern si­de. In 1562, the buil­ding was re­built in the Re­nais­san­ce sty­le, which was de­mon­stra­ted by an in­script­ion with the da­te of re­cons­truct­ion a­bo­ve the main en­tran­ce and busts of the foun­der and his wi­fe a­bo­ve the ga­te. In mo­dern ti­mes, the en­tran­ce to the cas­tle took pla­ce from the east on a four-span sto­ne brid­ge. Star­ting from the 16th cen­tu­ry, the­re was a park with an area of 6.5 hec­ta­res, to which led a Ba­ro­que ga­te pre­ser­ved to the pre­sent day.
PLAN OF THE CASTLE RUINS ACCORDING TO J. SAWINSKI: 1. TOWER, 2. SOUTHERN WING, 3. EASTERN WING, 4. RENAISSANCE BRIDGE
---
BIRD'S EYE VIEW FROM THE SOUTHEAST
---
he ruins of the to­wer with the re­lic of the win­dow sto­ne­work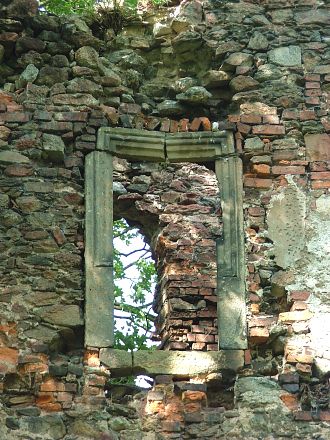 , the foun­da­tions of the re­si­den­tial buil­dings with part­ial­ly bur­ied cel­lars and the four-span sto­ne brid­ge le­a­ding from the sub­cas­tle to the court­yard ha­ve sur­vi­ved re­la­ti­ve­ly well from the o­ri­gi­nal cas­tle. Un­til re­cen­tly, the neg­lec­ted re­lics of the fort­ress, hid­den un­der a la­yer of earth, rub­ble, and in sum­mer al­most en­ti­re­ly co­ve­red by weed, re­cei­ved new li­fe thanks to the ini­tia­ti­ve of the Chu­dów Cas­tle Foun­dat­ion, which sin­ce 2010 has been car­ry­ing out cle­a­ning works on their pre­mi­ses, and sin­ce 2015 - a par­tial re­con­struc­tion of the mo­nu­ment con­sis­ting in the re­con­struc­tion of the brid­ge
, se­cu­ring the cei­lings of the ba­se­ment and strength­ening the walls. Re­no­va­tion plans al­so in­clu­de full (?) to­wer re­con­struc­tion and cel­lar a­dap­tat­ions, alt­hough the num­ber and si­ze of self-seeds gro­wing on the re­no­va­ted walls could ha­ve led to a wor­ry­ing con­clus­ion that the buil­ding si­te had been a­ban­do­ned for a long ti­me in the sum­mer of 2019. The ru­ins can­not be vi­si­ted du­ring the re­no­va­tion, but they are cle­ar­ly vi­sib­le from al­most e­ve­ry si­de, es­pe­cial­ly at­trac­ti­ve from the east. It is al­so worth to ap­pro­ach from the south, whe­re stands a be­au­ti­ful­ly ex­po­sed ga­te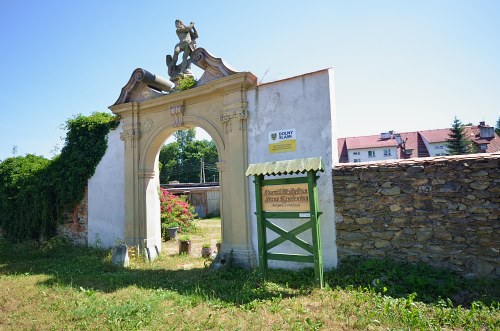 from 1705, which is a rem­nant of the for­mer cas­tle and pa­la­ce com­plex.
| | |
| --- | --- |
| | |
VIEW FROM THE WEST ON THE RUINS OF THE CASTLE CLEARED OF WEED / A FRAGMENT OF THE SOUTH WING
---
SOUTHEASTERN VIEW OF THE RESIDENTIAL WING AND BRIDGE
---
THE RUINS OF THE CASTLE FROM THE EAST
---
tara Ka­mie­ni­ca is a lar­ge vil­la­ge lo­ca­ted 10 km west of Je­le­nia Gó­ra. You can get he­re by pub­lic tran­sport: bus or train run­ning on the rou­te Je­le­nia Gó­ra - Zgo­rze­lec. The cas­tle ruin is lo­ca­ted in the nort­hern part of the vil­la­ge, about 150 me­ters south-west of the high church to­wer. Near­by you will find ma­ny po­ten­tial par­king spa­ces. (map of cas­tles in Lower Silesia)
---
1. M. Chorowska: Rezydencje sredniowieczne na Slasku, OFPWW 2003
2. L. Kajzer, J. Salm, S. Kołodziejski: Leksykon zamków w Polsce, Arkady 2001
3. R. Luczynski: Ruiny dwóch zamków, Sudety nr 11/2004
4. R. Luczynski: Chronologia dziejów Dolnego Slaska, Atut 2006
5. R. Luczynński: Zamki, dwory i palace w Sudetach, WA 2008
6. A. M. Rosiek: Siedziby rycerskie w ksiestwie swidnicko-jaworskim do konca XIV wieku, Kraków 2010
7. www.naszesudety.pl
VIEW FROM THE WEST, IN THE BACKGROUND A HISTORIC GOTHIC CHURCH
---
VIEW FROM THE EAST, FOUNDATIONS OF THE SOUTH WING WITH DEBRIS-FREE CELLARS ON THE LEFT, RENAISSANCE BRIDGE IN THE FOREGROUND
Castles nearby:
Rybnica - the ruins of the Gothic castle 14th century, 4 km
Siedlecin - residential tower 14th century, 11 km
Czarne - fortified mansion 16th century, 16 km
Chojnik - the ruins of Duke's castle 14th century, 17 km
Dziwiszów - fortified mansion 16th century, currently the palace, 19 km
Proszówka - the ruins of the Gothic castle Gryf 13th century, 21 km
Wlen - the ruins of Duke's castle 12/13th century, 24 km

---
| | |
| --- | --- |
| | The Got­hic Church from the 14th cen­tu­ry, stan­ding near the cas­tle ruins, with a sto­ne mor­gue, a Got­hic bap­tis­te­ry and a ba­ro­que al­tar and an 18th-cen­tu­ry par­so­na­ge e­rec­ted in the ba­ro­que sty­le. At the church, a 41-met­re-high to­wer top­ped with a ba­ro­que cu­po­la, on which a bell from the 15th cen­tu­ry was hung. |
text: 2009, 2019
photographs: 2007, 2019
© by Jacek Bednarek