TOWN TOWER IN RAKOWICE WIELKIE, VIEW FROM NORTH-WEST
---
n the small Lower Silesian vil­la­ge of Ra­ko­wi­ce the­re ha­ve been at le­ast two ma­nor farms sin­ce la­te Mid­dle A­ges - a ro­yal and a town one, with their a­dmi­ni­stra­tors' se­ats in small re­si­den­tial to­wers. The ol­der of the­se buil­dings, known in li­te­ra­tu­re as the town to­wer, was pro­ba­bly built a­fter 1491 by Ge­org von Zed­litz, who in­he­ri­ted a con­si­de­ra­ble part of the vil­la­ge from Nic­kel Ju­nior von Zed­litz (+1491). In 1535, bro­thers Ni­co­las and Ge­org von Zed­litz re­lin­qui­shed their rights to lo­cal ma­nor hou­se and han­ded it o­ver to the Town Coun­cil of Lwó­wek. It was in the pos­ses­sion of the town un­til the 17th cen­tu­ry, when it be­ca­me pri­va­te. After 1945, the to­wer, sur­roun­ded by ma­nor buil­dings, be­ca­me part of the pro­per­ty of the Sta­te Farm and was u­sed as a wa­re­hou­se. Lu­cki­ly, this sa­ved the to­wer from de­stru­ction, be­cau­se at that ti­me it was un­der­go­ing the most ur­gent re­pairs to main­tain its good tech­ni­cal con­di­tion to this day.
VIEW OF THE TOWER FROM THE ROAD LEADING TO LWÓWEK
---
The oldest note about the village of Rac­ke­wiz da­tes back to 1287. In the 14th cen­tu­ry the na­me of the vil­la­ge ap­pe­ared in both Ger­ma­nic spel­ling as Rac­ke­witz (1330) and Sla­vic spel­ling, ta­king the form of Rac­ke­wicz (1363). In 1371 for the first ti­me a di­vi­sion in­to two parts of the set­tle­ment was in­clu­ded in the do­cu­ments. The lar­ger vil­la­ge was na­med Groz­zen Ra­ke­wicz, and la­ter al­so Ma­gna Ra­ke­wicz (1476), Gros­sen Ra­ke­wicz (1520), Gross Rak­witz (1736), Gross Rak­wiz (1786) and Gross Rac­kwitz (1825). Im­me­dia­te­ly a­fter the Se­cond World War, the vil­la­ge was gi­ven Po­lish na­mes Ra­kow­ce and Ra­kow­ce Du­ze, and in 1947 it ap­pe­ared on the maps as Ra­ko­wi­ce Wiel­kie.
---
THE NORTHERN ELEVATION IN THE 1950S AND TODAY
he tower was built of sand­stone rein­for­ced in the cor­ners with sto­ne blocks, on a re­ctan­gu­lar plan with si­des of 8.4x9 me­ters. Ori­gi­nal­ly, it con­sis­ted of four sto­reys, whe­re the ground floor was u­sed as an u­ti­li­ty a­rea, the first sto­rey, di­vi­ded by a par­ti­tion, hou­sed a com­mon room and a stair­ca­se, and the se­cond sto­rey ser­ved as the ow­ners' a­part­ments. The fourth sto­rey was oc­cu­pied by a wood­en porch with shoot­ing ho­les in the floor and walls, sup­por­ted on sto­ne can­ti­le­vers
, re­pla­ced in the 18th cen­tu­ry by a hip­ped man­sard roof. The to­wer was o­ri­gi­nal­ly ac­ces­sed by a sto­ne la­te Go­thic por­tal
, lo­ca­ted in nor­thern e­le­va­tion at the height of its third floor. La­ter, the Go­thic en­tran­ce was bric­ked up and its fun­ction was ta­ken o­ver by a ho­le in the ground floor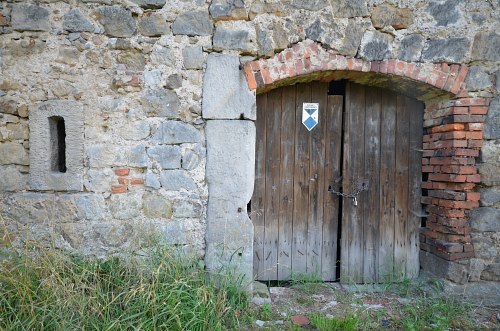 , which was wi­de­ned and e­quip­ped with a dou­ble door. The in­ter­ior of the to­wer was il­lu­mi­na­ted by a do­zen or so gaps
me­asu­ring 15x60 cm and fi­ve lar­ger win­dows me­asu­ring 70x85 cm. Nar­row win­dows and a porch ga­ve the to­wer a look of de­fen­se, which should be tre­ated ra­ther in sym­bo­lic and pre­sti­gious terms, be­cau­se the in­ter­ior was quite e­asy to reach due to the lack of vaults.






ON THE LEFT THE WESTERN ELEVATION OF THE TOWER WITH THE ORIGINAL DEFENSIVE PORCH, ON THE RIGHT THE EASTERN ELEVATION TODAY
THE RECONSTRUCTIONS WERE PREPARED BY E. RÓZYCKA AND B. JACASZEK
he full perimeter of the walls with the o­ri­gi­nal win­dow sto­ne­ma­son­ry, nar­row win­dow gaps and sand­sto­ne can­ti­le­vers u­sed to sup­port the wood­en porch ha­ve been pre­ser­ved in good con­di­tion un­til to­day. The in­ter­iors are de­void of the o­ri­gi­nal di­vi­sions, but the walls show tra­ces of old par­ti­tio­ning. The to­wer stands by the main ro­ad le­ading to Lwó­wek Sla­ski, on the sou­thern ed­ge of the vil­la­ge. It is lo­ca­ted in an o­pen and ge­ne­ral­ly ac­ces­si­ble a­rea, al­though you can­not get in­si­de.
THE TOWER STANDS NEAR THE BUILDINGS OF THE FORMER MANOR FARM; THERE IS A POSSIBILITY TO PARK THE CAR
* * * * * * * * * * * * * * * * * * * * * * * * * * * * * * * * * * * * * * * * * * * * * * * * * * * * * * * * * * * * *
THE RUIN OF PRINCE'S TOWER, VIEW FROM THE WEST
---
bout 500 meters to the north of the for­mer town ma­nor hou­se the­re are the ruins of a to­wer cal­led the Prin­ce's To­wer, al­though such an as­sig­nment of ow­ner­ship may be mis­le­ading, as its foun­der and first ow­ner was the a­dmi­ni­stra­tor of the ro­yal e­sta­te Si­mon (Hans?) Reus­sner. The buil­ding was e­re­cted at the be­gin­ning of the 16th cen­tu­ry for re­si­den­tial pur­po­ses on­ly, as e­vi­den­ced by the lack of de­fen­si­ve por­ches and re­la­ti­ve­ly lar­ge win­dows. In la­ter years, the buil­ding and the sur­roun­ding farm­ste­ad we­re in the pos­ses­sion of not ve­ry we­al­thy no­bi­li­ty, who­se pro­per­ty u­su­al­ly did not ex­ceed one vil­la­ge. The to­wer was pre­ser­ved in its en­ti­re­ty un­til the 1960s, when, as a re­sult of a land­sli­de of the walls on the wet ground, its roof col­lap­sed, and a few ye­ars la­ter al­so the cei­lings and hi­gher parts of all walls. Sin­ce then, it has re­mai­ned in ru­ins.
THE PRINCE'S TOWER IN THE 1950S...
---
he tower was built of bro­ken sto­ne sup­ple­men­ted by sand­sto­ne blocks, on a ca. 10x12 me­ter rec­tan­gu­lar plan. Of its three floors, the lo­west one hou­sed a vaul­ted room and a nar­row hal­lway with sto­ne stairs le­ading to the first floor with a lay­out cor­res­pon­ding to the ground floor plan. From he­re, the wood­en stair­ca­se led to the se­cond floor co­ve­red with the wood­en cei­ling, di­vi­ded in­to a li­ving room, a cham­ber and a small la­tri­ne with a me­tal ves­sel and a sto­ne gut­ter for se­wa­ge dis­po­sal. The en­tran­ce to the to­wer was pla­ced in the nor­thern wall and de­co­ra­ted with a sto­ne por­tal with a se­mi­cir­­cu­lar arch. The ac­cess of light to its in­ter­ior was pro­vi­ded by se­ve­ral lar­ger win­dows and nar­row gaps. The buil­ding was top­ped with a sto­ne cor­ni­ce and co­ve­red with a hip­ped roof, which was re­pla­ced by a steep ga­ble roof in the 18th cen­tu­ry. Just li­ke the town to­wer, the prin­ce's to­wer al­so was sur­roun­ded by ma­nor buil­dings, un­for­tu­na­te­ly not pre­ser­ved.
| | |
| --- | --- |
| | |
SOUTHERN (ON THE LEFT) AND NORTHERN ELEVATION OF THE PRINCE' S TOWER ACCORDING TO J. BACHMINSKI
---
REMAINS OF THE SOUTHERN WALL
nly the lower parts of the outer walls up to the height of the first floor and frag­ments of in­ter­nal di­vi­sions of the lo­west floor sur­vi­ved from the old buil­ding. The Prin­ce's To­wer stands a­bout 500 me­ters north of the town to­wer, on a me­adow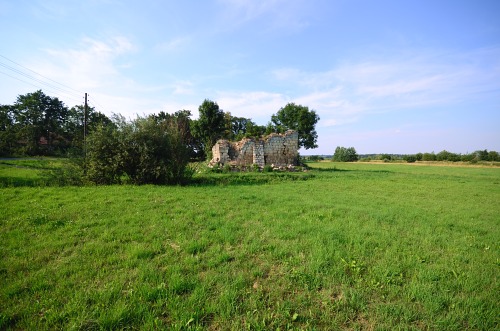 , on the left si­de of the road le­ading to Lwó­wek Sla­ski. Ac­cess to the ru­ins is not re­stric­ted. You can park your car at a ne­ar­by gro­ce­ry sto­re.
VIEW OF THE RUIN FROM THE NORTH, ON THE RIGHT A DESTROYED ENTRANCE
---
1. M. Chorowska: Rezydencje sredniowieczne na Slasku, OFPWW 2003
2. L. Kajzer, J. Salm, S. Kolodziejski: Leksykon zamków w Polsce, Arkady 2001
3. A. Wagner: Murowane budowle obronne w Polsce X-XVIIw., Bellona 2019
Castles nearby
Radłówka - the ruin of a noble castle from 16th century, 2 km
Płakowice - a noble castle from 16th century, 9 km
Gościszów - the ruin of the duke's castle from 13th-17th century, 10 km
Rząsiny - relics of Podskale Castle from 13th century, 10 km

---
text: 2020
photographs: 2018
© by Jacek Bednarek