CASTLE IN RADZYN CHEŁMINSKI, VIEW FROM THE WEST
---
n the early Mid­dle Ages, on the tra­de rou­te from Gru­dziadz to Go­lub the­re was a small woo­den cast­le in the vi­ci­ni­ty of the pre­sent-day Ra­dzyn, pro­bab­ly in­ha­bi­ted by pa­gan Prus­sians from the Po­me­za­nian tri­be. Ac­cor­ding to Roczniki of Jan Dłu­gosz, in 1015 the Po­lish Du­ke Bo­les­law Chrob­ry was to pass through the si­te on his way to Osa ri­ver, in who­se ri­ver­bed wood­en pi­les we­re sup­po­sed­ly ham­me­red in to mark out the bor­ders of the Chel­mno Land. In the 12th cen­tu­ry, the vil­la­ge of Ra­sin func­tio­ned in this pla­ce, and next to it the cast­le be­lon­ging to the Ma­zov­ian voi­vo­de Krys­tyn, blin­ded and mur­de­red in 1217 by or­der of Kon­rad Ma­zo­wiec­ki. Af­ter the death of the go­ver­nor, his sons sold their fa­ther­hood for 18 ki­lo­grams of sil­ver to Bis­hop of Prus­sia Chris­tian (+1245), who con­clu­ded an agree­ment with Teu­to­nic Knights, on the ba­sis of which he re­tai­ned for the Church two thirds of the land re­cei­ved, to­get­her with the right of so­ve­reig­nty o­ver the who­le ter­ri­to­ry, and the re­mai­ning part was gi­ven for the needs of the Or­der in ex­chan­ge for ar­med help in ca­se of dan­ger from the Prus­sian tri­bes. The Teu­to­nic Knights built a for­ti­fied camp on the land re­cei­ved from the bis­hop, and in 1234, on the or­der of the mas­ter Her­man von Balk (+1239), they built a wood­en for­ti­fied cast­le in its pla­ce: In 1234 Lord's year, brot­her and mas­ter Her­man, when he re­mo­ved the Prus­sians from Chel­mno land, gat­he­red the ar­my of brot­hers and ar­med for­ces and built a cast­le on the ed­ge of the wil­der­ness stret­ching be­tween Chel­mno and Po­me­za­nia. This for­ti­fied set­tle­ment, cal­led Rat­zin, was one of the few to de­fend it­self du­ring the first Prus­sian up­ri­sing, which bro­ke out in De­cem­ber 1242. Nine years la­ter Ratzin was the seat of the mo­nas­tic con­vent, and the first com­man­der of Ra­dzyn was Brot­her Hart­wich.
CASTLE IN RADZYN CHEŁMINSKI, VIEW FROM THE WEST
he brick cast­le was pro­bab­ly built at the be­gin­ning of the third third of the 13th cen­tu­ry. This work was sus­pen­ded af­ter the be­gin­ning of the se­cond Prus­sian up­ri­sing in 1278, when one of the re­bel­lious ar­med u­nits com­man­ded by Sko­mand of Kra­sim de­stro­yed, and per­haps e­ven con­que­red, the Teu­to­nic Knights' strong­hold. Soon af­ter the Prus­sians with­drew from Chel­mno, the work was re­su­med and pro­bab­ly com­ple­ted be­fo­re 1329, when, un­der the le­ader­ship of the Grand Mas­ter Wer­ner von Or­seln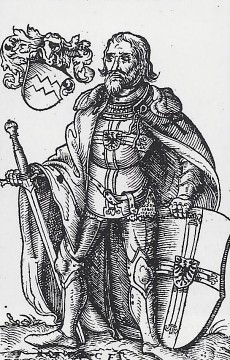 (+1330), a great meet­ing of knight­hood and mo­nas­tic el­ders took pla­ce in Ra­dzyn, du­ring which they dis­cus­sed the con­dit­ions for pa­ying ta­xes to the Va­ti­can. In the fol­lo­wing year the cast­le was un­suc­cess­fully con­que­red by the ar­mies of Wla­dys­law Lo­kie­tek and Lith­u­a­nian prin­ce Ge­di­min. Wl­adys­law Ja­giel­lo's at­tempt to sei­ze it im­me­dia­te­ly af­ter the Bat­tle of Grun­wald was al­so un­suc­ces­sful. This pro­ves the high va­lue of the cast­le for­ti­fi­ca­tions, the strength of the eq­uip­ment and, abo­ve all, the de­ter­mi­na­tion of its crew, be­cau­se, ac­cor­ding to the chro­nic­les, the cast of the de­fen­ding for­tress con­sis­ted of on­ly 15 ol­der brot­hers sup­por­ted by a squad of Ra­dzyn burg­hers. It is worth men­tio­ning that the sie­ge of Ra­dzyn in Ju­ly 1410 was a strug­gle not on­ly to gain a­not­her brid­ge­head and cha­se a­way the Teu­to­nic Knights, but al­so to sei­ze a part of the Or­der's tre­a­su­re, in­clu­ding the per­so­nal sil­ver of Ul­rich von Jun­gin­gen, which was de­po­si­ted he­re.
CASTLE IN RADZYN, ATLAS ZUR ZEITSCHRIFT FUR BAUWESEN , 1866
he at­tempt to con­quer the cast­le was re­pe­a­ted by Ja­giel­lo on 21 Sep­tem­ber 1410. Ac­cor­ding to Jan Dlu­gosz, the Po­lish ru­ler ini­tial­ly did not plan such a ma­no­euv­re, be­cau­se he was a­fraid of its ef­fec­ti­ve­ness, as the cast­le was ve­ry strong thanks to its lo­ca­tion and for­ti­fied walls, but the la­ter de­ci­sion to at­tack Ra­dzyn may ha­ve re­sul­ted from a fai­lu­re to achie­ve the most im­por­tant goal of the ex­pe­dit­ion, i.e. to con­quer the ca­pi­tal of the Teu­to­nic sta­te in Mal­bork. This ti­me mo­re nu­me­rous and bet­ter pre­pa­ed Pol­ish troops need­ed on­ly a few hours to ta­ke the cast­le. The re­port on the­se e­vents was in­clu­ded in Rocz­ni­ki by Jan Dłu­gosz. (...) When the news spread in the ar­my that the king was at­tac­king the next day, break­fast was ba­re­ly o­ver, and with­out the king's or­der he led the knights him­self (...) to fight and to at­tack the Ra­dzyn cast­le. The army with­out any re­min­ders mo­ved for­ward ve­ry will­ing­ly. The knight Do­bies­law from Oles­ni­ca with sol­diers of his u­nit smash­ed the ga­te of the lo­wer cast­le and, shiel­ding the knight who did it, was hit from the smal­ler can­non, the gun­smith with a bul­let that pier­ced the shield. Short­ly af­ter­wards, the first knight, Piotr Chel­min­ski, en­te­red the up­per cast­le, and be­hind him the Cas­tel­lan of Wis­li­ca, Flo­rian of Ko­ryt­ni­ce and ot­hers, for­ced to es­ca­pe the vi­ce-com­man­der of the cast­le. Al­re­ady Piotr from Oles­ni­ca got with ot­her knights on the fo­re­ground of the cast­le and woun­ded in one leg was shiel­ded on­ly by a shield, so that he would not be hit from a­bo­ve. The be­sie­ged, tor­men­ted by so ma­ny mis­for­tu­nes, thro­wing their we­a­pons, sur­ren­der the cast­le to the king, so that if they get in­to the hands of the ra­ging sol­diers, they do not ha­ve to suf­fer the worst things. When the king en­te­red the cast­le in the e­ve­ning, he ga­ve li­fe to all the be­sie­ged and cap­tu­red, among whom the­re we­re fif­teen el­der­ly Teu­to­nic Knights, but he took them in­to pri­son. Furth­er­mo­re, when he dis­co­ve­red that the cast­le was full of sig­ni­fi­cant tre­a­su­res, je­wels and va­lu­a­ble ob­jects, as well as plen­ty of food, he dis­tri­bu­ted tre­a­su­res and je­wels a­mong the knights and left the food sup­plies to the cast­le.
LITOGRAPHY OF N. ORDA, ALBUM WIDOKÓW, 1880
---
THE TEUTONIC KNIGHTS COMMANDERS AT THE CASTLE IN RADZYN CHELMINSKI

* Hartwich, 1251-1252
* Hartung, 1278-1280
* Henryk von Vaternrode
* Hartung, 1289-1298
* Peter, 1304
* Hermann, 1312-1321
* Dietrich von Spira, 1332
* Henryk von Bovenden, 1338
* Hartmann, 1339
* Schweder
* Petzold von Korwis
* Jan von Rubesom, 1370-77
* Henryk Gans von Webirstete, 1377-82
* Gotthold von Kurwis, 1382-1383
* Engelhard Rabe von Wildstein
* Werner von Tettingen, 1387-1390
* Henryk Harder, 1390-1391
* Rudolf von Kyburg, 1391-1402
* Wilhelm Folkolt, 1402-1404
* Henryk von Schwelborn, 1404
* Eberhard von Affenfeld, 1404
* Jan von de Dollen, 1407-1409
* Mikołaj von Melin, 1409-1410
* Jerzy von Wrisberg, 1411
* Henryk Hold, 1411
* Konrad von Sefeln, 1411-1412
* Otto von Walsbach, 1412-1415
* Andrzej von Sekendorf, 1415-1416
* Fryderyk von Zollern
* Wolf von Sansenhiem, 1416-1421
* Mikołaj von Bergau, 1421-1422
* Mikołaj von Goerlitz, 1432
* Jan von Pommersheim, 1433-1434
* Ludwik von Landsee, 1434
* Georg von Egeling, 1434-1436
* Henryk Marschalk, 1436
* Jan von Erlbach, 1437-1438
* Jan von Gleichen, 1438-1441
* Fryderyk von Nickeritz, 1449
* Dyteryk von Werdenau, 1449-1454
---
---
RUINS IN RADZYN, DIE BAU- UND KUNSTDENKMALER DES KREISES GRAUDENZ, 1894
fter the con­quest of Ra­dzyn, the king gar­ri­so­ned it with a Po­lish-Czech crew un­der the com­mand of Jas­ko from Lam­berk. Just a few days af­ter this no­mi­na­tion, Jas­ko was poi­so­ned, so he was re­pla­ced by the Po­lish knight Do­bies­law Pu­cha­la from We­gro­wo (+1441), and af­ter him Woj­ciech Mal­ski (+1454), held the post. Short­ly af­ter­wards, when the main co­re of the Po­lish ar­my, he­a­ded by King Wla­dys­law, left Teu­to­nic Prus­sia, Hen­ryk von Pla­uen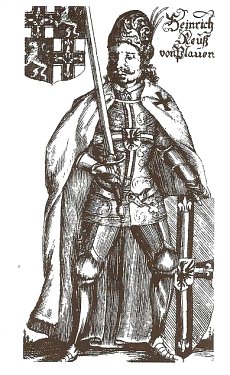 (+1429), ac­ting as the go­ver­nor of the Teu­to­nic Knights, de­ci­ded to ta­ke the cast­le back. But the sie­ge in Oc­to­ber and No­vem­ber 1410 did not bring the ex­pec­ted re­sults. On the con­tra­ry - the Po­lish crew not on­ly bra­ve­ly de­fen­ded them­sel­ves, but al­so ma­de a suc­ces­sful night out­ing in the town, cau­sing great los­ses to the ene­my. In the fol­lo­wing year, the fort­ress was re­tur­ned to the Or­der by me­ans of pe­ace ag­ree­ment. Ho­we­ver, the ef­fects of the so-cal­led Great War we­re felt he­re for ma­ny ye­ars. The short­age of staff was so sig­ni­fi­cant that in 1411 on­ly six brot­hers and com­man­dant Hen­ry Hold li­ved in Ra­dzyn, a com­man­dant who a year ago was on­ly a mo­dest ma­yor of a small lo­cal cast­le in Li­pie­niek. Al­most all mo­va­ble pro­per­ty was des­tro­yed or sto­len, the­re we­re no we­a­pons or breed­ing a­ni­mals, the con­dit­ion of the cast­le walls was al­so ter­rib­le. By the next war, which bro­ke out in 1454, all this was so­me­how re­pai­red and re­or­ga­ni­zed, but on­ly two weeks af­ter its be­gin­ning, in mid-Feb­ru­a­ry, the re­bel­lious tra­de u­nion troops car­ried out a vic­to­rious as­sault and cha­sed the Teu­to­nic Knights out of the ci­ty. Two years la­ter, the mer­ce­na­ries of the Or­der tried to ta­ke the cast­le back. Per­haps they would ha­ve ma­na­ged to do it if it had not been the col­lap­se of one of the walls, as a re­sult of which o­ver a do­zen pe­o­ple died and the who­le at­tack was bro­ken. They re­sig­ned, pa­ci­fied the town and then left.
---
PHOTOGRAPHS FROM THE BEGINNING OF THE XXTH CENTURY, THE CASTLE CHAPEL STILL WITHOUT A ROOF
---
On 24 Feb­ru­a­ry 1397 in Ra­dzyn Chel­min­ski the Li­zard So­cie­ty (Ei­dech­sen­bund) was foun­ded - an or­ga­ni­za­tion of the Chel­mno no­bi­li­ty di­rec­ted a­gainst the ar­bi­tra­ri­ness of the Or­der's lords and their op­pres­si­ve fis­cal po­li­cy. The foun­ders of the as­so­ciat­ion we­re Mi­ko­laj from Ryn­sko, his brot­her Jan from Pul­kow and their cou­sins Fry­de­ryk and Mi­ko­laj from Kit­no­wo; soon they we­re join­ed by ot­hers. The mot­to of the or­ga­ni­za­tion to de­fend its mem­bers a­gainst all law­less­ness was mu­tu­al as­sis­tan­ce to per­sons and pro­per­ty wit­hout any un­faith­ful­ness, de­ceit, be­tra­yal or any ot­her cun­ning a­gainst a­ny­o­ne who te­ases, op­pres­ses or in­ju­res ex­cept the great mas­ter (...), and the sym­bol was the sil­ver li­zard worn on the tu­nic. Ini­tial­ly, the or­ga­ni­za­tion o­pe­ra­ted le­gal­ly on the ba­sis of the sta­tu­te ac­cep­ted by the Teu­to­nic Knights and was to­le­ra­ted by them as a group de­fen­ding the in­te­rests of the no­bi­li­ty. It went un­der­ground in 1410 af­ter being ac­cu­sed by the Or­der of pro­mo­ting the in­te­rests of Po­land, which was not un­re­a­son­able gi­ven the fact that du­ring the Bat­tle of Grun­wald Mi­ko­laj from Ryn­sko with­drew his troop from the bat­tle and af­ter being re­le­a­sed by the Po­les he took the oath of al­le­gian­ce to the King of Po­land. In De­cem­ber of the sa­me year he was ar­res­ted and a few months la­ter he was be­he­aded on char­ges of in­vol­ve­ment in the al­le­ged con­spi­ra­cy of the Ra­dzyn com­man­der Je­rzy Wris­berg a­gainst the au­tho­ri­ty of Hen­ryk von Pla­uen. The­re was al­so per­se­cu­tion of ot­her mem­bers of the So­cie­ty, de­fen­ded by King Wla­dys­law Ja­giel­lo and Grand Du­ke Wi­told. In 1440 the Li­zard Union be­ca­me a part of the Pruss­ian Union, on the ini­tia­ti­ve of which on 4 Fe­bru­a­ry 1454 the Prus­sian up­ri­sing a­gainst the Teu­to­nic Knights be­gan, which was the be­gin­ning of the Thir­teen Years' War.
---
---
PHOTOGRAPHS FROM THE BEGINNING OF THE XXTH CENTURY, THE CASTLE CHAPEL STILL WITHOUT A ROOF
fter the se­cond To­run pe­a­ce in 1466, Ra­dzyn Chel­min­ski was in­cor­po­ra­ted in­to Po­land and af­ter re­con­struc­tion from war da­ma­ges and adap­ta­tion to new ad­mi­nis­tra­ti­ve func­tions, it was the seat of the ro­yal cast­le sta­rosts. For o­ver a hun­dred years, the Da­brow­ski fa­mi­ly of Vir­go Vio­la­ta crest, the an­ces­tors of Ge­ne­ral Hen­ryk Da­brow­ski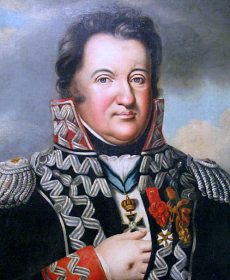 , we­re the sta­rosts he­re. Du­ring their reign, in the last Pol­ish-Teu­to­nic war of 1519-25, the buil­ding ser­ved as the star­ting point for the com­mon mo­ve­ment of the Chel­mno Land, and la­ter it hou­sed the head­quar­ters of the ro­yal ar­my. It was de­stro­yed du­ring the sie­ge of the Swe­des in Sep­tem­ber 1628, who cap­tu­red the fort­ress and then plun­de­red its e­quip­ment and de­vas­ta­ted its in­ter­iors. The cast­le col­lap­sed and its poor con­dit­ion is best ref­lec­ted in the re­cord of the ins­pec­tion car­ried out in 1664: In­si­de part­ly ru­ined, ho­we­ver, by the te­nants at the first en­tran­ce ga­te se­ve­ral rooms re­pai­red and a wood­en bre­we­ry e­rec­ted. The sta­bles we­re built, but the re­pairs need­ed [...]. In the se­cond court­yard, half of the rooms in ru­ins, the ot­her half and the cha­pel need re­pairs. At the be­gin­ning of the 18th cen­tu­ry on­ly the south wing re­mai­ned in use, whe­re in the for­mer re­fec­to­ry and chap­ter hou­se a­part­ments we­re ar­ran­ged. In 1772, af­ter the cast­le was ta­ken o­ver by the Prus­sian ad­mi­nis­tra­tion, of­fi­ces we­re es­ta­blish­ed in its pre­mi­ses, which at the turn of the cen­tu­ries we­re trans­fer­red to the town. From that mo­ment the suc­ces­si­ve and or­ga­ni­zed de­mo­li­tion of the fort­ress be­gan, and the ob­tai­ned bricks we­re u­sed to build the sur­roun­ding hou­ses and the town hall. In 1837, as a re­sult of a pro­test of the in­ha­bi­tants of Ra­dzyn, the de­mo­li­tion works we­re stop­ped and al­re­ady in the fol­lo­wing sum­mer so­me ac­tions we­re ta­ken to pro­tect the mo­nu­ment from furt­her de­vas­ta­tion. In the 1880s, un­der the su­per­vi­sion of Con­rad Stein­brecht
, the cast­le was part­ial­ly cle­a­red of rub­ble and pre­ser­ved in the form of a per­ma­nent ruin. It was un­der con­stant con­ser­va­tion ca­re at the be­gin­ning of the 20th cen­tu­ry; in 1910 the for­mer cha­pel was co­ve­red with a cha­rac­te­ris­tic slan­ting roof, which in the mid-1960s was re­pla­ced by a re­in­for­ced con­cre­te co­ver. Af­ter­wards, the pe­ri­phe­ral walls of the fort­ress we­re par­tial­ly re­con­struc­ted and its a­rea was o­pe­ned to tou­rists.
---
PHOTOGRAPHS AFTER 1910, THE CHAPEL IS ALREADY ROOFED
---
POLISH GOVERNORS AT THE CASTLE IN RADZYN CHELMINSKI

* Jakusz ze Swietego, 1454
* Mikolaj Bajerski, 1455
* Gabryel Bażyński, 1458
* Jan Dabrowski, 1504
* Jan de Lusianis, 1520, 1539-1550
* Hugo Dabrowski, 1568-1570
* Jan Dabrowski, 1592
* Pawel Dzialynski, 1600
* Hugo Dabrowski
* Jan Weyher, 1614-1626
* Mikolaj Weyher, 1626-1646
* Wladyslaw Gnin-Gninski, 1679-1699
* Piotr Jan Czapski, 1718-1732
* Konstancya Czapska z Gninskich, 1740
* Tomasz Czapski, 1740-1784
---
---
A CASTLE IN RADZYN IN THE 1930S
---
he fort­ress in Ra­dzyn was one of the lar­gest and best for­ti­fied in the who­le Teu­to­nic sta­te. The strong­hold, which pro­bab­ly con­sis­ted of two sub-cast­les and a main cast­le, was lo­ca­ted on a na­tu­ral hill, se­cu­ring the road from Po­me­za­nia to Chel­mno. Its buil­ding ma­ter­ial, li­ke most of the Teu­to­nic strong­holds in Prus­sia, con­sis­ted main­ly of sto­ne in the ground part, and then brick and mor­tar, whi­le to fi­nish, re­lief ti­les, gla­zed fit­tings and the so-cal­led ar­ti­fic­ial li­me­sto­ne we­re u­sed. In the first sta­ge of con­struc­tion, an ex­ter­nal for­ti­fi­ca­tion li­ne was built and a squa­re-sha­ped con­vent hou­se, a four-win­ged com­plex of three-sto­rey re­si­den­tial buil­dings, sup­por­ted in cor­ners by 36-met­re-high squa­re tur­rets. Du­ring the se­cond pha­se of the works, a brick pe­ri­me­ter of the cast­le was ma­de and in­ter­nal buil­dings we­re at­ta­ched to it, and in the north-west­ern part of the com­plex a hu­ge free-stan­ding to­wer of the last de­fen­se was built. The to­wer, foun­ded in a re­gu­lar oc­ta­gon ar­ran­ge­ment, did not con­nect with ot­her buil­dings and was pro­bab­ly crow­ned with a co­ni­cal roof with a cre­nel­la­tion. The en­tran­ce road to the cast­le court­yard ran from the north a­long the east wing to one of the sub-cast­le, and then through a draw­brid­ge to the ga­te lo­ca­ted in the south wing. From the west si­de the­re was a dan­sker sup­por­ted on one arch - a toi­let to­wer which al­so had a mi­li­ta­ry func­tion. The area on which the main cast­le was built was cut off by a moat ir­ri­ga­ted from a ne­ar­by la­ke, gi­ving it the cha­rac­ter of a small is­land. To the south of it, a lar­ge, tra­pe­zo­idal sub-cast­le was lo­ca­ted, sur­roun­ded by pe­ri­phe­ral walls with a wood­en porch. It in­clu­ded farm buil­dings u­sed for the needs of the con­vent­ion: ba­ker­ies, bre­wer­ies, gra­nar­ies, stab­les and car­ria­ge hou­ses, but al­so buil­dings for the cast­le ser­vants. In its cor­ners, two guard to­wers we­re pla­ced - one of them may have ser­ved as a link with the se­cond sub-cast­le si­tu­a­ted on the east si­de (the ex­ist­en­ce of which is still a mat­ter of con­jec­tu­re).
RECONSTRUCTION OF THE CASTLE IN RADZYN CHELMINSKI ACCORDING TO J. SALM
---
RECONSTRUCTION OF A MEDIEVAL CASTLE ACCORDING TO B. WASIK, THE DIFFERENCES BETWEEN THESE TWO VISIONS IN THE FORTIFICATIONS OF THE SOUTHERN SUB-CASTLE AND IN THE LAYOUT OF BUILDINGS IN THIS AREA, AS WELL AS IN THE PRESENCE OR ABSENCE OF THE EASTERN SUB-CASTLE, RESULT FROM THE INSUFFICIENT SOURCE MATERIALS AND POOR FIELD RECONNAISSANCE
he main cast­le had a form of a con­ven­tu­al cast­le, ty­pi­cal for the Teu­to­nic Knights' ar­chi­tec­tu­re of that pe­riod - a re­gu­lar for­ti­fied mo­nas­te­ry, in which each wing was as­sig­ned a strict­ly de­fi­ned func­tion. The sout­hern wing was the most re­pre­sen­ta­ti­ve and the lar­gest, with two hu­ge halls se­pa­ra­ted by a ga­te­way: a cha­pel on the east si­de and a hy­po­caust oven-heat­ed re­fec­to­ry. Bet­ween them, just a­bo­ve the ga­te­way, the­re was a small a­par­tment of a vi­ce com­man­der; a­bove it the­re was a cham­ber with de­vi­ces for lif­ting the brid­ge and ga­te. The cha­pel was ad­join­ed by a ca­pi­tu­lar lo­ca­ted in the sout­hern part of the east­ern wing, the nort­hern part of which was oc­cu­pied by a dor­mi­to­ry - the bed­room of the monks. In the short west­ern wing the­re we­re pri­va­te cham­bers of the com­man­der and a pas­sa­ge to the la­tri­ne to­wer, le­a­ding through a porch sup­por­ted by one ar­ca­de. In the north wing the­re was pro­bab­ly an in­fir­ma­ry and in the ground floor the­re was a kit­chen. The se­cond floor of all wings was oc­cu­pied by wa­re­hou­ses and cham­bers, whi­le the hig­her floor was a­dap­ted for a guard porch. Ho­ri­zon­tal com­mu­ni­ca­tion was pro­vi­ded by a brick, vaul­ted and roof­ed clois­ter, al­though on the ba­sis of ar­cha­e­o­lo­gi­cal re­search it is dif­fi­cult to de­ter­mi­ne whet­her it sur­roun­ded the court­yard from all si­des. The ele­va­tions of Ra­dzyn cast­le we­re de­co­ra­ted with dia­mond pat­terns ma­de of dark brick cal­led zen­drow­ka.
PLAN OF THE CASTLE ACCORDING TO C. STEINBRECHT: 1. MAIN CASTLE, 2. SOUTHERN SUB-CASTLE,
3. EASTERN SUB-CASTLE, 4. MOAT, 5. ROAD TO TOWN, 6. LAKE
---
PLAN OF THE MAIN CASTLE ACCORDING TO S. STEINBRECHT: 1. MAIN TOWER, 2. REFECTORY, 3. VICECOMMANDER'S CHAMBER , 4. CHAPEL,
5. CAPITULAR, 6. DORMITORY, 7. INFIRMARY, 8. KITCHEN, 9. COMMANDER'S CHAMBERS, 10. DANSKER, 11. GALLERY
---
oday, the Ra­dzyn cast­le is on­ly a lar­ge me­mo­ry of the for­mer glo­ry of the migh­ty Or­der and a pla­ce of ex­pe­dit­ions for en­thus­iasts of the his­to­ry of Pol­ish-Teu­to­nic relationships. From the mag­ni­fi­cent fort­ress, which was built ye­ars ago, the south­ern wing
sur­vi­ved the test of ti­me - the ot­her wings ha­ve been pre­ser­ved on­ly in the lo­wer parts. As well as the main to­wer, who­se foun­da­tions are vi­sib­le in the north-west­ern part of the court­yard. The cha­pel, co­ve­red with an ug­ly rein­for­ced con­cre­te cei­ling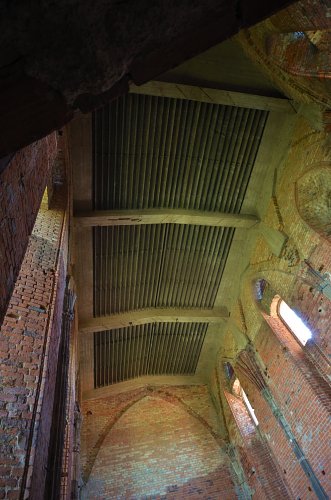 , and the cel­lars of the east and south wings are u­sed to hold a small ex­hi­bit­ion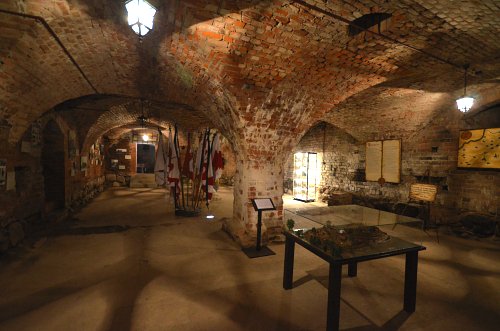 on his­to­ri­cal and ar­cha­e­o­lo­gi­cal to­pics. The­re is al­so an vie­wing ter­ra­ce in the south-west cor­ner to­wer, but it is worth men­tio­ning that a nar­row en­tran­ce to the top of the to­wer
can be a chal­len­ge for lar­ger pe­o­ple. Ho­we­ver, if so­me­one ma­na­ges to over­come this bar­rier, he will be ab­le to en­joy the view of the sur­roun­ding fields and vil­la­ges as a re­ward, and in the sum­mer he will easi­ly count the trac­tors with grain, stan­ding in li­ne to the ne­ar­by e­le­va­tor.
Zamek Radzyn Chełminski
ul. Warynskiego, 87-220 Radzyn Chełminski
tel.: +48 694 959 628

Opening hours / Prices


---
---
A CHAPEL IN THE SOUTH WING, A GOTHIC PORTAL ON THE SECOND FLOOR IS FINISHED WITH A COLOURFUL BRICK
---
MUSEUM EXHIBITION IN THE CASTLE CELLARS
---
---
adzyn Chel­min­ski is lo­ca­ted about 20 km south­east of Gru­dziadz. The town has good bus con­nect­ions with Gru­dziadz, Brod­ni­ca and To­run. The ruins are si­tu­a­ted north of the small mar­ket squa­re and west of the cur­rent­ly dis­ap­pe­a­ring Cas­tle La­ke. The car can be left at the mo­tel on the cur­ve of the road; I al­so saw the cars par­ked right in front of the en­tran­ce, di­rect­ly on the ad­ja­cent foot­ball field. (map of cast­les)
---
1. W. Antkowiak, P. Lamparski: Zamki i straznice krzyzackie ziemi chelminskiej, Graffiti BC 1999
2. M. Haftka: Zamki krzyzackie w Polsce, 1999
3. L. Kajzer, J. Salm, S. Kolodziejski: Leksykon zamkow w Polsce, Arkady 2001
4. P. Zaniewski: Szlakami zamkow krzyzackich, Muza S.A. 2005
5. B. Wasik: Zamek w Radzyniu Chelminskim. Technika i etapy budowy siedziby krzyzackich komturow...
6. K. Witkowska: Badania nad sredniowiecznymi materialami budowlanymi z zamku w Radzyniu Chelm.
VIEW FROM THE TERRACE IN THE SOUTH-WEST TOWER
---
A VIEW OF THE RUINS FROM THE NORTHWEST
Castles nearby:
Pokrzywno - the ruins of Teutonic commander's castle 13th century, 7 km
Wabrzezno - the remains of Chelmno bishops' castle 14th century, 13 km
Grudziadz - the remains of Teutonic commander's castle 13th century., 19 km
Rogozno - the ruins of Teutonic castle 13th century, 25 km
Kowalewo Pomorskie - the remains of Teutonic commander's castle 13th century, 30 km
Lipieniek - the remains of Teutonic castle 14th century, 30 km

text: 2008, 2019
photographs: 2015
© by Jacek Bednarek