GOSŁAWICE CASTLE, VIEW FROM THE SOUTH
---
G
osław­ice vil­lage was the first time men­tioned in doc­u­ments dat­ed 1280, when it was do­nat­ed to the Cis­ter­cian abbey in Ląd by Prince Prze­mys­law II (d. 1295). On­ly three years lat­er the land was bought from the Cis­ter­cians by Arch­bish­op of Gniezno and from then un­til the mid­dle of the 14th cen­tu­ry the vil­lage be­longed to the Church. Ap­prox­i­mate­ly at that time, prob­a­bly be­fore 1360, the es­tate be­came the prop­er­ty of Łaszcz from Gosław­ice, Go­dziem­ba
coat of arms, and re­mained in the pos­ses­sion of his heirs un­til the be­gin­ning of the 17th cen­tu­ry. In 1362, the son of Łaszcz and Bar­bara of Radolina born, named An­drzej Łaskarz (d. 1426). He was a promi­nent diplo­mat, fu­ture bish­op and chan­cel­lor of polish Queen Jad­wiga, who in 1418 found­ed here, in the fam­i­ly es­tate, a pri­vate cas­tle and Goth­ic church. The con­struc­tion works last­ed eight years and re­sult­ed in a low­land no­ble res­i­dence of a sim­i­lar form to the one erect­ed a few years lat­er in near­by Bo­rysław­ice by bish­op Woj­ciech Ja­strzę­biec
(d. 1436).
AGAIN VIEW FROM THE SOUTH, BUT SLIGHTLY HIGHER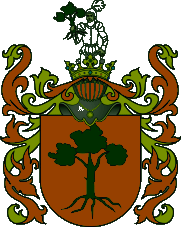 An­drzej Łas­karz (Laskary) of the Go­dziem­ba coat of arms (b. 1362) was the son of the ko­mes Łaszcz of Go­sław­ice and Do­ro­ta, who is sup­posed to have been close­ly re­lat­ed to Piotr Wysz, Bish­op of Cra­cow in 1392-1412. His wealthy par­ents en­sured that he re­ceived a thor­ough ed­u­ca­tion. Af­ter com­plet­ing his ed­u­ca­tion in Brod­ni­ca, at the age of sev­en­teen An­drzej was sent to Charles Uni­ver­si­ty in Prague, where, for rea­sons un­known to us, he stud­ied un­til the age of thir­ty. Short­ly af­ter re­ceiv­ing his li­cen­ti­ate de­gree, he was ap­point­ed provost of Wło­cła­wek and made his de­but in diplo­ma­cy, where he went as an en­voy to the court of the Grand Mas­ter of the Teu­ton­ic Knights Kon­rad Wal­len­rod. See­ing his chances for fur­ther pro­fes­sion­al de­vel­op­ment in ed­u­ca­tion, he be­gan his stud­ies at the Uni­ver­si­ty of Pad­ua, where he ob­tained his doc­tor­ate in 1405.

An­drzej's po­lit­i­cal ca­reer flour­ished af­ter 1397, when he as­sumed the pres­ti­gious of­fice of Queen Jad­wiga's chan­cel­lor. In 1402 he be­came canon of Płock, and in 1405 served as chap­lain to the Ger­man king Ru­precht Wit­tel­sbach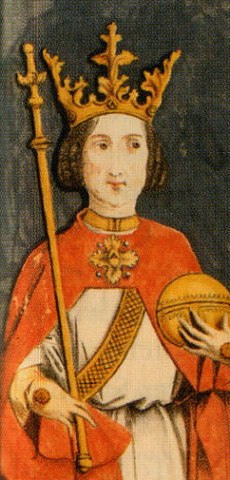 . In the fol­low­ing years he act­ed as dean of Cra­cow and canon of Gnie­zno, and in 1412 be­came bish­op of Poz­nań. He com­bined the man­age­ment of ec­cle­si­as­ti­cal po­si­tions with diplo­ma­cy, par­tic­i­pat­ing in it as a roy­al en­voy or procu­ra­tor, usu­al­ly in­volved in dif­fi­cult re­la­tions with the Teu­ton­ic state. He was a sig­na­to­ry of the peace treaty in 1422, and two years lat­er, stand­ing be­fore the pope, he re­fut­ed the ac­cu­sa­tions for­mu­lat­ed by the Teu­ton­ic de­puties. His role in the in­fa­mous Coun­cil of Con­stance should not be over­looked, where, as a mem­ber of the of­fi­cial Pol­ish del­e­ga­tion, he took part in the work of the com­mis­sion for mat­ters of faith and in the dis­putes be­tween Pol­and and Teu­ton­ic Or­der. He then stood up in de­fense of Jan Hus (as did the en­tire Pol­ish del­e­ga­tion, with the ex­cep­tion of Mi­ko­łaj Trą­ba). He al­so had to face the ac­cu­sa­tions of a Ger­man Do­mini­can, Jan Fal­ken­berg, who in a "work" pub­lished and dis­tribut­ed among the par­tic­i­pants of the Coun­cil, en­ti­tled Sa­tire on here­sies and oth­er wicked­ness of Poles and their king Ja­gieł­ło, open­ly in­cit­ed to kill pa­gans just be­cause they are pa­gans - and Poles even more be­cause they are al­lied with pa­gans (this doc­u­ment was con­demned by pope on­ly af­ter pol­ish knights Za­wi­sza Czar­ny and Ja­nusz from Tu­lisz­ko­wo broke the gate to the pa­pal palace and en­tered it by force, declar­ing that they would de­fend the hon­or of the Pol­ish king with their mouths and hands).

In in­ter­nal pol­i­tics An­drzej Łaskarz be­came known as the au­thor of le­gal acts aimed at in­creas­ing dis­ci­pline among the cler­gy and im­prov­ing pas­toral work. He was al­so to some ex­tent char­i­ta­ble, do­nat­ing the in­come from bish­op's mills to help the sick and the poor from Słup­ca, which be­longed to the dio­cese, for which he was posthu­mous­ly hon­ored with a po­em epi­taph. He died in 1426 in the cas­tle in Go­sław­ice.
CASTLE FROM THE EAST, IN THE BACKGROUND WE CAN SEE THE BUILDINGS OF ETHNOGRAPHIC OPEN AIR MUSEUM
T
he his­to­ry of Go­sław­ice es­tate, es­pe­cial­ly the me­dieval pe­ri­od, is not well doc­u­ment­ed, and as a re­sult we know rel­a­tive­ly lit­tle about the old­est his­to­ry of the cas­tle and its own­ers. Pre­sum­ably, af­ter the bish­op's death, his nephews, the Go­sław­scy of Na­łęcz coat of arms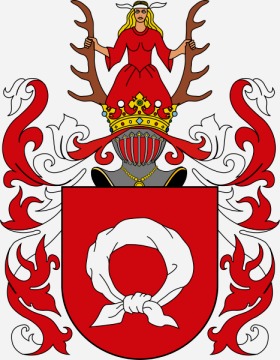 , took over the land that be­longed to him. In 1504 the broth­ers To­masz and Mar­cin Go­sław­ski were men­tioned in a law­suit against Piotr Górs­ki from Mi­ło­sław, who al­leged­ly in­vad­ed and oc­cu­pied the Go­sław­ice cas­tle. In the 1520s the stronghold or its part was owned by Jan Ko­mor­nic­ki, and in the mid­dle of the cen­tu­ry by An­drzej Go­sław­ski (d. 1580), castel­lan of Ka­mień Po­mors­ki, own­er of Gro­dziec and Nie­słu­sza. He was in­her­it­ed by one of his sons, Jan Go­sław­ski, mar­ried Zo­fia of Za­krze­wo, Ogoń­czyk coat of arms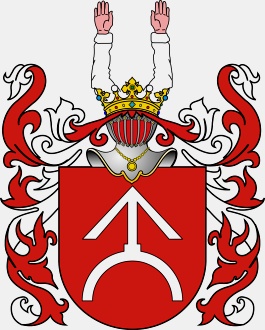 , who al­ready as a wid­ow in 1584 hand­ed over a part of the prop­er­ty to her sons Jan and Łukasz. Łukasz re­mained in the cas­tle, but in 1615 he ced­ed it to Zyg­munt of Grud­na Gru­dzińs­ki, coat of arms Grzy­mała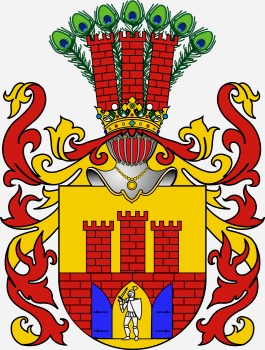 (d. 1618), the gov­er­nor of Rawskie Province, for 80 thou­sand zlo­tys. Af­ter Zyg­munt's death the es­tate was tak­en over by his son, An­drzej of Grud­na Gru­dzińs­ki (d. 1648), and when he died, Go­sław­ice and the ad­ja­cent granges were sold to the sta­rost of Ra­dzie­jów and the roy­al sec­re­tary Wo­j­ciech Ka­dzid­łows­ki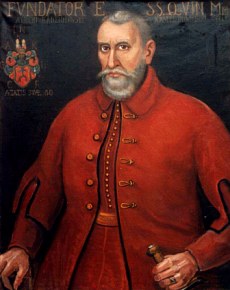 of Ogoń­czyk coat of arms (d. 1666). At that time the cas­tle was prob­a­bly dam­aged by the Swedish army. Al­though there are no source doc­u­ments di­rect­ly re­fer­ring to these events, ar­chae­o­log­i­cal re­search in­di­cates that ma­son­ry works were car­ried out here in the mid-17th cen­tu­ry, prob­a­bly re­sult­ing from the need to re­pair war dam­age.
A
f­ter the war for some time the heir of Gosław­ice was Kon­stan­ty Lu­brań­ski, but soon the Ino­wro­cław cham­ber­lain Jan Ka­dzid­łow­ski (d. 1716), set­tled here. At that time, the cas­tle had al­ready been severe­ly ne­glect­ed and even par­tial­ly de­mol­ished, as ev­i­denced by an ex­cerpt from an in­spec­tion done in 1682. Af­ter Jan's death the es­tate was man­aged by Kon­stan­cja from Lu­bra­niec Dąmb­s­ka (d. 1744), who ini­tial­ly leased it and in the 1730s sold it to Mar­cin Zeth-Na­ra­mow­ski (d. be­fore 1773) and his wife Bar­ba­ra Chrzą­­stow­ska (d. be­fore 1760). In 1746 Go­sław­ice was pur­chased by Jó­zef Łąc­ki of Korz­bok coat of arms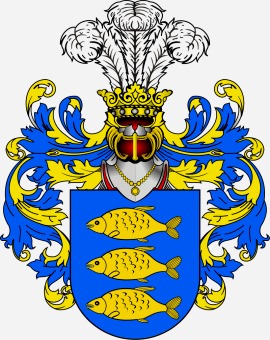 (d. 1771), cham­ber­lain of Brześć Ku­jaw­ski, and lat­er it was giv­en to his son Mel­chior (d. 1829). We know from the 1772 in­spec­tion that the res­i­den­tial hous­es in the cas­tle had been re­built and that the north­ern build­ing, then still un­fin­ished, stood be­side them. How­ev­er, there was no longer a south­ern con­nec­tor, which was re­placed by new en­trance lead­ing from the vil­lage of Go­sław­ice Ma­łe.
XVIII CENTURY CLASSICIST WING BUILT IN THE NORTH-EASTERN PART OF THE CASTLE
ON THE PHOTO BELOW YOU CAN SEE A FRAGMENT OF THE WESTERN INTERWALL
B
y the end of his life Mel­chior Łąc­ki sold Go­sław­ice to count Kle­mens Kwi­lec­ki of Szre­nia­wa coat of arms
(d. af­ter 1809), who pur­chased it for one of his six sons, Hek­tor Ju­lian (d. 1843). He soon mar­ried Maria Iz­abela von Tauf­fkir­chen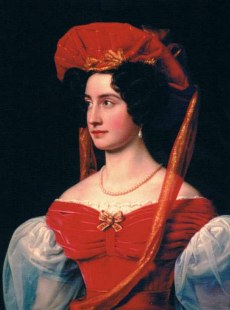 (d. 1855), but due to the poor tech­ni­cal con­di­tion of the cas­tle the cou­ple lived in a near­by manor, and when the manor was de­stroyed by storm and hail­storm, they moved to a mod­est out­build­ing in Ma­li­niec near Ko­nin. In the 1830s, the aban­doned cas­tle be­came part of the grange, serv­ing main­ly as a brew­ery or dis­tillery and part­ly as apart­ments for court em­ploy­ees. At that time, a four-storey neo­clas­si­cal gra­nary was erect­ed be­tween the cas­tle and the church, which is now used as the main ex­hi­bi­tion space for the mu­se­um. The es­tate was in­her­it­ed by Mie­czy­sław Kwi­lec­ki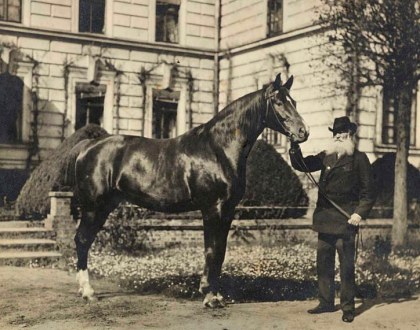 (d. 1918), a fa­mous banker, pub­lish­er and mer­chant from Wiel­ko­pol­s­ka, mem­ber of the Prus­sian House of Lords. This skil­ful en­trepreneur was al­so a great en­thu­si­ast of sheep, and his sheep-ori­ent­ed farm was re­peat­ed­ly award­ed at many in­ter­na­tion­al ex­hi­bi­tions, even in dis­tant Bu­enos Aires. Kwi­lec­ki and Ma­ria Mań­kow­ska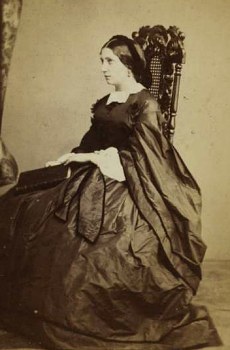 (d. 1924) had sev­en chil­dren. Go­sław­ice was in­her­it­ed by the old­est son Hek­tor (d. 1912), mem­ber of Re­ich­stag and se­cret Pa­pal cham­ber­lain, and af­ter him prob­a­bly by his younger broth­er Ka­zi­mierz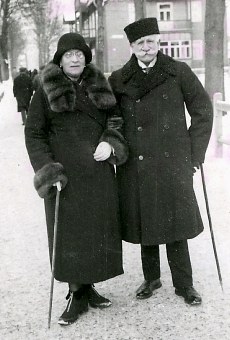 (d. 1935). The last pre-war own­er of Go­sław­ice and Ma­li­niec es­tates was Ka­zi­mierz's son, Mie­czy­sław Se­we­ryn Kwi­lec­ki
, a sol­dier of Pol­ish Le­gions, mur­dered by So­vi­ets in 1940 near Khar­kov.
NORTH COURTYARD, EARLY 20TH CENTURY PHOTO AND PRESENT STATE
T
he poor tech­ni­cal con­di­tion of the cas­tle af­ter 1945 was not the re­sult of di­rect war­fare, but rather the con­se­quence of the ne­glect by the pre­vi­ous own­ers, who ap­par­ent­ly did not feel the need to em­pha­size its rich his­tor­i­cal lega­cy. Al­so af­ter the war, the par­tial­ly ru­ined in­te­ri­ors ini­tial­ly were used as ware­hous­es and apart­ments by for­mer farm work­ers. In­ter­est in the mon­u­ment in­creased on­ly in the 70s, when a de­ci­sion was made to re­vi­tal­ize it and adapt for the seat of the Re­gion­al Mu­se­um in Ko­nin. Af­ter eight years of re­con­struc­tion, the build­ing was opened to the pub­lic in Novem­ber 1986.
XIXTH CENTURY GRANARY NOW HOUSES MUSEUM EXHIBITIONS, ON THE LEFT THERE IS AN OPEN-AIR MUSEUM OF MINING MACHINES
---
T
he brick cas­tle was erect­ed on the south­east­ern shore of the lake, on a small em­bank­ment, cut off from the land by a moat. Ini­tial­ly, it con­sist­ed of two par­al­lel brick res­i­den­tial build­ings form­ing a 22x25 me­ter square, con­nect­ed by a nar­row com­mu­ni­ca­tion wing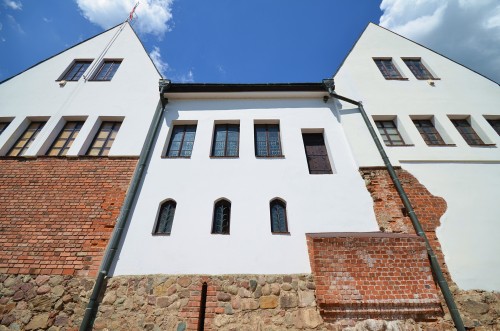 that en­closed a small court­yard about 8 me­ters wide. Two-storey hous­es, with two rooms on each floor, were cov­ered with steep gable roofs and equipped with shoot­ing holes in the ground floor. The de­fen­sive perime­ter was com­plet­ed by a short north wall with an en­trance gate.
PLAN OF THE CASTLE IN THE SECOND HALF OF XV CENTURY BY BOHDAN GUERQUIN: 1. RESIDENTIAL BUILDINGS, 2. CONNECTING PASSAGE,
3. COURTYARD, 4. SPACING BETWEEN THE WALLS, 5. CORNER TURRETS, 6. PORCH LEADING TO THE TOILET TOWER
P
rob­a­bly in the first half of the 15th cen­tu­ry, al­though most like­ly af­ter death of cas­tle's founder, a quad­ran­gle of ex­ter­nal walls was built, form­ing a rect­an­gu­lar plan mea­sur­ing 38x42 me­ters. The great­est thick­ness (2.3 me­ters) it had in the east­ern part, where two trape­zoidal nich­es were shaped from the in­side, now in­ter­pret­ed as po­si­tions for can­nons. In oth­er sec­tions, the out­er wall mea­sured be­tween 1 and 1.4 me­ters thick. Cylin­dri­cal tur­rets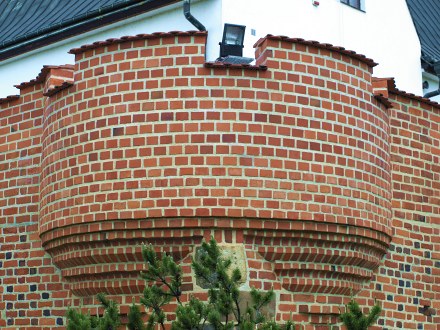 , 3.6 me­ters in di­am­e­ter, were placed in each of its four cor­ners. They were con­nect­ed to an ar­cade-based de­fen­sive porch. In the north­ern part, a porch sup­port­ed by a brick arch was added, lead­ing to toi­let tow­er pro­trud­ing be­yond the wall line. Next to it there was an en­trance gate, pre­ced­ed by a draw­bridge sup­port­ed by at least four pil­lars.
CASTLE CROSS-SECTION ALONG THE SOUTH-NORTH AXIS BY JANUSZ PIETRZAK
THE SOLID LINE INDICATES PRESERVED WALLS, THE DASHED LINE - RECONSTRUCTION
---
I
n the 1980s, af­ter a thor­ough re­vi­tal­iza­tion of the cas­tle, it be­came the seat of Re­gion­al Mu­se­um in Ko­nin, whose ex­po­si­tions con­cern the his­to­ry of the re­gion, art and de­vel­op­ment of artis­tic crafts in this land. The old­est pe­ri­od of set­tle­ment is doc­u­ment­ed in ar­chae­o­log­i­cal ex­hi­bi­tion Pre­his­to­ry of Ko­nin Land sit­u­at­ed in the cas­tle cel­lars. A va­ri­ety of flint tools dat­ing back more than 7000 years, prim­i­tive adorn­ments, agri­cul­tur­al and weav­ing equip­ment, and a rich col­lec­tion of pot­tery
from the Ne­olith­ic pe­ri­od have been col­lect­ed here. On the first floor of both build­ings there are nu­mis­mat­ic ex­hi­bi­tions, an in­ter­est­ing col­lec­tion of old light­ing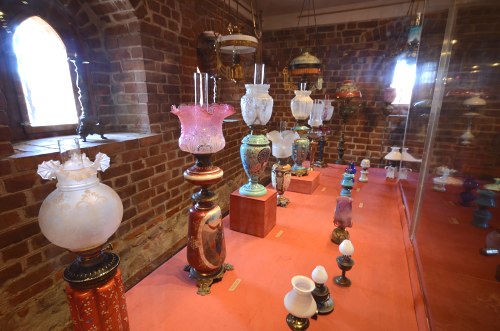 and Ju­da­ica
- an ex­po­si­tion of sa­cred ob­jects and valu­able items re­lat­ed to par­tic­u­lar stages of Jew­ish life. Our at­ten­tion is drawn here by a beau­ti­ful­ly dec­o­rat­ed Torah and char­ac­ter­is­tic Ha­nuk­kah lamps, as well as sil­ver­ware and frag­ments of rit­u­al cos­tumes, prob­a­bly buried in the ground dur­ing the Sec­ond World War and found in the 1990s near the for­mer syn­a­gogue in Som­pol­no. An­oth­er at­trac­tion (though most­ly for men) is the in­con­spic­u­ous tray, years ago used in a rite called brit mi­la.
AT THE ARCHAEOLOGICAL EXHIBITION
T
he first floor of west wing is oc­cu­pied by his­tor­i­cal ex­hi­bi­tion Ko&shynin throughout the Ages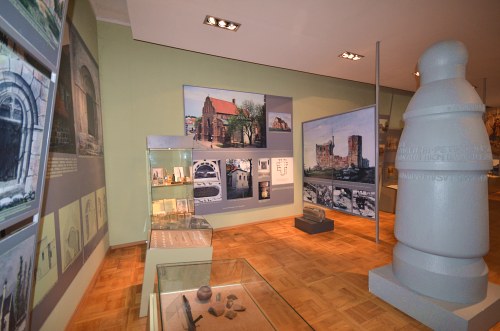 , which il­lus­trates his­to­ry of the city from its be­gin­nings to mod­ern times. Its show­piece is a mag­nif­i­cent mod­el of the ur­ban com­plex from the first half of the 17th cen­tu­ry and a ga&shyllery ded­i­cat­ed to me­dieval ar­chi­tec­ture, in­clud­ing an im­age of Ko&shynin Cas­tle, which no longer ex­ists. In the ad­ja­cent build­ing, the Jew­el­ry and Style col­lec­tion dis­plays jew­el­ry dec­o­ra­tions and hand­i­crafts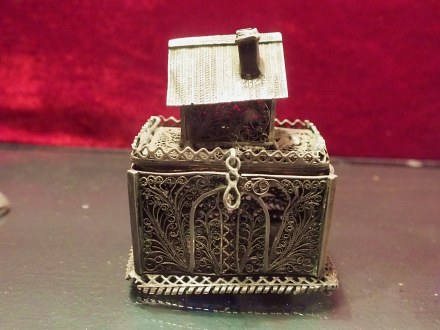 cre­at­ed be­tween the 16th and 20th cen­turies. It is the on­ly per­ma­nent ex­hi­bi­tion of its kind in Pol&shyand, the main com­po­nent of which are nine­teenth-cen­tu­ry valu­ables rep­re­sent­ing the art of Bie­der­meier and Re­al­ism, sup­ple­ment­ed by a col­lec­tion of sen­ti­men­tal and pa­tri­ot­ic jew­el­ry. The cas­tle's ex­hi­bi­tion is com­plet­ed by a small but valu­able gallery of Pol­ish paint­ings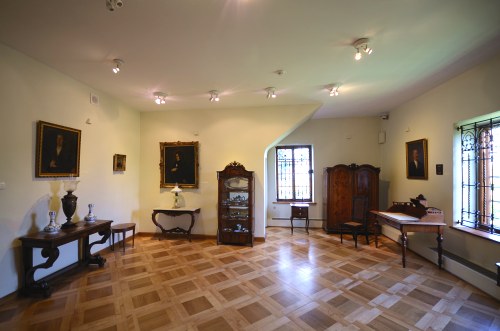 of the nine­teenth and twen­ti­eth cen­turies, rep­re­sent­ed by works of such artists as Jan Ma&shytej­ko, Jó&shyzef Me&shyhof­fer, Woj­ciech Ger­son and Ja&shycek Mal­czew­ski, as well as Re­nais­sance poly­chrome ceil­ing boards
from St. Ja­cob's Church in Rzgów ex­hib­it­ed in the sec­ond floor hall.
| | |
| --- | --- |
| | |
| | |
| --- | --- |
| | |
A FRAGMENT OF THE EXPOSITION OF POLISH PAINTING. WE CAN SEE HERE, AMONG OTHERS
PORTRAIT OF A GIRL BY JAN MATEJKO AND STUDIUM OF A MAN BY JÓZEF MEHOFFER
I
n 2009, the mu­se­um was en­riched with a new ex­hi­bi­tion space, or­ga­nized in a beau­ti­ful­ly ren­o­vat­ed gra­nary, where nat­u­ral his­to­ry and ge­o­log­i­cal ex­hi­bi­tions found their place. Its cen­tral part is oc­cu­pied by a life-size mod­el of for­est ele­phant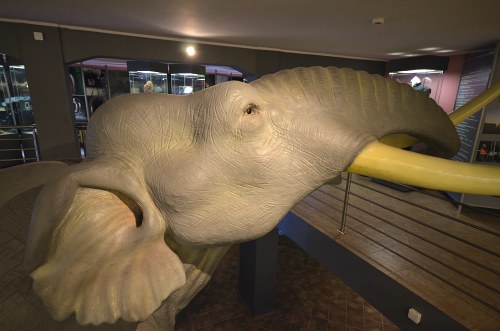 , made on the ba­sis of a skele­ton from about 100,000 years ago, which was found in 1984 dur­ing ex­ca­va­tion works in a lig­nite mine in Ko­nin, and which is al­so pre­sent­ed here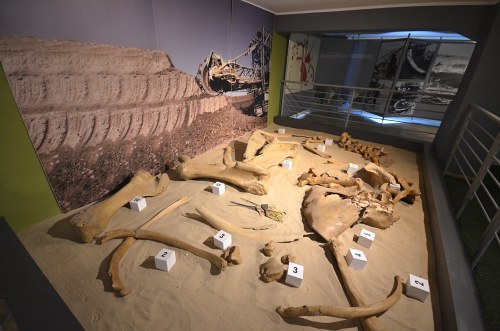 as part of the pa­le­on­to­log­i­cal ex­hi­bi­tion. It is sup­ple­ment­ed by re­mains of oth­er ex­tinct large her­bi­vores: the wool­ly rhinoceros, the for­est rhinoceros, the wool­ly mam­moth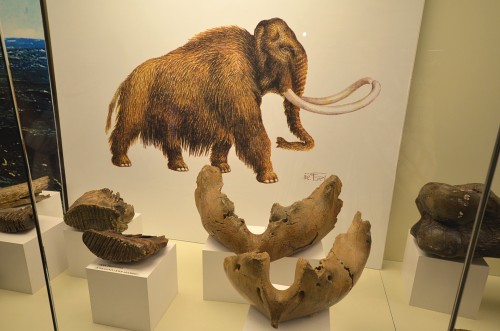 , the au­rochs, and the bi­son, which lived in the area of to­day's Ko­nin dur­ing the ice ages. The ex­hi­bi­tion is com­ple­ment­ed by fos­sils and copies of rock paint­ings de­pict­ing the ear­li­est known im­ages of ex­tinct me­ga­fau­na, as well as nu­mer­ous min­er­als and salt rocks ex­ca­vat­ed in the Ino­wro­cław and Kło­da­wa salt mines. A sep­a­rate part of the ex­po­si­tion con­sists of equip­ment and mem­o­ra­bil­ia re­lat­ed to lig­nite min­ing in this area, com­ple­ment­ed by a mod­el of an open­cast mine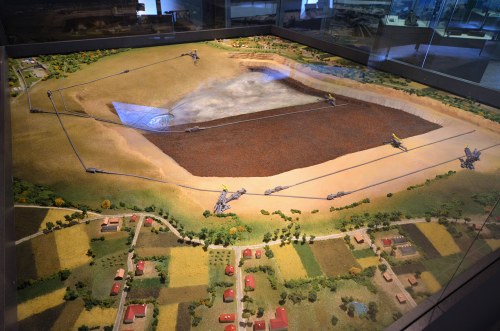 in 1:500 scale.
A FRAGMENT OF THE PALEONTOLOGICAL EXPOSITION IN THE GRANARY
---
T
he cas­tle is lo­cat­ed in the north­ern part of the city, about 9 kilo­me­ters from the city cen­ter. Driv­ing from down­town one should fol­low Prze­mysłowa street (di­rec­tion Ślesin, In­owrocław), and af­ter pass­ing the pow­er plant turn left in­to Gosław­ic­ka street. You can park the car on Go­ty­c­ka Street, by the church stand­ing op­po­site the en­trance to the mu­se­um. You can get here from the train sta­tion by tak­ing bus num­ber 56.
(cast­les in Wiel­ko­pol­skie voi­vod­ship)
---
1. Z. Anusik: Garwascy herbu Grzymała w XV-XVII wieku..., Przegląd Nauk Historycznych 2015
2. L. Kajzer, J. Salm, S. Kołodziejski: Leksykon zamków w Polsce, Arkady 2001
3. T. Poklewski-Koziełł: Studia o zamkach średniowiecznych, IAE PAN 2012
4. L. Stefaniak: Muzeum Okręgowe Konin-Gosławice - informator, Muzeum Okręgowe w Koninie 2012
5. A. Wagner: Murowane budowle obronne w Polsce X-XVIIw., Bellona 2019

WHEN THE CASTLE WAS BUILT, PANORAMA OF THE LAKE WAS PROBABLY A BIT MORE PICTURESQUE...
Castles nearby:
Wyszyna - relics of a Renaissance castle from 16th century, 25 km
Koło - ruin of royal castle from 14th century, 37 km

---
Lo­cat­ed on the square be­tween the gra­nary and the lake, a small open-air mu­se­um of min­ing ma­chin­ery and equip­ment, where you can see the equip­ment once used in the lo­cal lig­nite mines. There are on­ly a few ex­hibits here, among them small elec­tric train with carts for trans­port­ing ex­ca­vat­ed ma­te­ri­al, a huge Sie­mens-Schuck­ert tur­bo­gen­er­a­tor from the 1920s and a no less im­pres­sive Buck­au R. Wolf A.G. Ma­gde­burg bri­quette press from 1936. A lit­tle far­ther west, oak logs from sev­er­al thou­sand years ago and the re­mains of fos­silized tree trunks es­ti­mat­ed to be....20 mil­lion years old were laid out along the path to the cas­tle. They were al­so found in the lo­cal coal mines.
---
Open-air ethno­graph­ic mu­se­um con­sist­ing of five wood­en ar­chi­tec­ture build­ings char­ac­ter­is­tic for ru­ral ar­chi­tec­ture of the east­ern Wiel­ko­pol­ska re­gion. It oc­cu­pies a small area, a lit­tle to the west of the mu­se­um, where a res­i­den­tial cot­tage from 1784, to­geth­er with a barn and a re­pli­ca of a smithy, and two his­toric wind­mills have been ar­ranged. The scenery here is com­ple­ment­ed by a white brick manor house, which is a re­pli­ca of the 18th cen­tu­ry manor house in Ru­szków near Ko­ło. It hous­es an ex­hi­bi­tion of old fur­ni­ture and in­te­ri­or dec­o­ra­tion, as well as a memo­ri­al room ded­i­cat­ed to Ko­nin writ­er Zo­fia Ur­ba­now­ska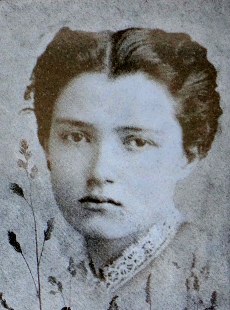 (d. 1939).
text: 2021
photographs: 2013, 2019
© Jacek Bednarek