ON THE GOMOLA HILL, BY THE RUINS OF HOMOLE CASTLE
---
I
t is believed that in the early Middle Ages a wooden-earth Slavic strong­hold op­er­at­ed on Go­mo­la hill. And al­though its ex­is­tence has not yet been ver­i­fied by ar­chae­ol­o­gists, the ar­gu­ments for such a ver­sion of his­to­ry can be pro­vid­ed by its con­ve­nient lo­ca­tion on a hill by trade route con­nect­ing Si­le­sia with Bo­he­mia, called the Pol­ish Road (Polen­weg). Such a be­lief could be con­firmed by folk tales spread­ing among the lo­cal Ger­man-speak­ing pop­u­la­tion years ago, point­ing to a very old, per­haps even ear­ly-Pi­as­tic, met­ric of the first strong­hold. These mes­sages are very vague, such as the opin­ion of the Kłodzko chron­i­cler Aelu­ruis from 1627, who dat­ed the cas­tle's cre­ation to the times be­fore the birth of Christ, or even ab­surd, such as the tes­ti­mo­ny of the lo­cal peo­ple, writ­ten in 1744, who be­lieved that Ho­mole Cas­tle was built by the dev­il him­self.
VIEW OF THE RUIN FROM THE EAST
T
he oldest preserved reference to the brick castle dates back to 1350, in­di­cat­ing Týček of Pa­no­vi­ce (d. 1359) as the own­er or ten­ant of the es­tate, then called Land­fred or Land­fre­de. The prop­er­ty re­mained in the hands of the Brou­mov fam­i­ly von Pan­nwitz (Pa­ne­wic) un­til 1392, when it was bought by the own­er of Ná­chod, the Czech knight Dě­trich of Ja­no­vi­ce (d. 1412). Af­ter him, his broth­er Jo­hann held the pow­er in these lands for a short time. In 1412 the cas­tle be­longed to Heinz von La­zan called Lef­fel (d. 1420), then in the years 1415-27 its own­er was Bo­ćek z Kunš­tátu (d. 1417), and then his son Vic­tori­nas (d. 1427), fa­ther of Jiří z Kunš­tátu a Podě­brad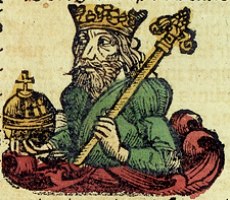 (who lat­er be­came the King of Bo­he­mia). In 1427 the fort­ress was pur­chased by the Czech knight Mi­kul­áš Trčka of Lí­pa (d. 1453), pay­ing six thou­sand Meis­sen grosh­es for it. Mi­ku­láš was a sup­port­er of the Hus­sites, which pre­vent­ed the cas­tle from be­ing de­stroyed by the Tá­bor troops, that in­vad­ed Sile­sia in 1428 dur­ing the war with Si­le­sian prin­ces and Kon­rad, Bish­op of Wro­cław. At that time, Hrad Ho­mo­le was hand­ed over to Petrk (Pe­ter) of Wol­fi­na, called Po­lak, who kept it un­til 1433, us­ing it as a base for mil­i­tary op­er­a­tions in the Kłodz­ko re­gion, Si­le­sia and Bo­he­mia. The Hus­si­tes from Ho­mo­le cas­tle took part, among oth­er ac­tions, in an as­sault on the mo­na­ste­ry in Ka­mie­niec, dur­ing which five monks were killed; they al­so con­quered the cas­tle in Niem­cza.
VIEW OF LEWIN KŁODZKI WITH THE CASTLE IN THE BACKGROUND (IN THE UPPER RIGHT CORNER), 1737
I
n 1433 the mercenary troops paid by the townsmen of Wro­cław and Świd­ni­ca de­feat­ed Pi­otr Po­lak's squad and cap­tured him. It is like­ly that he didn't pay any re­spon­si­bil­i­ty for his crimes, be­cause to­geth­er with sev­er­al oth­er Hus­site com­man­ders he was to be ex­changed for three Wrocław ci­ti­zens, who were held as host­ages at Ho­mo­le cas­tle. Dur­ing a short stay of a Po­lak in pri­son, the own­er of the cas­tle Mi­ku­láš Trčka took com­mand of its crew, in­vad­ing the Czech Cho­ceň, where he killed or kid­napped 70 towns­peo­ple. The un­rest in the re­gion did not stop with the agree­ment be­tween the up­ris­ing com­man­ders and Si­gis­mund Lux­em­burg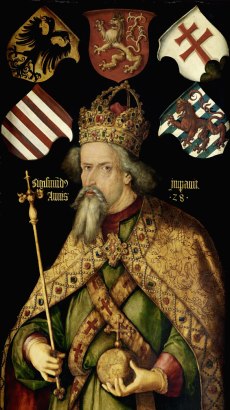 , be­cause in the 1440s the cas­tle be­long­ing to Jan Kol­da of Žam­pach (d. af­ter 1462) once again be­came a re­fuge for Ta­bo­rites and a base for dan­druff ex­cur­sions in­to the sur­round­ing lands. Kol­da of­ten stayed in Ho­mo­le, from where he or­ga­nized rob­bery ex­pe­di­tions, dur­ing which he un­suc­cess­ful­ly tried to con­quer the Kle­čkov cas­tle, which was sub­or­di­nate to the Prin­ces of Oświę­cim. He al­so took part in mil­i­tary op­er­a­tions in Kło­dzko, sup­port­ing his al­ly Hy­nek Kru­ši­na from Licht­en­burg. When, in 1441, the troops of the Wro­cław and Świd­ni­ca towns­peo­ple en­tered Na­chod, he again took re­fuge in Ho­mo­le cas­tle, from where he ne­go­ti­at­ed a cease­fire. Jan Kol­da, who was loy­al to the Pol­ish king Wła­dy­sław War­neń­czyk, took part in his strug­gle for the Hun­gar­i­an throne, and af­ter re­turn­ing from this ex­pe­di­tion in 1444 he in­vad­ed and rav­aged Bol­ków. Short­ly af­ter­wards, he sold Ho­mo­le to Hy­nek Kru­ši­na (d. 1454), and then joined the Teu­ton­ic Or­der.
DUSZNIKI AND HOMOLE IN A DRAWING BY FRIEDRICH BERNHARD WEHRNER FROM THE MID-XVIII CENTURY
The name of the cas­tle prob­a­bly comes from the Czech word ho­mo­lo­vi­ty (con­i­cal), which refers to the shape of a hill or a cas­tle tow­er for­mer­ly vis­i­ble from a dis­tance. How­ev­er, the old­est pre­served ref­er­ences sug­gest the Ger­man form of Land­frede (1366), Lan­des-Frie­de (1386) and Land­fred (1392). The term Ho­mo­le first ap­peared in 1403 and since then has func­tioned in this or sim­i­lar form along­side Ger­man­ic names: Lands­fridt alias Hum­mel (1408), Lands­fried (1414), Ho­mo­ly (1428), Ho­mel (1477), Hu­me­la (1560), Ho­me­lus (1631) or Hu­mel­schloss (1815). Af­ter the war, the place was called Za­mek Le­wiń­ski (1945), and lat­er Go­mo­la.
HOMOLE IN THE 1820S, UNKNOWN AUTHOR
GRAPHIC BY F. ROSMAESLER FROM 1821
A
fter Hynek Krušina's death in 1454, the castle and a large part of the Klodz­ko Land were sold by his son to Jiří z Kunštá­tu a Po­dě­brad, the fu­ture King of Bo­he­mia (d. 1471), who raised this re­gion to the rank of a coun­ty. It was di­rect­ly man­aged by his youngest son Jindřich z Poděbrad (d. 1498), Duke of Zię­bi­ce and Count of Kłodz­ko. At that time a man named Wen­zel Hol­ub from Pro­vu­za is men­tioned as the cas­tle bur­grave. In 1477 Ho­mo­le, to­geth­er with a huge land es­tate in­clud­ing Dusz­ni­ki, Le­win Kłodz­ki and 21 neigh­bor­ing vil­lages (called Ho­mo­le state) were fief­domed to the knight Hil­den­brand von Kauf­fung (d. 1498) and re­mained in the hands of his fam­i­ly un­til 1534. Over time, its rep­re­sen­ta­tives be­gan to use it as a place for loot­ing trips to neigh­bor­ing es­tates, spread­ing fear among the lo­cal peo­ple, who were sup­pos­ed­ly hid­ing in their homes dur­ing the day be­cause of the fear of dan­ger, and start­ed work­ing in the fields and home­steads on­ly af­ter dark. The crim­i­nal ac­tiv­i­ty of the Kauff­in­gs has fi­nal­ly be­come in­tol­er­a­ble to the au­thor­i­ties. The im­pe­ri­al army's pe­nal ex­pe­di­tion ef­fort­less­ly con­quered the cas­tle, and Si­gis­mund von Kauff­ing, who was cap­tured dur­ing this op­er­a­tion, was es­cort­ed to Vi­en­na, where he was be­head­ed on 24 Au­gust 1534, af­ter a short tri­al.
CASTLE ON THEODOR SACHSE'S LITHOGRAPHY FROM CIRCA 1840
SCENE WITH A GOMOLA IN THE BACKGROUND, C.T. MATTIS 1862
L
ater on, the castle was owned by Georg von Seidlitz for the next two decades, but it is not known whether it was still in­hab­it­ed at that time be­cause it had pre­vi­ous­ly been de­stroyed dur­ing an im­pe­ri­al siege. In 1559 the es­tate was bought by Eu­stach von Land­fried, who the same year moved to Dusz­ni­ki, where he set­tled in his own inn. From that mo­ment on, the strong­hold was aban­doned and slow­ly be­gan to de­te­ri­o­rate, which was large­ly due to the use of the cas­tle stone for oth­er con­struc­tion pro­jects. It be­came an ob­ject of in­ter­est again in the sec­ond half of the 18th cen­tu­ry, when the hill be­gan to be vis­it­ed by pa­tients from Dusz­ni­ki, ea­ger­ly com­ing here for beau­ti­ful sur­round­ings and pic­tu­resque views from the peak of Go­mo­la. An ac­cess route was then built, and a gaze­bo and a her­mit's house were erect­ed on the cas­tle grounds, trans­form­ing the ru­ins and their im­me­di­ate sur­round­ings in­to a ro­man­tic recre­ation­al area. At that time, on­ly some frag­ments of the walls and a part of the tow­er re­mained from the old cas­tle, while the in­te­ri­or lay­out was com­plete­ly il­leg­i­ble. When in 1821 the Ger­man il­lus­tra­tor and writ­er Karl Fried­rich Mosch vis­it­ed Ho­mole cas­tle, he sad­ly wrote about it that there were still some re­mains stand­ing on the ground, which to­day can­not serve as a mod­el for a paint­ing. The bi­ol­o­gist Karl Au­gust Mul­ler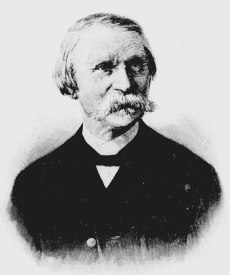 , the fu­ture co-founder of Die Na­tur mag­a­zine, spoke in a sim­i­lar tone about the his­tor­i­cal build­ing. Ac­cord­ing to him, among the old, ru­ined cas­tles of Kłodz­ko Coun­ty, the best known is Ho­mole cas­tle (...), al­though to this day there are no more than a few small re­mains. The first ex­plo­rations were car­ried out here as ear­ly as 1810, re­veal­ing some kind of un­der­ground pas­sage­way, which, how­ev­er, was buried again af­ter the work was com­plet­ed. For more de­tailed ar­chae­o­log­i­cal and ar­chi­tec­tural re­search the cas­tle wait­ed un­til the 1960s, when part of the un­der­ground was dis­cov­ered, find­ing frag­ments of me­die­val ce­ram­ics. The ru­in was al­so a silent wit­ness to the trag­ic events of the Sec­ond World War. It was here, in the vicin­i­ty of the Ho­mole cas­tle, that So­vi­et sol­diers shot their 'com­pa­tri­ots' from the Cau­ca­sus, mem­bers of the armed or­ga­ni­za­tion KONR (Комитет Освобождения Народов России) col­lab­o­rat­ing with the Ger­mans.
RUIN IN THE 1960S AND NOWADAYS
---
T
he medieval castle was relatively small. It con­sist­ed of a stone pe­ri­me­ter of walls clos­ing the court­yard with max­i­mum di­men­sions of 50x25 me­ters, in the cen­tral part of which there was a free-stand­ing, cy­lin­dri­cal berg­fried tow­er. Its height is un­known, but by anal­o­gy to oth­er cas­tles, it can be as­sumed that it orig­i­nal­ly mea­sured be­tween 20 and 30 me­ters. The en­trance to the tow­er was prob­a­bly on the sec­ond or third floor and was ac­ces­si­ble via a lad­der or ex­ter­nal wood­en stairs. The build­ing was com­ple­ment­ed by a stone res&­i­den­tial house with a chapel, lo­cat­ed in the south­ern part of the court­yard, men­tioned as ear­ly as 1577. In the north­ern part, be­tween the tow­er and the gate, aux­il­iary build­ings were lo­cat­ed.
PLAN OF RUINS ACCORDING TO BOHDAN GUERQUIN
---
O
nly a large, several meters high fragment of the stone tower
, poor­ly vis­i­ble relics of the cur­tain walls, as well as traces of a dry moat have been pre­served un­til to­day. In 2020 a new route lead­ing to the ru­ins was com­plet­ed and its im­me­di­ate sur­round­ings were re­ar­ranged, which made this place at­trac­tive al­so for those who do not nec­es­sar­i­ly like to go up the hill (as my wife said) to see some mis­er­able stones. Go­mo­la, cov­ered with beech and sycamore for­est, to­geth­er with the sur­round­ing mead­ows, is a Na­tu­ra 2000 land­scape pro­tec­tion area, com­pris­ing sev­er­al bi­o­log­i­cal­ly valu­able nat­u­ral habi­tats. In­for­ma­tion about the species of plants and an­i­mals oc­cur­ring here can be found on the boards that were set up along the route lead­ing to the top of the hill.
THERE IS A LARCHY FOOTBRIDGE LEADING TO THE FOOT OF THE HILL, IT IS SURROUNDED BY MARSHY GROUND
| | |
| --- | --- |
| | Drone friendly place. However, due to the high trees, the tra­jec­to­ry of the flight is lim­it­ed on­ly to the zone di­rect­ly above the ru­in. Fly­ing high­er, the ship is lost from our sight. |
---
T
he ruin occupies the top of Gomola Hill (733 m above sea level) on Lewinskie Hills, 4 kilo­me­ters west of Dusz­ni­ki Zdrój. From Dusz­ni­ki (or Po­lan­i­ca), take na­tion­al road no. 8 in the di­rec­tion of Ku­do­wa and near Zie­lo­ne Lu­do­we vil­lage turn right in­to a dirt road and then - be­hind the first house, turn left. At the cross­roads with the dirt road there are stops for bus­es op­er­at­ing be­tween Ku­do­wa and Kłodz­ko. From Dusz­ni­ki there is al­so a hik­ing tourist trail (marked in red). It takes about 1 hour to get to the cas­tle on foot. (map of castles in Dol­no­śląs­kie Voi­vo­de­ship)
---
1. L. Kajzer, J. Salm, S. Kołodziejski: Leksykon zamków w Polsce, Arkady 2001
2. A. Wagner: Murowane budowle obronne w Polsce X-XVIIw., Bellona 2019
3. Information provided by the Zdroje Forest Inspectorate.
Castles nearby:
Stara Łomnica - donjon from 14th century, 24 km
Kłodzko - Kłodzko Fortress from 17th-18th century, 27 km
Ratno Dolne - the ruin of aristocratic castle from 16th century, 27 km
Ścinawka Dolna - Renaissance manor-house from 16th century, 27 km
Ścinawka Średnia - donjon from 14th century, currently Renaissance manor-house, 29 km
Gorzanów - Renaissance castle from 16th century, currently the palace, 30 km
Ścinawka Górna - Sarny castle from 16th century, 30 km

---
Situated in the eastern part of Duszniki, by the road leading to Polanica, a pa­per mill built at the turn of the 16th and 17th cen­tu­ry, the on­ly sur­viv­ing and still op­er­at­ing ob­ject of this type in Pol­and and one of the few in Cen­tral Eu­rope. It is a mag­nif­i­cent ex­am­ple of Ba­roque in­dus­tri­al ar­chi­tec­ture char­ac­ter­ized by orig­i­nal en­trance pavil­ion in the form of a tow­er and beau­ti­ful carved peaks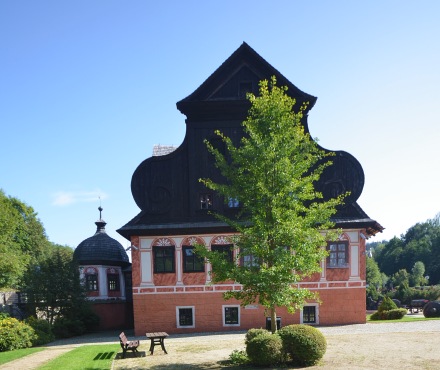 , as well as in­te­ri­or poly­chromes from the 17th-18th cen­tu­ry. The mill, which still pro­duces pa­per us­ing tech­nolo­gies from cen­turies ago, hous­es the Mu­se­um of Pa­per­mak­ing, pro­vid­ing vis­i­tors with ex­hi­bi­tions on the his­to­ry of pa­per, its role in the de­vel­op­ment of civ­i­liza­tion and its ap­pli­ca­tion in ev­ery­day life. Here you can learn about the tech­niques of pa­per pro­duc­tion, see the unique an­tique equip­ment to test its prop­er­ties, and ex­plore the fas­ci­nat­ing world of mon­ey and tech­niques of its pro­duc­tion and pro­tec­tion against coun­ter­feit­ing. The Mu­se­um al­so of­fers les­sons and work­shops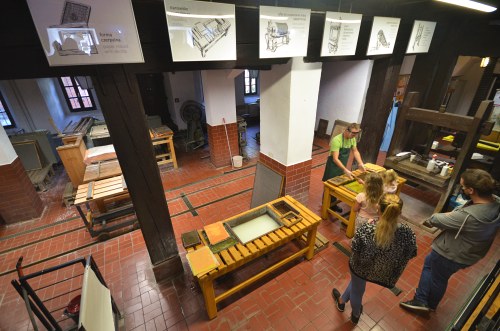 , dur­ing which you can make your own sheet of pa­per. In the lo­cal store you can buy for a few zlo­tys an orig­i­nal (and what is im­por­tant - odor­less) pa­per made...from ele­phant ex­cre­ments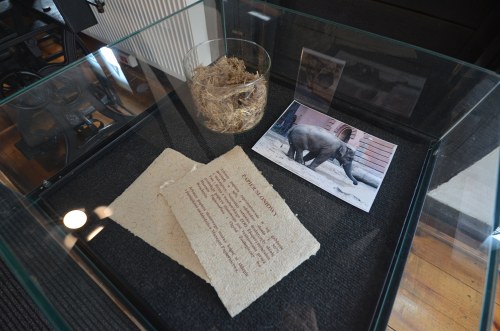 .
---
The neo-Gothic castle Leśna Skała (Waldstein), stylized as a medieval strong­hold, was erect­ed on Szczyt­nik moun­tain, east of Szczyt­na vil­lage, near the na­tion­al road No. 8 lead­ing from Po­lan­i­ca to Dusz­ni­ki Zdrój. In the 18th cen­tu­ry, a small fort was built here to coun­ter­act at­tempts to re­cov­er Kłodz­ko land by the Hab­s­burgs. It was par­tial­ly de­mol­ished in 1807, when the von Hoch­berg fam­i­ly owned this land, and in the 1830s a three-storey res­i­dence with four cor­ner tow­ers, one of which cylin­dri­cal and the oth­ers quadri­lat­er­al, was built in its vicin­i­ty. The build­ing was in pri­vate hands of Ger­man aris­to­crat­ic fam­i­lies un­til the 1920s, when it be­came the prop­er­ty of a mis­sion­ary or­der by pur­chase. Dur­ing World War II, the cas­tle was tak­en over by Wehr­macht and used as a re­ha­bil­i­ta­tion cen­ter for front sol­diers. Af­ter na­tion­al­i­sa­tion, a so­cial wel­fare center for deeply dis­abled men was opened here - at that time it was an iso­lat­ed fa­cil­i­ty, in­ac­ces­si­ble to the out­side world. The pos­si­bil­i­ty of vis­it­ing it ap­peared on­ly in 2020, when the fa­cil­i­ty was liq­ui­dat­ed, thanks to which the Kłodz­ko land was en­riched with a new tourist at­trac­tion. At the time when I am writ­ing these words, tourism in Szczyt­na is still in its in­fan­cy, and al­though the build­ing it­self can be vis­it­ed, it does not of­fer much, which makes it dif­fi­cult for me to ac­cept a tick­et price, that is too high - in my opin­ion - (6 EUR).

Near the cas­tle there is a view­point with pa­nora­ma of Dusz­nic­kie De­pres­sion with Sto­ło­we Moun­tains in the back­ground. Near­by there is al­so a mis­sion­ary's Guest­house named af­ter Fa­ther Jan Berthi­er, where you can not on­ly stay over­night but al­so vis­it a small mis­sion­ary mu­se­um. You can reach Szczyt­nik on foot or by bike/car on the as­phalt road tra­vers­ing its slopes.

text: 2020
photographs: 2020
© Jacek Bednarek