RUIN OF TORUN CASTLE, NORTH-WESTERN PART WITH THE DANSKER
---
he story about the fact, that in 1228 Kon­rad Ma­zo­wie­cki in­vi­ted the Teu­to­nic Or­der to Po­land, was pro­ba­bly he­ard by e­ve­ry child. Few pe­ople know, ho­we­ver, that the Teu­to­nic Knights' troop, which then ca­me to set­tle the Chelm­no Land, de­va­sta­ted by the Prus­sians, con­sis­ted of on­ly two knights and a small group of sold­iers! This small set un­der com­mand of Phi­lip von Hal­le and Hen­ry Bö­hme set­tled on a wood­en strong­hold on the left bank of the Vi­stu­la Ri­ver, which was na­med Vo­gel­sang. Two ye­ars la­ter a unit of fi­ve monks led by Her­mann von Balk (d. 1239) join­ed them to cross the ri­ver and mo­ve to Nie­sza­wa strong­hold, lo­ca­ted a­bout 10 ki­lo­me­ters to the west, and then or­ga­ni­ze a small brid­ge­he­ad the­re, who­se stra­te­gic e­le­ment - ac­cor­ding to the Teu­to­nic Knights' tra­di­tion - was to be a hu­ge oak sub­sti­tu­ting a to­wer. The Ger­man do­cu­men­ta­ry wri­ter Piotr from Dus­burg in the 14th cen­tu­ry Chro­ni­con ter­rae Prus­siae wro­te that the knights fought a bloo­dy bat­tle with the Prus­sians ov­er this oak. How dif­fi­cult we­re the be­gin­nings of Teu­to­nic Knights in the new a­rea can be pro­ved by the chro­ni­cler's men­tion that the friars in the new fort­ress al­ways kept bo­ats on stand­by to be a­ble to hi­de from the Prus­sians on the o­ther bank of Vi­stu­la. From this pla­ce, streng­the­ned by the ar­med for­ces pro­vi­ded by the Du­ke of Ma­so­via, they be­gan the con­quest of the land oc­cu­pied by the Prus­sians, the first sta­ge of which en­ded with the ta­king of Chelm­no in 1232. Ho­we­ver, as a re­sult of fre­quent floods, the for­ti­fi­ca­tion cal­led the oak to­wer was con­stant­ly be­ing flood­ed. This promp­ted the Teu­to­nic Knights to re­set­tle up­stre­am a­gain, in pla­ce of the old Sla­vic set­tle­ment Po­stolsk, whe­re they be­gan buil­ding brick for­ti­fi­ca­tions.
THE COURTYARD OF HIGH CASTLE, IN THE FOREGROUND FOUNDATIONS OF THE MAIN TOWER,
IN THE BACKGROUND WALLS OF THE UPPER BAILEY WITH THE BUILDINGS OF PODMURNA STREET
he stronghold inhabited by friars was pro­ba­bly al­re­ady de­stro­yed by fre­quent Prus­sian in­va­sions. Ho­we­ver, it was in such a good con­di­tion that with re­la­ti­ve­ly small fi­nan­cial ex­pen­ses it could gi­ve tem­po­ra­ry shel­ter to the or­ga­ni­sing Teu­to­nic Knights ad­mi­ni­stra­tion. Soon the wood­en-earth ram­parts, left by the pre­vious in­ha­bi­tants of the set­tle­ment, we­re com­ple­ted from the east with sec­tions of a sto­ne wall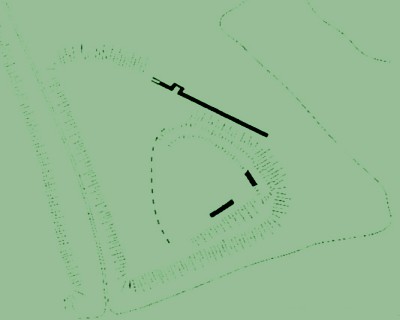 , the re­lics of which ha­ve been pre­ser­ved in the north­east­ern part of the pre­sent ru­ins of To­run cas­tle. The need to strengt­hen new brid­ge­he­ad was con­fir­med by e­vents of the first Prus­sian up­ri­sing (1242-46), when the mo­der­ni­zed for­ti­fi­ca­tion pro­ved to be one of the few that ma­na­ged to re­sist the raids of Prus­sian and Po­me­ra­nian troops. After the mi­li­ta­ry si­tu­ation in the Chelm­no Land had been con­trol­led and the an­ti-Teu­to­nic re­bel­lion sup­pres­sed, the friars be­gan to strengt­hen their po­wer on the con­que­red land. The first known To­run com­man­der was Ra­be, men­tio­ned in ye­ar 1251. At that ti­me the­re was pro­ba­bly al­re­ady a brick sout­hern con­vent hou­se or so­me part of it, whi­le in 1255 the­re is a no­te a­bout the con­stru­ction of a wall and a to­wer, re­fer­ring to a do­na­tion of 10 grzy­wnas, ma­de for this pur­po­se by bi­shop Hein­rich of Sam­bia. Al­so a do­cu­ment writ­ten by the bi­shop of War­mia, An­selm, from 1263 has sur­vi­ved, in which he grants in­dul­gen­ces to tho­se who help to build the cas­tle cha­pel. At the sa­me ti­me, a re­fe­cto­ry and then a kitch­en with a dor­mi­to­ry we­re built. Co­ming back to bi­shop Hein­rich's do­na­tion, ap­pa­rent­ly it did not con­tri­bu­te much, as the com­ple­tion of the to­wer need­ed to wait un­til the end of the 13th cen­tu­ry or e­ven the first quar­ter of the 14th cen­tu­ry. In a si­mi­lar per­iod of ti­me a dan­sker and an east­ern wing with a chap­ter­hou­se and cloi­sters we­re e­rec­ted, and the who­le was com­ple­ted by the de­ve­lop­ment of the nort­hern part of the court­yard, whe­re in the se­cond half of the 14th cen­tu­ry a one-bay wing with cells and u­ti­li­ty buil­dings we­re e­rec­ted.
A TEUTONIC CASTLE IN TORUN SHORTLY BEFORE ITS DEMOLITION, A REPRODUCTION OF W. ZIEGLER'S PAINTING
he Vistula River location of Torun made it a strong e­co­no­mic cen­ter and a sig­ni­fi­cant ex­por­ter of goods, main­ly a­gri­cul­tu­ral pro­ducts. Du­ring the pe­riod of e­co­no­mi­cal­ly sta­ble reign of Fre­de­rick von Wen­den (1397-1407), mo­re than 500 hor­ses, 3000 sheep, 400 cat­tle and a­bout 600 pigs be­lon­ged to the com­man­de­ry of To­run. In ad­di­tion to lar­ge stocks of grain (550 tons in 1400) and a­ni­mals, the cas­tle al­so had a sub­stan­tial sup­ply of lo­cal kit­chen. Me­at, its pre­pa­ra­tions and a­ni­mal fats ha­ve al­ways co­me first in the long list of pro­ducts. In 1407 in the pan­try of the con­ven­tu­al kit­chen the­re we­re 200 hal­ves of pork or beef, 240 pigs, 38 oxen (which we­re still a­li­ve), 5000 chees­es, 3 sal­ted o­xen, 4 bar­rels of but­ter, 16 bar­rels of lard, 4 cu­bic me­ters of her­ring, 2 and a half bar­rels of stur­ge­ons, 3 bar­rels of cod, 4 cu­bic me­ters of pea and 18 bar­rels of salt. In com­pa­ri­son with e­quip­ment of To­run's pan­try, the sta­te of arm­ament of the fort­ress do­es not e­vo­ke such e­mot­ions. 93 arm­ours, 82 helm­ets, 40 shields and 80 cros­sbows sto­red in the cas­tle's ar­se­nal in 1407 are much less than tho­se sto­red in the ca­pi­tal ci­ty of Mal­bork or strong Gdansk, but al­so in com­pa­ri­son with the smal­ler cen­tres in Dzierz­gon, Bal­ga and Ostró­da. Ne­ver­the­less, as one of the old­est in the Teu­to­nic sta­te, the cas­tle pla­yed an im­por­tant ro­le in the ad­mi­ni­stra­ti­ve stru­ctu­re of the Or­der. Un­til the first half of the fif­teenth cen­tu­ry, To­run's com­man­ders e­ven be­lon­ged to a small group of trust­ed ad­vi­sors to gre­at mas­ters, and one of them, Kon­rad von Er­lichs­hau­sen (d. 1449), was e­lec­ted by the chap­ter in 1441 to per­form this fun­ction. To­run was an im­por­tant cen­tre al­so due to its bor­der lo­ca­tion, as it was he­re that one of the points of sur­veil­lan­ce of Po­lish lands was lo­ca­ted.
---
A SKETCH WITH A VIEW OF THE CITY MADE BY M. ZELLER IN 1652, REMAINS OF THE CASTLE ARE SEEN IN LOWER PART ON THE RIGHT FROM THE BRIDGE
THE LETTER "I" MARKS THE AREA OF THE HIGH CASTLE
uring the Great Polish-Teutonic War of 1409-11 the ci­ty took the si­de of the Or­der, sup­port­ing its ar­my with a unit of 214 ar­med towns­pe­ople, com­man­ded by Ma­yor Al­brecht Ro­the. After the bat­tle of Grun­wald, in which two for­mer To­run com­man­ders Al­brecht von Schwarz­burg and Jo­hann von Sayn died, To­run re­sis­ted for three weeks the de­mands of the ca­pi­tu­la­tion to fi­nal­ly de­ci­de to o­pen the ga­tes and let the Po­lish ar­my in, which took pla­ce on Au­gust 7, 1410. The King en­trus­ted the ca­re of the cas­tle and the ci­ty to Cas­tel­lan of Na­klo, Win­cent of Gra­no­wo (d. 1410), and after his quick and my­ster­ious de­ath, to the Mar­shal Zbig­niew of Brze­zie, co­at of arms of Za­do­ra (d. 1425). Wla­dy­sław Ja­giel­lo ca­me to To­run with a small pro­ces­sion on 29 Sep­tem­ber 1410, ac­cor­ding to the sour­ces, ova­tio­nal­ly wel­co­med by towns­pe­ople. Po­lish chro­nic­ler, Jan Dlu­gosz re­ports: When he got off the ship, he was re­cei­ved by the who­le cler­gy and the pe­ople in a so­lemn pro­ces­sion of all chur­ches sin­ging " Your is the po­wer, Your is the king­dom" and in­tro­du­ced him to the pa­rish church of St. John. Ho­we­ver, our king and Po­les we­re not al­ways so so­lemn­ly wel­co­med in To­run. In 1404, du­ring an of­fi­cial vi­sit to the gre­at ma­ster Kon­rad von Jun­gin­gen (d. 1407), a cook pour­ed so­me slop o­ver Ja­giel­lo. Quick­ly ca­ptu­red by ma­ster's or­der and sen­ten­ced to drown­ing, she was sa­ved by the kind­ness of the king. It is not known whe­ther she did it on pur­po­se or by ac­ci­dent. At the be­gin­ning of O­cto­ber, units of the Bal­gian com­man­der Frie­drich von Zol­lern, who tried to re­gain the ci­ty from Po­lish hands, ap­pro­ached To­run. The Teu­to­nic Knights con­que­red on­ly the New Ci­ty of To­run, whi­le the­re we­re not e­nough for­ces to con­quer the cas­tle, whe­re strong u­nits of Ja­giel­lo we­re sta­tio­ned.
FRAGMENT OF THE PANORAMA OF TORUN WITH CASTLE RUINS, E. DAHLBERG 1656
he Polish occupation of the castle las­ted un­til Fe­bru­ary 1, 1411, when, by vir­tue of re­so­lu­tions of the 1. To­run Pe­ace, the crew sta­tio­ned on its ter­ri­to­ry was o­bli­ged to le­ave it. Eber­hardt von Wal­den­fels be­ca­me the To­run com­man­der, who soon a­fter ta­king o­ver the fort­ress sig­ni­fi­can­tly strengt­he­ned its fi­re po­wer. In 1413, the com­man­de­ry al­re­ady had 19 guns, in­clu­ding 4 sto­ne bul­let guns, 6 light can­nons, and 9 hark­que­bu­ses fi­ring le­ad bul­lets. In ad­di­tion, the cas­tle's ar­se­nal was e­quip­ped with 496 le­ad balls, half a cet­nar of le­ad, 3 bar­rels of gun­pow­der and half a bar­rel of salt­pe­ter. The se­at of the monks was thre­ate­ned by the Po­lish troops twi­ce mo­re, in 1414 and 1422, but at­tempts to con­quer it were in­ef­fec­ti­ve. In 1428, the cas­tle was in­ha­bi­ted by fif­teen friars, who­se na­mes are known thanks to pre­ser­ved sour­ce do­cu­ments. The sa­me re­cords show that the mem­bers of the con­vent own­ed at that ti­me, apart from arm­aments, on ave­ra­ge two or three hor­ses each, but one of the knights, Lud­wik von Lan­de­cke, as well as the hou­se com­man­dant, had as ma­ny as six hor­ses each. The pro­lon­ged Po­lish-Teu­to­nic con­flicts led to a dif­fi­cult fi­nan­cial si­tu­ation of the Or­der, which was for­ced to bor­row from rich To­run towns­pe­ople. Ho­we­ver, the­se lo­ans we­re not suf­fi­cient to co­ver the cur­rent costs of main­tain­ing the cas­tle, so that its tech­ni­cal con­di­tion in the mid­dle of the 15th cen­tu­ry was so bad that it was in dan­ger of a con­stru­ction di­sas­ter. Apart from ne­gli­gen­ce in e­xe­cu­tion of re­no­va­tion works, the con­di­tion of the walls was pro­ba­bly al­so af­fec­ted by the fi­re that de­stro­yed part of the buil­dings in 1420. The te­sti­mo­nies of wit­nes­ses of this e­vent in­form­ing that no one from the ci­ty was in a hur­ry to sa­ve, and so­me of them re­joi­ced to harm of the Or­der, cle­ar­ly shows the ve­ry bad re­la­tions be­tween Teu­to­nic Knights and in­ha­bi­tants of To­run, re­sul­ting from the op­pres­si­ve sta­te fis­ca­lism im­po­sed by the Or­der a­fter lo­sing the war with Po­land.
CASTLE DANSKER IN 1745 IN DRAWING BY G. F. STEINER
he history of Torun Castle ends vio­lent­ly in 1454, short­ly a­fter the out­bre­ak of the an­ti Teu­to­nic Up­ri­sing in Prus­sia, which turn­ed in­to a Po­lish-Teu­to­nic war. At the be­gin­ning of Fe­bru­ary, the Se­cret Coun­cil of the Prus­sian U­nion de­ci­ded to ter­mi­na­te the o­be­dien­ce to Teu­to­nic Knights' po­wer and sub­mit to the au­tho­ri­ty of the Po­lish king. To­run was one of the first ci­ties to join the Coun­cil's de­ci­sion by start­ing a re­bel­lion and as early as on Fe­bru­ary 6, 1454, To­run's towns­pe­ople be­gan fi­ring on the cas­tle, whe­re, in ad­di­tion to the per­ma­nent staff, the Teu­to­nic Knights' of­fi­cials and their fa­vo­ri­tes hid. Al­though the at­tack did not do any gre­at harm to the Teu­to­nic Knights, in the fa­ce of e­vents ta­king pla­ce in the who­le sta­te, as well as due to poor sup­plies and low mo­ra­le of de­fen­ders, com­man­der Al­brecht Kalb de­ci­ded to sur­ren­der the fort­ress on 8 Fe­bru­ary. Short­ly a­fter the cas­tle was sei­zed, the mu­ni­ci­pal coun­cil, con­tra­ry to de­ci­sion of the Prus­sian U­nion, or­de­red to de­mo­lish the mo­na­ste­ry buil­dings and cas­tle for­ti­fi­ca­tions to­ge­ther with the to­wer, so that they could not thre­aten the de­ve­lop­ment of free ci­ty in the fu­tu­re. On­ly dans­ker, the hos­pi­tal and part of the u­ti­li­ty buil­dings with mills we­re left. The cas­tle squa­re was la­ter u­sed for wa­ste sto­ra­ge, and its bai­ley was trans­for­med by buil­ding in the west­ern part the so-cal­led Shoot­ing Mo­at and the Bourgeois House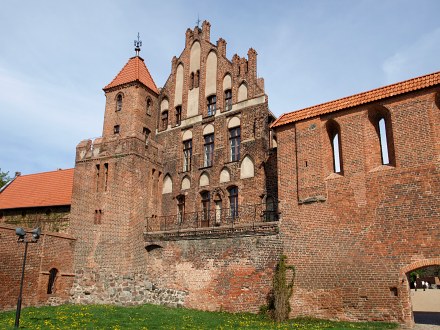 , built u­sing bricks a­cqui­red du­ring de­mo­li­tion of the fort­ress.
BOURGEOIS HOUSE BUILT ON UPPER BAILEY OF BRICKS OBTAINED FROM THE DEMOLITION OF A MEDIEVAL CASTLE, POSTCARD FROM 1910
---
LATRINE TOWER OF THE HIGH CASTLE, A DRAWING FROM THE EARLY XX CENTURY
---
CONQUEST OF TORUN CASTLE
In the morning of February 6th, there must have been anxiety at the cas­tle in To­run. It was then that a To­run coun­cil­lor ap­pe­ared in front of the walls of the Teu­to­nic strong­hold, ac­com­pa­nied by a trum­pe­ter. With his as­sis­tan­ce, it was an­noun­ced that the ci­ty de­pu­ty is de­man­ding to spe­ak to the com­man­der. This was a si­tu­ation that had not yet oc­cur­red in the en­ti­re his­to­ry of Teu­to­nic sta­te. The gre­at mas­ter's su­bor­di­na­tes did not ask, but de­man­ded a con­ver­sa­tion with the com­man­der. For two days the­re has been a gre­at con­fu­sion in To­run. The ci­ty re­vol­ted a­gainst the Or­der, le­ading ge­ne­ral an­ti-Teu­to­nic Or­der up­ri­sing. Coun­cil­lors went to the Po­lish king Ca­si­mir Ja­giel­lon­czyk, as­king him for sup­port and in­cor­po­ra­tion in­to Po­land.

The Teutonic Knights' officials and a few soldiers were able to ta­ke re­fu­ge in the cas­tle. On­ly twel­ve knights and a few sold­iers de­fen­ded the cas­tle walls. Two priests we­re to sup­port them spi­ri­tu­al­ly in their per­se­ve­ran­ce and cou­ra­ge. Eve­ry­thing was mis­sing from the cas­tle: gun­pow­der, cros­sbow bells and food. At that ti­me, the re­bel­lious To­run had al­most ten thou­sand in­ha­bi­tants. Par­ti­cu­lar­ly the com­mon pe­ople we­re in a hur­ry to at­tack the cas­tle. Ne­ver­the­less, com­man­der Al­brecht Kalb re­fu­sed to sur­ren­der and thre­ate­ned to re­pri­mand for star­ting a re­bel­lion. The towns­pe­ople be­gan a sie­ge. Can­nons we­re pul­led un­der the walls, from which the fi­ring star­ted. The re­crui­ted sold­iers we­re pre­pa­ring for the at­tack, but it did not ta­ke pla­ce be­cau­se in the mor­ning the Teu­to­nic Knights' de­pu­ty a­greed to the con­di­tions im­po­sed earl­ier by the ci­ty. Ac­com­pa­nied by ci­ty gu­ards, in­sul­ted by the towns­men, the Teu­to­nic Knights left To­run for e­ver. Im­me­dia­te­ly a­fter they left, a crowd of poor pe­ople mo­ved to the ca­stle, which was plun­de­red. Then, with ap­pro­val of the Ci­ty Coun­cil, the sy­ste­ma­tic de­stru­ction of the cas­tle walls be­gan, so that no mi­li­ta­ry gar­ri­son could e­ver a­gain thre­aten the free­dom of the ci­ty.


Extract from the book written by R. Sypek Zamki i obiekty warowne Panstwa Krzyzackiego
---
RECONSTRUCTION OF THE CASTLE FROM 1454, R. SYPEK: ZAMKI I OBIEKTY WAROWNE PAŃSTWA KRZYŻACKIEGO
t the beginning of the 17th century, part of the cas­tle walls we­re in­cor­po­ra­ted in­to the sys­tem of bas­tion ci­ty for­ti­fi­ca­tions, and the for­mer la­tri­ne to­wer was a­dap­ted to a gun­pow­der sto­re. At that ti­me, the cas­tle grounds we­re do­mi­na­ted by tan­ners and paint­ers who u­sed Stru­ga To­run­ska ri­ver to ma­nu­fa­ctu­re their pro­ducts. In the 18th cen­tu­ry, new buil­dings we­re e­rec­ted: Ge­ne­ra­low­ka, dis­til­le­ry, ci­ty hos­pi­tal and so­me of the old o­nes we­re re­built: e.g. the Bour­ge­ois Hou­se and the cas­tle mill we­re part­ly con­ver­ted in­to te­ne­ments. In the 19th cen­tu­ry a ci­ty gar­den was ar­ran­ged on the si­te of the for­mer Teu­to­nic strong­hold, and in 1815 its sout­hern part was ta­ken o­ver by a mi­li­ta­ry gar­ri­son. The first res­cue a­cti­vi­ties we­re per­for­med he­re in the 1920s, when the weak­ened walls we­re se­cu­red and the ga­te was re­no­va­ted. Ho­we­ver, wi­der ar­cha­eolo­gi­cal work be­gan on­ly in 1958, and a­part from a strict­ly re­se­arch ob­je­cti­ve, it was sup­po­sed to pro­vi­de the ba­sis for a de­tail­ed land de­ve­lop­ment pro­ject. By 1966, the court­­yard and the un­der­ground we­re ex­po­sed, whe­re cel­lar vaults we­re re­con­stru­cted and new floors we­re laid, the re­lics of the walls we­re sup­ple­men­ted, and the roof of the la­tri­ne to­wer was re­con­stru­cted, gi­ving it its o­ri­gi­nal Go­thic cha­rac­ter. In the ru­ins, which ha­ve been part­ial­ly re­vi­ta­li­zed, a branch of the Dis­trict Mu­se­um in To­run was o­pe­ned, which fun­ctio­ned in this pla­ce un­til the 1990s. In 1997, the Old Town of To­run to­ge­ther with the cas­tle ru­in was pla­ced on the UNESCO World He­ri­ta­ge List.
---
DANSKER ON POSTCARDS FROM THE BEGINNING OF TWENTIETH CENTURY
---
CURRENT STATE, PLEASE NOTE THE RECONSTRUCTED DORMERS ON THE ARCADE PORCH AND THE NEW TOWER ROOF
---
TEUTONIC COMMANDERS AT THE CASTLE IN TORUN
Rabe 1251-1254, Otto von Schleiz 1255 Hartmut von Kronberg 1257- 1259, Heinrich von Mosebach 1260-1262, Otto 1264, Heinrich 1269-1270, 1282, Albert von Ippelensdorf 1274-1277, Ludwig 1278, 1285-1286, Kuno von Hattstein 1283, Heinrich von Uberlingen 1289, Heinrich von Byern 1292, Konrad Stange 1293-1296, Konrad Sack 1299-1302, Heinrich von Dobin 1303-1306, Goswin 1309-1313, Luther von Sparenberg 1320-1326, Hugo von Almenhausen 1326-1327, Ulrich von Haugwitz 1327-1328, Heinrich Rube 1330, Marquard von Sparenburg 1331-1337, Alexander von Korner 1338, Heinrich von Bovenden 1339-1340, Dietrich von Spira 1342-1344, Johann Nothaft 1346-1350, Dietrich von Brandenburg 1352-1374, Konrad von Kalemunt 1375-1381, Baldewin von Frankenhofen 1381-1383, Siegfried Walpot von Bassenheim 1383-1384, Ludwig Wafeler 1384-1389, Wolf von Zolnhart 1389-1392, Engelhard Rabe 1392-1397, Friedrich von Wenden 1397-1407, Albrecht von Schwarzburg 1407-1410, Johann von Sayn 1410, Eberhard von Waldenfels 1411 -1413, Henryk Holt 1413-1416, Jan von Selbach 1416, Ludwik von Landsee 1416-1418, 1428-1431, Ulryk Zenger 1418-1420, Jobst von Hohenkirchen 1420-1422, Marcin Kemnate 1422-1424, Henryk Marschalk 1424-1428, Jan von Pommersheim 1431-1433, Wincenty von Wirsberg 1433-1436, Wilhelm von Helfenstein 1436-1437, 1440-1441, Konrad von Erlichshausen 1437, 1438-1440, Henryk von Rabenstein 1437-1438, Eberhard von Wesenthau 1440, Hans von Beenhausen 1441-1446, Albrecht Kalb 1446-1454,
---
RUINS OF THE CASTLE AT THE TURN OF THE 1960S AND 1970S, IN THE FOREGROUND YOU CAN SEE FOUNDATIONS OF MAIN TOWER
---
BIRD'S-EYE VIEW OF THE RUINS IN 1995, THE PHOTO COMES FROM SPOTKANIA Z ZABYTKAMI MAGAZINE
---
ituated between the buildings of dy­na­mi­cal­ly de­ve­lo­ping cen­ters of the Old and New Town, se­pa­ra­ted from them by a sys­tem of mo­ats and for­ti­fi­ca­tions, the cas­tle mo­na­ste­ry was one of the few Teu­to­nic strong­holds in Prus­sia built on an ir­re­gu­lar plan. Its sha­pe pro­ba­bly re­sul­ted from the out­li­ne of the ram­parts of the earl­ier strong­hold and the re­stric­tions re­sul­ting from the hill stru­ctu­re, but it was al­so in­flu­en­ced by wa­ter­cour­ses: the wi­de Vis­tu­la to the south, the Bos­tolz stre­am to the west, and fur­ther on, the mo­at of the Old Town, a tri­bu­ta­ry of the Mo­kra Ri­ver to the east, and fur­ther on, the so-cal­led Com­man­der's Pond. The old­est part of high cas­tle, built on a hor­se­shoe plan, was a brick pe­ri­me­ter wall and a two-sto­rey, ful­ly cel­la­red buil­ding, at­ta­ched to its sout­hern sec­tion, foun­ded on a plan of an e­lon­ga­ted rec­tan­gle me­asu­ring 12x54 me­ters and co­ve­red with a lar­ge ga­bled roof. Its cel­lars and ground floor we­re u­sed as u­ti­li­ty rooms, whi­le the first floor was u­sed as li­ving quar­ters and re­pre­sen­ta­ti­ve con­ven­tion rooms. The east­ern part of buil­ding was oc­cu­pied by the two-ais­le Cha­pel of St. Cross
. It was co­ve­red with a cross-rib­bed vault
and had an al­tar re­cess. The cha­pel was e­rec­ted the fast­est of all cas­tle cham­bers. It was a re­pre­sen­ta­ti­ve spa­ce with the rich­est de­co­ra­tion in the who­le cas­tle and ico­no­gra­phy em­pha­si­zing the mis­sio­na­ry ide­olo­gy of the Teu­to­nic Or­der in Prus­sia. It was ad­ja­cent to a si­mi­lar­ly co­ve­red re­fe­cto­ry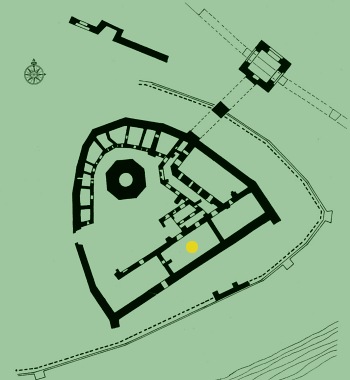 , i.e. the cas­tle's di­ning room, and the west­ern sec­tion of the sto­rey was oc­cu­pied by a dor­mi­to­ry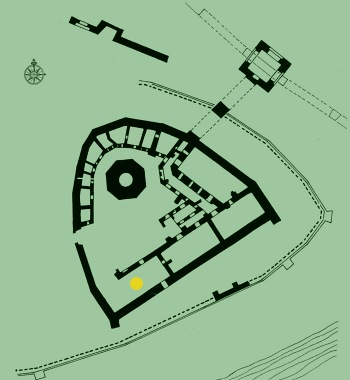 - a friars' bed­room - co­ve­red with a wood­en cei­ling. Un­der­neath it, in the one-sto­rey part of the south wing, the­re was a kit­chen, which con­sis­ted of two bar­rel vaul­ted cham­bers, equip­ped with a sto­ve with a chim­ney ba­sed on gra­ni­te co­lumns. The cel­lars lo­ca­ted ne­ar­by could be u­sed to sto­re fresh food, whi­le the at­tics oc­cu­py­ing the top floor ser­ved as a grain wa­re­hou­se.
RECONSTRUCTION OF THE CASTLE FROM BEGINNING OF THE 15TH CENTURY, BY AN UNKNOWN AUTHOR
---
t the end of the 13th century or, at the la­test, in the first quar­ter of the 14th cen­tu­ry, a two-sto­rey east­ern wing was e­rec­ted, al­so with a ba­se­ment, the cen­tral part of which was oc­cu­pied by the chap­ter­hou­se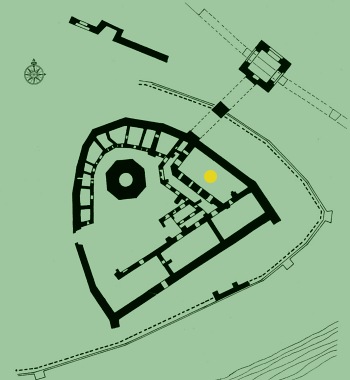 co­ve­red with a cross-rib­bed vault. It was de­co­ra­ted with sharp-ed­ged go­thic win­dows with pro­fi­led fra­mes and o­pen­work tra­ce­rys and a sharp-ed­ged re­cess un­der one of the win­dows. Un­der it, on the cross vaul­ted and bar­rel vaul­ted ground floor, the­re was a hy­po­cau­stum ty­pe fur­na­ce, sup­ply­ing warm air to the cham­ber up­stairs. From the north­east­ern cor­ner of the east­ern wing a roof­ed porch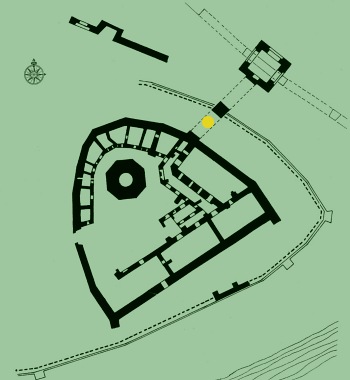 sup­por­ted on two se­mi-cir­cu­lar ar­ca­des was le­ading, con­nec­ting it with brick la­tri­ne to­wer - cal­led dan­sker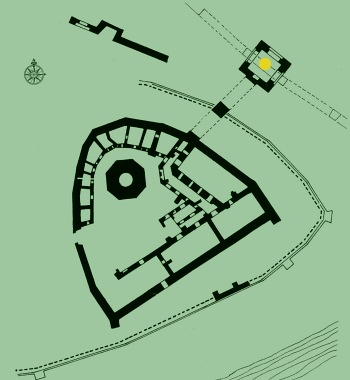 , si­tu­ated 32 me­ters from high cas­tle walls. Built on a squa­re plan with si­des of 10x10 me­ters, the to­wer was o­ri­gi­nal­ly high­er and per­haps had an o­cta­go­nal cy­lin­der top. In its west­ern pil­lar the­re was a re­ctan­gu­lar shaft (90×120 cm) run­ning through its en­ti­re height, which was o­pen at the bot­tom to­wards Stru­ga To­run­ska, whe­re the se­wa­ge was fal­ling. All rooms on the ground and floors of the south and east wings we­re con­nec­ted by a brick cloi­ster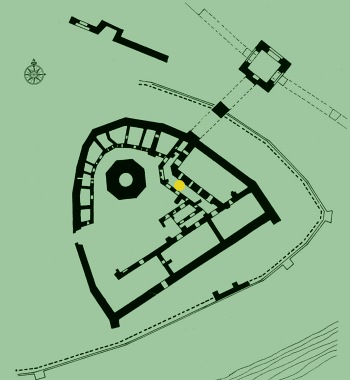 ba­sed on the ground floor ar­ca­des. It led up­stairs, along part of the south wing, to the re­fec­to­ry and the cha­pel, con­nec­ting the­se rooms with the chap­ter­house in the east wing, and then led to pri­va­te cham­ber of the com­man­der
in the north wing. Around 1400, the ar­ca­des of the cloi­ster we­re brick­ed up and small a­part­ments with po­ly­chro­me-en­crus­ted walls we­re ar­ran­ged the­re. The com­mu­ni­ca­tion fun­ctions we­re then ta­ken o­ver by a stair­ca­se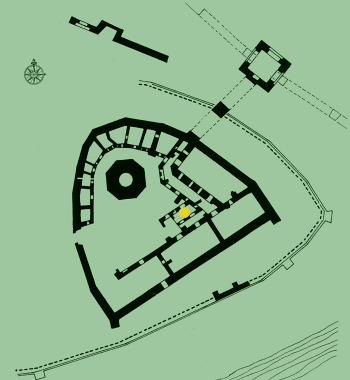 , lo­ca­ted in an an­nex stand­ing in the south-east­ern part of the court­yard.
| | |
| --- | --- |
| | |
---
| | |
| --- | --- |
| | |
---
| | |
| --- | --- |
| | |
THE RUINS OF TEUTONIC CASTLE IN TORUN, FROM THE TOP AND FROM THE LEFT:
1. VIEW FROM DORMITORY ON THE EAST WING, 2. FORMER CHAPTERHOUSE, 3. AT ENTRANCE TO THE CHAPEL,
4. CLOISTERS IN THE EAST WING, 5.6, FRAGMENT OF THE NORTH WING AND REMAINS OF THE TOWER
resumably, at the end of the 14th century, the north­ern part of the court­yard was ar­ran­ged by ad­ding a num­ber of nar­row buil­dings to the pe­ri­me­ter wall, rang­ing in width from 3 me­tres on the west si­de to 7 me­tres in the east. This wing was fil­led with a se­quen­ce of rooms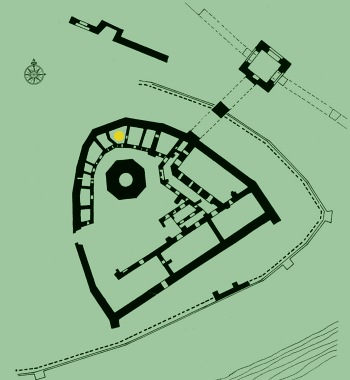 oc­cu­py­ing two or three sto­reys, which on the ground floor ser­ved as cells for friars or as dwel­lings for ser­vants, and in the wi­der east­ern part could be oc­cu­pied by se­nior of­fi­cials such for e­xam­ple the com­man­der. They we­re ad­ja­cent to the mas­si­ve o­cta­go­nal berg­fried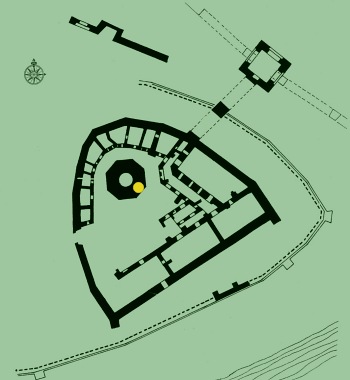 - the free-stand­ing to­wer of the last de­fen­ce with a dia­me­ter of 10 me­tres and a height of up to 40 me­tres. In its ba­se­ment the­re was a pri­son dun­ge­on, vaul­ted by a do­me with a ho­le through which pri­so­ners we­re drop­ped on a ro­pe or lad­der. The en­tran­ce to the to­wer was pro­ba­bly lo­ca­ted at the height of the crown of the pe­ri­me­ter wall, be­ing con­nec­ted to it by a wood­en porch, and com­mu­ni­ca­tion be­tween the in­di­vi­du­al sto­reys was en­su­red by a nar­row spi­ral stair­ca­se pla­ced in the thickn­ess of the wall. The up­per cas­tle was sur­roun­ded by a lo­wer ex­ter­nal de­fen­si­ve wall, in the north­ern part and in the west it was pre­ce­ded by a 10-13 me­ter wi­de trench, whi­le in the south and in the east it was pro­tec­ted by wa­ters of Vi­stu­la and Stru­ga To­run­ska.
PLAN OF THE CASTLE: 1. DORMITORY, 2. REFECTORY, 3. CASTLE CHAPEL, 4. CHAPTERHOUSE, 5. COMMANDER'S CHAMBER (?), 6. MONKS' CELLS,
7. MAIN TOWER, 8. PORCH, 9. TOILET TOWER, 10. CLOISTERS, 11. STAIRCASE, 12. ENTRANCE GATE TO THE COURTYARD, 13. INTERWALLS
---
SOUTHERN CORNER OF THE PERIMETER WALLS OF THE HIGH CASTLE
---
VIEW OF THE RUINS FROM THE NORTH-WEST, FROM THE UPPER BAILEY
he entrance to castle courtyard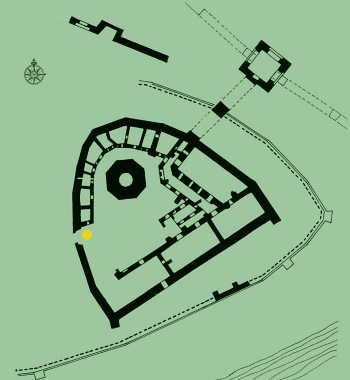 led from the west, through a ga­te le­ading to the up­per bai­ley, which was sur­roun­ded by a li­ne of for­ti­fi­ca­tions e­quip­ped with four to­wers and two or three ga­te buil­dings. The dai­ly li­fe of mo­nas­tic ser­vi­ce was fo­cu­sed on its a­rea: he­re stood a hou­se with a mint o­pe­ra­tor's flat, sol­dier's hou­ses, an in­fir­ma­ry for el­der­ly and ill friars, as well as a com­plex of farm buil­dings, in­clu­ding a­ni­mal farms, a wood wa­re­hou­se, a ba­ke­ry, a bre­we­ry, a for­ge, a co­ach hou­se and sta­bles. From the east, the cas­­tle was ad­ja­cent to the a­rea of the lo­wer bai­ley, cros­sed by a stre­am cal­led Stru­ga To­runska, over which ar­ca­de of the porch le­ading to the la­tri­ne to­wer was pla­ced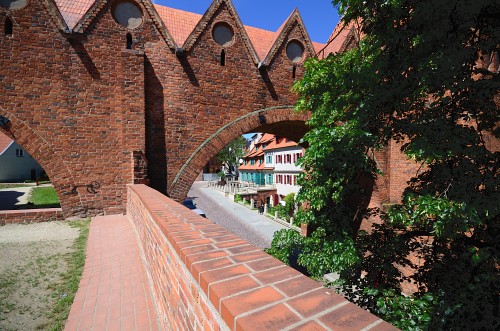 . The cas­tle mill and the Mill Ga­te con­nec­ting the cas­tle with the New Town we­re ad­ja­cent to the dans­ker. South of it, al­re­ady be­hind the walls of the fort­ress, the­re we­re mar­shy a­re­as, which in the 14th cen­tu­ry we­re a­dap­ted and trans­for­med in­to a fish pond cal­led Com­man­der's Pond. Com­mu­ni­ca­tion with the Vis­tu­la sho­re was pro­vi­ded by the se­cond east­ern ga­te of the lo­wer bai­ley - the Mint Ga­te, lo­ca­ted in the south-east­ern cor­ner of the for­ti­fied com­plex. On a nar­row strip of land be­tween the cas­tle's sout­hern cur­tain and the Vis­tu­la ri­ver­bed, from the Mint Ga­te to the Gu­ard To­wer, the smal­lest cas­tle farm, so­me­ti­mes cal­led the sout­hern bai­ley, pro­ba­bly al­so fun­ctio­ned. Ho­we­ver, this a­rea is the le­ast re­cog­ni­zed e­le­ment of the me­die­val se­at of the Teu­to­nic com­man­ders, so its spa­tial lay­out and pur­po­se are still most­ly gues­sed.
MEDIEVAL PLAN OF THE OLD AND NEW TOWN ACCORDING TO DIE BAU- UND KUNSTDENKMAELER DER KREISES THORN, 1899:
1. HIGH CASTLE, 2. UPPER BAILEY, 3. LOWER BAILEY, 4. OLD TORUN, 5. NEW TORUN, 6. CATHEDRAL OF ST. JOHN THE BAPTIST,
7. TOWN HALL IN THE OLD MARKET SQUARE, 8. BLESSED VIRGIN MARY CHURCH, 9. NEW TOWN SQUARE, 10. ST. JACOB CHURCH,
11. DOMINICAN MONASTERY (IN RUINS)
---
THE SOUTHERN CURTAIN OF THE HIGH CASTLE AS WELL AS THE REMAINS OF THE SOUTHERN MONASTIC HOUSE
---
he Castle of Torun is now a permanent ruin, part­ial­ly re­sto­red in the 1960s to com­me­mo­ra­te the vic­tor­ious war with the Teu­to­nic Or­der and re­turn of To­run to Po­land, who­se 500-ye­ar-old ce­le­bra­tions took pla­ce in 1966. The best pre­ser­ved part of the strong­hold is the toi­let to­wer and the co­ve­red porch that con­nects it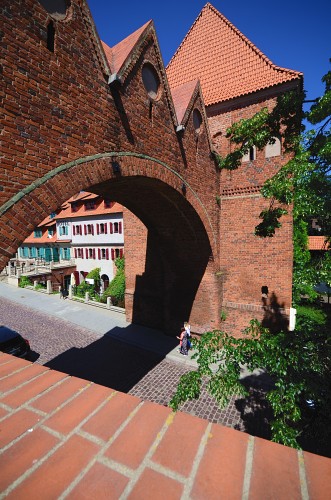 , as well as the cel­lars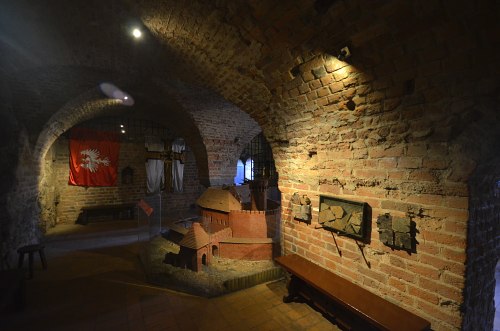 of east­ern and sout­hern wings, with re­con­stru­cted vaults and part­ial­ly re­con­struc­ted floor­ing. The pe­ri­me­ter walls of the high cas­tle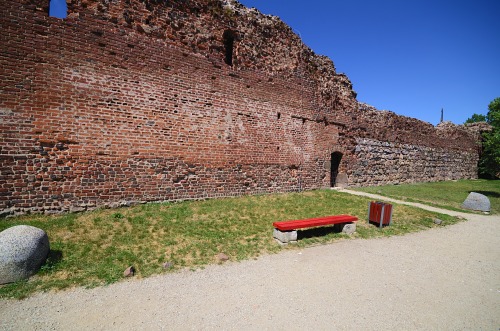 and the ru­ins of its most im­por­tant buil­dings with pre­ser­ved in­ter­nal di­vi­sions, as well as the ground floor of the main to­wer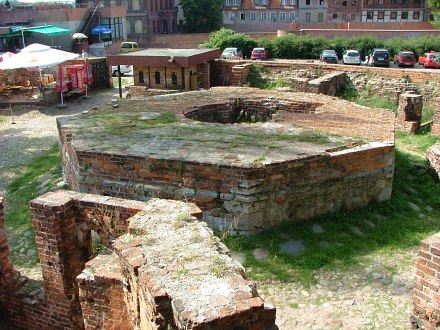 (it is worth no­ting the thick­ness of its walls), who­se fal­len parts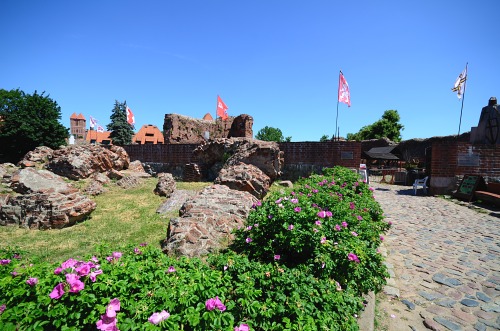 we­re left on the left si­de at the en­tran­ce to the court­yard, are still le­gi­ble but lar­ge­ly de­com­po­sed. The walls of the ex­ter­nal for­ti­fi­ca­tions, in­clu­ding so­me of the to­wers and ga­tes, as well as the for­mer cas­tle mill (after a tho­rough re­con­stru­ction a­dap­ted for a ho­tel), ha­ve sur­vi­ved to our ti­mes in good con­di­tion. Sin­ce 2007, the cas­tle is ma­na­ged by Cul­tu­ral Cen­tre of the Teu­to­nic Knights' Cas­tle in To­run, which has or­ga­ni­zed ex­hi­bi­tions on the cas­tle's ar­chi­te­ctu­re and old tools of tor­tu­re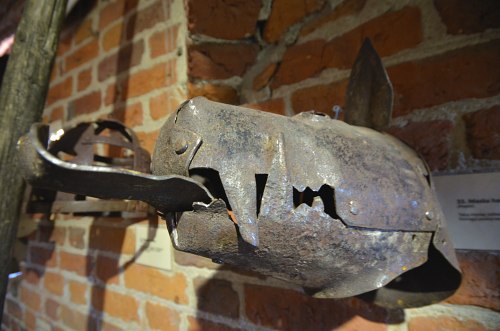 in the for­mer ba­se­ment and la­tri­ne to­wer.
---
---
---
FRAGMENT EKSPOZYCJI W GDANISKU I PODZIEMIACH ZAMKOWYCH
---
Seven thousand zlotys paid the authorities of the city of To­run for the ne­west tour­ist at­trac­tion, which will be a­vai­la­ble in dan­sker. It weighs half a ton. It was built from o­ver 100 thou­sand spe­cial­ly ma­de mi­nia­tu­re bricks. Its con­struc­tion took o­ver a thou­sand hours. We are talk­ing a­bout a mo­del of Teu­to­nic cas­tle in To­run.

Its creator is a famous amateur builder from Swiecie, Ze­non Fi­ryn, a lock­smith by pro­fes­sion. In or­der to ob­tain the most faith­ful pic­tu­re of the Teu­to­nic Knights' cas­tle, he re­ad ma­ny his­to­ri­cal do­cu­ments from that per­iod. The mu­ni­ci­pal con­ser­va­tion of­fi­cer hel­ped him in his work. Ne­ver­the­less, the mo­del is on­ly a hy­po­the­ti­cal ver­sion of what the cas­tle could ha­ve look­ed li­ke ye­ars ago. The­re are no sour­ces that would in­di­ca­te, for e­xam­ple, how ma­ny sto­reys a re­si­den­tial buil­ding had or how high the to­wer was. This we can on­ly guess.
Nowosci, 2006


---
---
he ruins of the Teutonic stronghold are lo­ca­ted on Przed­zam­cze Street, about 350 me­ters south­east of the Mar­ket Squa­re, from whe­re you can walk a­long Sze­ro­ka Street, which on the fourth block (by the dra­gon) cros­ses with Przed­zam­cze Street le­ad­ing to the south. From he­re to the cas­tle is 150 me­ters a­way. Tho­se tra­vel­ling by train should get off at the To­run Mia­sto stop, a­bout 700 me­ters a­way from ruins, and then he­ad west. Tra­di­ti­onal­ly, tho­se dri­vers who con­sis­tent­ly try to find a par­king spa­ce as clo­se as pos­si­ble to the Old Town will ha­ve a pro­blem. With a bit of luck it is pos­si­ble, even just ne­ar the cas­tle ga­te, but I re­com­mend u­sing one of the guard­ed car parks lo­ca­ted out­si­de the ve­ry cen­tre, e.g. a com­for­ta­ble un­der­ground car park in the Cen­tre for Mo­dern Art lo­ca­ted at Wa­ly Gen. Wla­dy­sla­wa Si­kor­skie­go Street. A walk to the Old Mar­ket ta­kes on­ly a few mi­nu­tes from he­re. (cas­tles in Ku­jaw­sko-Po­mor­skie Voi­vo­de­ship)
---
1. W. Antkowiak, P. Lamparski: Zamki i straznice krzyzackie ziemi chelminskiej, Graffiti BC 1999
2. M. Haftka: Zamki krzyzackie w Polsce, 1999
3. L. Kajzer, J. Salm, S. Kolodziejski: Leksykon zamków w Polsce, Arkady 2001
4. I. Malawska: Ruiny krzyzackiego zamku konwentualnego na planie nieregularnym w Toruniu..., NID
5. B. Rymaszewski: Problematyka konserwatorska zamku krzyzackiego w Toruniu, Ochrona Zab. 27/3 1974
6. R. Sypek: Zamki i obiekty warowne Panstwa Krzyzackiego, Agencja CB 2000
7. A. Wagner: Murowane budowle obronne w Polsce X-XVIIw., Bellona 2019
8. B. Wasik: Poczatki krzyzackich zamków na ziemi chelminskiej, Archaeologia Historica Polona 24/2016
9. P. Zaniewski: Szlakami zamków krzyzackich, Muza 2005
---
VIEW FROM THE EAST: IN THE PHOTO ABOVE A FRAGMENT OF THE EAST WING, IN THE BACKGROUND A PORCH OF THE LATRINE TOWER,
BELOW YOU CAN SEE THE LOWER BAILEY WITH A MILL (ADAPTED FOR A HOTEL) - IN PLACE OF COMMANDER'S' POND THERE IS NOW A FOOTBALL PITCH
Castles nearby:
Torun - ruin of the royal castle Dybów from the 15th century, 2.5 km
Mala Nieszawka - relics of the Teutonic Commanders' castle from the 14th century, 5 km
Zlotoria - ruin of the royal castle from the 14th century, 10 km
Bierzglowo - Teutonic castle from the 13th century, 21 km
Kowalewo Pomorskie - relics of the Teutonic Commanders' castle from the 13th century, 27 km
Raciazek - ruin of the bishops' castle from the 14th century, 29 km

---
Medieval City Complex in Torun, registered in 1997 on the UNESCO World He­ri­ta­ge List, which, be­si­des the ru­ins of the cas­tle in­clu­des the his­to­ric buil­dings of two for­mer­ly se­pa­ra­te ur­ban or­ga­nisms: Old and New Town, re­pre­sen­ting the best achiev­ements of Go­thic brick ar­chi­te­ctu­re in Eu­ro­pe. The cen­tral part of the Old Town, which is the se­cond a­fter Cra­co­via big­gest col­lec­tion of au­then­tic Go­thic ar­chi­te­ctu­re, is the Old Town Squa­re with Old Town Hall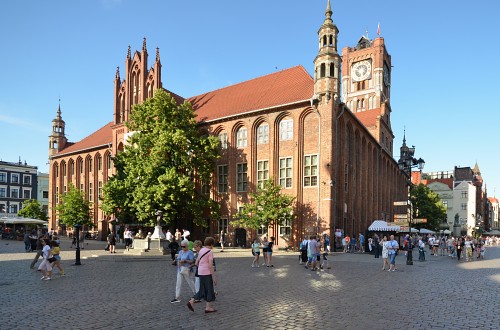 , St. Ma­ry's Church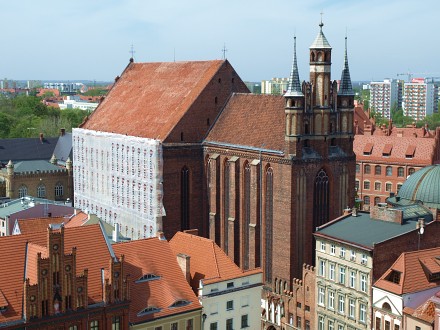 , a la­te Ba­ro­que church of the Ho­ly Spi­rit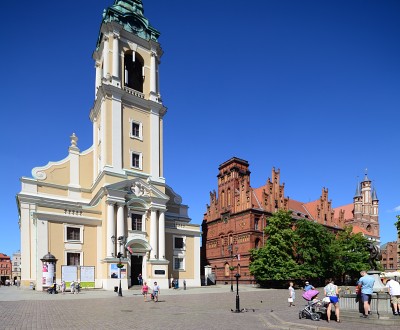 and mul­ti-co­lou­red Go­thic te­ne­ments, as well as the sta­tue of Ni­co­laus Co­per­ni­cus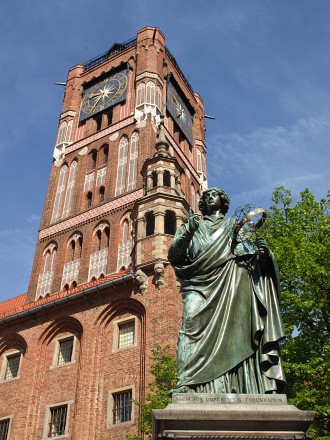 and the foun­tain with rafts­man
and gil­ded frogs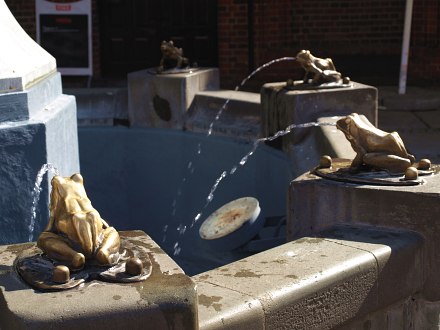 . Among the co­lour­ful buil­dings si­tu­ated a­round the squa­re, at­ten­tion is drawn to Ar­tus Ma­nor Hou­se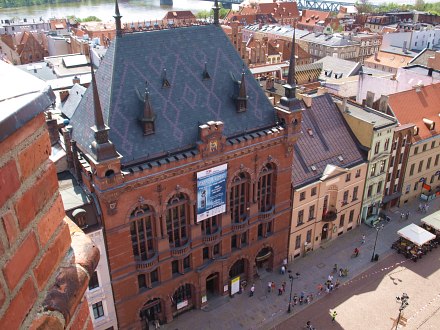 , a neo-Re­nais­san­ce co­py of the buil­ding whe­re the Se­cond To­run Pe­ace was sig­ned in 1466, as well as be­au­ti­ful bour­ge­ois te­ne­ment hou­ses, in­clu­ding Un­der the Star te­ne­ment hou­se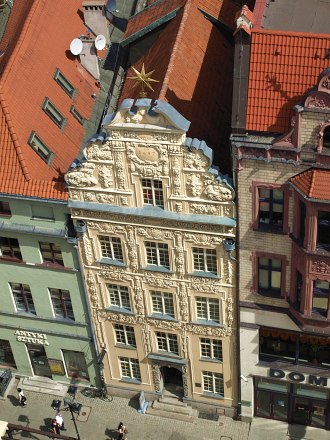 own­ed by the 15th cen­tu­ry Ital­ian hu­ma­nist and ro­yal se­cre­ta­ry Fi­lip­po Bu­ona­ccor­si. The streets le­ading to the for­mer har­bour wa­ter­front re­mind us of the Han­se­atic tra­di­tion of the ci­ty. In one of them the­re are two mer­chant te­ne­ment hou­ses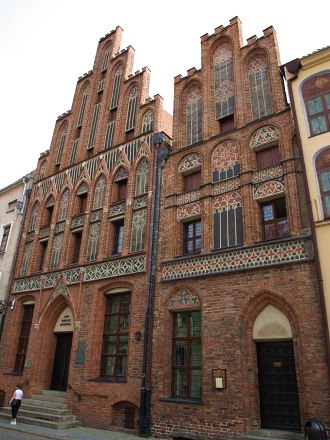 , see­ming­ly not­hing dif­fe­rent from ma­ny o­ther be­au­ti­ful e­xam­ples of Go­thic ar­chi­te­ctu­re, but e­spe­cial­ly in­te­res­ting be­cau­se of the per­son of Ni­co­laus Co­per­ni­cus, who was pro­ba­bly born in one of them in Fe­bru­ary 1473. To­day it hou­ses a mu­se­um de­di­ca­ted to the li­fe and dis­co­ver­ies of this gre­at a­stro­no­mer. One of the cha­rac­te­ris­tic points of the Old Town is the to­wer of the church of St. John the Bap­tist and St. John the Evan­ge­list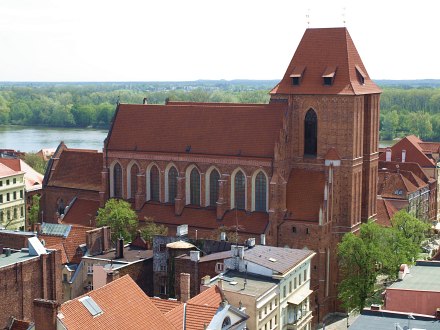 , com­mon­ly known as the church of St. Johns, with a clock pla­ced in such way that it could be seen by pe­ople from ships sail­ing by ri­ver or stand­ing in the har­bour. Its count­er­part in New To­run was the church of St. Ja­mes
built ne­ar the New Town Squa­re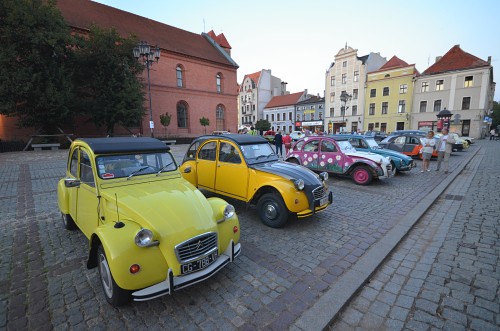 . The bor­ders of his­to­ri­cal ci­ty cen­tres are in­di­ca­ted by ve­ry well-pre­ser­ved frag­ments of me­die­val walls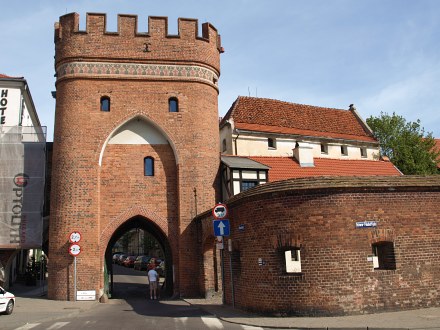 , par­ti­cu­lar­ly be­au­ti­ful on the Vis­tu­la si­de, with nu­me­rous ga­tes and to­wers. The most cha­rac­te­ris­tic, and pro­ba­bly the most fre­quent­ly pho­to­graph­ed one is the Le­an­ing To­wer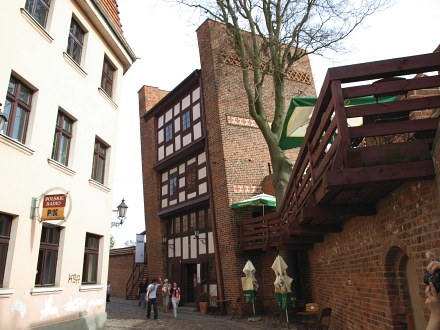 , who­se de­via­tion from the ver­ti­cal is al­most one and a half me­ters.
---
Torun is a city of great museums, so it is worth taking some time to visit at least so­me of them. In the 'must see' ca­te­go­ry, the le­ading po­si­tions are ta­ken by cen­tres de­di­ca­ted to the his­to­ry of tra­di­tio­nal To­run ba­king. One of them is the Mu­se­um of To­run Gin­ger­bread, lo­ca­ted at Stru­my­ko­wa Street, in the buil­ding of the for­mer Gus­taw Wes­se's fa­cto­ry, now be­lon­ging to Ko­per­ik con­fe­ctio­ne­ry fa­cto­ry. In its post-in­dus­trial in­ter­iors, an ex­po­si­tion has been or­ga­ni­zed on se­ve­ral the­ma­tic the­mes re­la­ted to this most po­pu­lar To­run de­li­ca­cy. One of them is Gin­ger­bread roots show­ing the be­gin­nings of gin­ger­bre­ad ma­king in To­run and the de­ve­lop­ment of this crafts­man­ship o­ver the cen­tur­ies. The in­ter­acti­ve Sen­su­al World of Gin­ger­bre­ad, on the o­ther hand, pre­sents the in­gre­dients of gin­ger­bre­ad dough and the spi­ces u­sed to ma­ke it, whi­le Gin­ger­bre­ad in the li­ving room, kit­chen, shop and club brings us back to mo­re mo­dern ti­mes by pre­sen­ting forms of its ad­ver­ti­sing, sa­le and de­gu­sta­tion. An in­te­gral part of the tour is par­ti­ci­pa­tion in work­shops, du­ring which tour­ists pre­pa­re their own gin­ger­bre­ad to ta­ke back re­ady-ma­de ba­ked goods at the end of the tour.
---
The Museum of the History of Torun is located in a fourteenth-century brick gra­na­ry, no­wa­days known as the Esken's Hou­se. It is not a pla­ce that bre­aks re­cords of po­pu­la­ri­ty a­mong tour­ists vi­si­ting the Old Town, which is a pi­ty, be­cau­se the mul­ti­tu­de and qua­li­ty of ex­hi­bi­tions puts it a­mong the gre­at­est at­tra­ctions of this be­au­ti­ful ci­ty. In the cli­ma­tic in­ter­iors of his­to­ric gra­na­ry you can see a fas­ci­na­ting ex­hi­bi­tion pre­sen­ting in a mo­dern and in­ter­acti­ve way not on­ly the his­to­ry of the ci­ty from the be­gin­nings of the set­tle­ment to mo­dern ti­mes, but al­so e­ve­ry­day li­fe of its in­ha­bi­tants in all as­pects. We be­gin our ad­ven­tu­re with his­to­ry from the ti­mes when To­run on­ly grew as the cen­tre of so­cial and e­co­no­mic li­fe of the reg­ion, and we end with a sen­ti­men­tal (for so­me) re­turn to the ti­mes of com­mu­nist re­ali­ty ac­cen­ted with e­ve­ry­day ob­jects and bo­ards de­pic­ting the most im­por­tant e­vents of tho­se days. The know­led­ge a­bout the ci­ty is com­ple­men­ted by a 3D mo­vie show­ing se­lec­ted mo­ments from its his­to­ry. Young­er tour­ists ha­ve ac­cess to e­du­ca­tio­nal rooms in the ba­se­ment, whe­re - with the help of lar­ge-for­mat puz­zles - they can ar­ran­ge buil­dings cha­rac­te­ris­tic for a gi­ven per­iod, chan­ge dum­mies in­to his­to­ri­cal cos­tu­mes or set the ta­ble with ta­ble­wa­re from the past. The Es­ken's Hou­se stands at the cor­ner of Cia­sna and La­zien­na Streets, about 150 me­ters west of the cas­tle.
---
The Philadelphia Boulevard, which is the most popular walking place in To­run lo­ca­ted out­side its his­to­ric cen­tre. The pic­tu­res­que pro­me­na­de ex­tends for al­most 2 ki­lo­me­ters a­long the sout­hern walls of the Old Town, and its u­nu­su­al na­me co­mes from Phi­la­del­phia - a part­ner ci­ty, whe­re the squa­re cal­led the To­run Triang­le is lo­ca­ted. Ye­ars ago, the­re was a har­bour wa­ter­front he­re that was fun­da­men­tal to de­ve­lop­ment of the ci­ty. To­day the on­ly ships that dock at its sho­re are ri­ver crui­sers sail­ing on Vis­tu­la. In 1969, the pla­ce was the sce­ne of fil­ming the ico­nic Po­lish co­me­dy en­tit­led The Crui­se. To­day, this fact has been re­min­ded by a gra­phi­cal com­po­si­tion pla­ced on a wall streng­the­ning the wa­ter­front, con­tai­ning the best quo­ta­tions from me­mo­ra­ble dia­lo­gu­es spo­ken by the par­ti­ci­pants of the tit­le crui­se.
text: 2020
photographs: 2012, 2015, 2019
© by Jacek Bednarek