CASTLE IN LAGÓW, BIRD'S EYE VIEW FROM THE WEST
---
mall town Lagów, si­tu­a­ted on a nar­row ist­hmus be­tween two la­kes, sin­ce an­cient ti­mes has ser­ved as a stra­te­gic point be­tween Wiel­ko­pol­ska, Po­me­ra­nia, Bran­den­burg and Si­le­sia. In the 10th cen­tu­ry, to­ge­ther with Lu­bus­kie Land, this a­rea be­lon­ged to Po­land, then it was part of the Si­le­sian dis­trict, and in the mid­dle of the 13th cen­tu­ry it be­ca­me the pro­per­ty of Ger­man mar­gra­ves. The first sur­vi­ving no­te a­bout the wood­en cas­trum La­go­we da­tes back to 1299, when the mar­gra­ves Ot­to, Kon­rad and Hen­ry dei gra­tia Bran­den­bur­gen­ses et de Lan­des­ber­ge Mar­chio­nes ga­ve it to the bro­thers Al­bert and Hen­ry von Kle­pzig as a fief, with all the ad­joi­ning lands. The von Kle­pzig fa­mi­ly pro­ba­bly lost the­se as­sets after 1323, when Lud­wig V of Ba­va­ria (+1361) took o­ver the po­wer in Bran­den­burg. The loss of land could pro­ba­bly ha­ve re­sul­ted from the Wit­tels­bachs' an­ti­pa­thy to the knights from La­gów, who se­ve­ral years earl­ier took the si­de of the Si­le­sian du­kes in a con­flict with Bran­den­burg. In 1347 the in­deb­ted Lud­wig ga­ve Hus La­go­we as a pled­ge for 400 pie­ces of sil­ver to the Or­der of St. John, who, pay­ing 100 pie­ces to the Mar­gra­ve and 300 to his cre­di­tor, We­sen­berg of Lu­busz, sig­ned a three-year le­ase a­gree­ment, which was con­ver­ted in 1350 in­to an act of ow­ner­ship with the right to build a brick ca­stle. The or­ga­ni­zer of the new a­dmi­ni­stra­ti­ve u­nit, in­clu­ding the town of Su­le­cin and a­bout twen­ty vil­la­ges, was Her­man von Wer­berg (+1371), the su­per­ior of the or­der on the east­ern si­de of El­be Ri­er. From the be­gin­ning, the La­gów com­man­de­ry was part of the Bran­den­burg Ba­li­wat, an admi­ni­stra­ti­ve u­nit with au­to­no­my with­in the Grand Prio­ry of Ger­ma­ny, co­ve­ring the east­ern part of Lo­wer Sa­xo­ny, the ter­ri­to­ry of Bran­den­burg, Mec­klen­burg, Vor­pom­mern, West­ern Po­me­ra­nia, the Lu­bus­kie Land and the west­ern bor­ders of Wiel­ko­pol­ska. The com­man­de­ry was cha­rac­te­ri­zed by a par­ti­cu­lar­ly strong po­li­ti­cal con­nec­tion with the lords of Bran­den­burg; on be­half of the mar­gra­ves, the hos­pi­tal­ler knights of­ten took ca­re of the mer­chants by con­voy­ing them on the tra­de rou­te le­ading from Wiel­ko­pol­ska to Ger­man lands. They re­cei­ved for this a fee de­pen­ding on the num­ber of hor­ses in the con­voy, as well as com­pen­sa­tion for each kil­led hor­se or pe­asant.
VIEW OF THE CASTLE FROM THE SOUTH
robably the first com­man­der of La­gow was Al­ber­tus he­res de La­go­wo, men­tio­ned in 1362, and la­ter, at least sin­ce 1372, He­nry von We­del, fol­lo­wed by Bus­so von Al­ven­sle­ben (+1432) who ma­na­ged the kom­tu­ria in 1382-92. Sup­po­se­dly, still in the ti­mes of He­nry the Hos­pi­tal­lers star­ted e­rec­ting a brick ca­stle in the form of a qua­dri­la­te­ral wall with a dwel­ling hou­se and a squa­re to­wer. At the sa­me ti­me, a dis­trict de­pri­ved of ci­ty rights de­ve­lo­ped, which soon be­ca­me the new admi­ni­stra­ti­ve, eco­no­mic and com­mer­cial cen­tre of the re­gion. Thanks to the ma­ny land grants in the se­cond half of the 14th cen­tu­ry, the or­ga­ni­sa­tion si­gni­fi­can­tly ex­pan­ded its ter­ri­to­rial ran­ge and strengt­he­ned its eco­no­mic sta­tus, gain­ing pri­ma­cy a­mong ot­her com­man­ders be­lon­ging to Bran­den­burg dis­trict. Ho­we­ver, it lost it after 1426, when the ba­li­vat's head­quar­ters we­re mo­ved to Slonsk. On 5 No­vem­ber 1460, Fre­de­rick II Ho­hen­zol­lern con­fir­med to Hos­pi­tall­ers the rights to esta­tes lo­ca­ted in Bran­den­burg March. Ac­cor­ding to the do­cu­ment, the La­gow kom­tu­ria in­clu­ded: the town and ca­stle of La­gow (Schloss La­gow, das Städt­chen), the town of Su­le­cin (Zie­len­zig, das Städt­chen) and villages Neu-La­gow, Spie­gel­berg, Bör­sten, Leich­holtz, Ta­uer­zig, Mal­cken­dorff, Pe­ters­dorff, Grosz Os­chatz, Schö­now, Co­rit­ten, Alt Kirs­sbaum, Neu Kirs­sbaum, Lin­dow, Wan­drin, Hil­de­brandt­sdorff, Dö­ber­nitz, Gra­bow, Os­trow mit der Möl­len, Gan­di­kow, Ram­pitz, Klop­peth, Mels­snitz mit der Möl­len, Lan­gen­feldt, Bor­sten, Reeh­now, Lübn and Buch­holtz. In the sa­me year, the ca­stle hou­sed a meet­ing of Ger­man de­pu­ties he­aded by Bis­hop Fre­de­rick Ses­sel­ma­ne­ni and Li­bo­rius von Schlie­ben with emi­ssa­ries of Ka­zi­mierz Ja­giel­lon­czyk, who at that ti­me we­re gu­ests in ne­ar­by Mie­dzy­rze­cz. Pro­ba­bly, La­gów com­man­der was then Hil­de­brand Sel­chow.
LITHOGRAPHY OF H. LITZMANN, 2ND HALF OF XIX CENTURY
---
VIEW OF THE CASTLE FROM TRZESNIOWSKIE LAKE ON XIX CENTURY(?) PICTURE
---
WHO WERE THE HOSPITALLER KNIGHTS?
The Order of St John was foun­ded a­round 1083 by de­ve­lo­ping the stru­ctu­res of the Hos­pi­tal of St John the Bap­tist in Je­ru­sa­lem spon­so­red by mer­chants from the Ita­lian sta­te of Amal­fi. Accor­ding to ru­le ap­pro­ved by Po­pe Pas­cha­lis II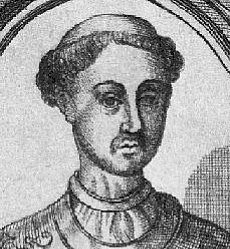 , the Or­der was to per­form two ba­sic func­tions: to pro­tect Christ­ians from at­tacks by Mus­lims and to help sick or in­ju­red pil­grims co­ming to the Ho­ly Land. In ad­di­tion to their mi­li­ta­ry and me­di­cal acti­vi­ties, the Ho­spi­tal­lers ha­ve de­ve­lo­ped tra­de, or­char­ding, port or­ga­ni­za­tion, wi­ne gro­wing, and ship­ping, in which they ha­ve pro­ven to be ma­sters. Un­li­ke the Teu­to­nic Knights, the Or­der of St. John had an in­ter­na­tio­nal cha­rac­ter, whe­re no­ble born Ca­tho­lic knights we­re re­cei­ved re­gard­less of their na­tio­na­li­ty. The friars joi­ning the re­li­gious com­mu­ni­ty vo­wed: chas­ti­ty and obe­dien­ce, which means car­ry­ing out all the or­ders of autho­ri­ty, and li­ving wit­hout pro­per­ty. They wo­re a black ha­bit and a black coat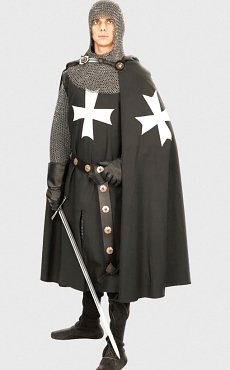 with an eight-si­ded whi­te cross, which they ex­chan­ged for ar­mour co­ve­red with a red tu­nic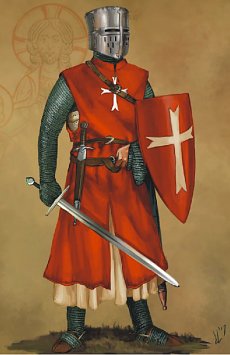 with a white cross for the ti­me of bat­tle.

After the establishment of the King­dom of Je­ru­sa­lem in 1099, the Ho­spi­tal­lers we­re an im­por­tant part of its ar­med for­ces, strengt­he­ned by a net­work of fort­res­ses built in Sy­ria and Pa­le­sti­ne. Among them stood out a hu­ge for­tress-ho­spi­tal Mar­gat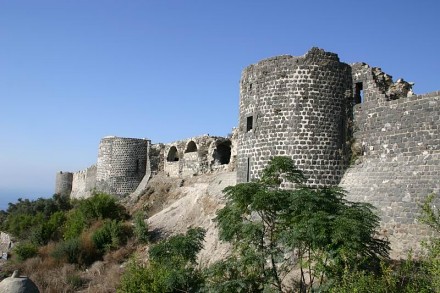 , which ser­ved as the ca­pi­tal of the Or­der after the fall of Je­ru­sa­lem, as well as the im­pres­si­ve cas­tles of Bel­voir
and Beth­gi­be­lin. Ho­we­ver, the most fa­mous and gre­atest was the Krak de Che­va­liers, gi­ven to the Ho­spi­tal­lers by the Count of Tri­po­li, Ray­mond II in 1144 and la­ter ex­ten­ded by them. Krak was the on­ly strong­hold of the Cru­sa­ders that re­mai­ned in their hands for al­most the enti­re 13th cen­tu­ry, for this re­a­son it was cal­led by Mus­lims a bo­ne in Islam's throat.



Krak de Chevaliers

After the fall of Akka, the last strong­hold of the Cru­sa­ders in Pa­le­sti­ne, the Ho­spi­tal­lers mo­ved to Cy­prus, and after the Tem­plar Or­der was li­qui­da­ted, they took o­ver much of its pro­per­ty. In 1308 they in­va­ded and con­que­red the is­land of Rho­des to esta­blish a new con­gre­ga­tion ca­pi­tal the­re. They left the is­land Rho­des after 1522, e­sca­ping from 400 ships and 160 thou­sand sol­diers un­der or­ders of the Sul­tan Su­lei­man the Great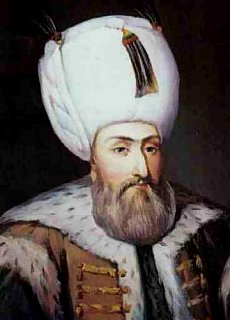 . For the next few years, the Or­der was wan­de­ring a­round dif­fer­ent Eu­ro­pe­an count­ries, and fi­nal­ly, in 1530, the Ger­man Em­pe­ror Char­les V
al­lo­wed the Ho­spi­tal­lers to set­tle in Mal­ta, whe­re they built a port and fort­ress, and from whe­re they con­ti­nu­ed their mi­li­ta­ry mis­sion of hun­ting Ot­to­man ships. In 1566 the con­vent be­gan to build a new head­quar­ters he­re - in ho­nour of Grand Ma­ster Jean de la Va­let­te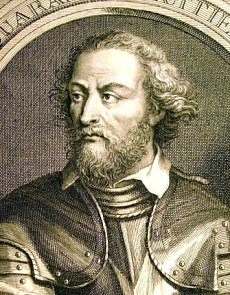 , the ci­ty was na­med La Va­let­ta.

In Malta, the Order re­si­ded sa­fe­ly un­til the Na­po­le­onic Wars, when, as a re­sult of the in­ter­ven­tion of French troops, it lost most of its lands and al­most com­ple­te­ly di­sin­te­gra­ted. Its stru­ctu­res be­gan to re­vi­ve in the mid­dle of the nine­teenth cen­tu­ry as in­for­mal, of­ten in­de­pen­dent se­cu­lar con­gre­ga­tions (the great ma­ster was, among ot­hers, the Tsar of Rus­sia Pa­vel I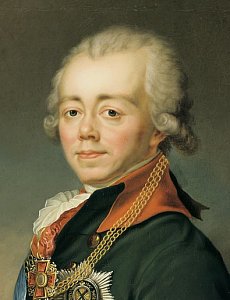 ), en­ga­ged in cha­ri­ta­ble a­cti­vi­ties, pro­vi­ding as­si­stan­ce du­ring na­tu­ral di­sas­ters and wars. To­day the Or­der of Mal­ta has a­bout 10,000 mem­bers. It still has the pre­ro­ga­ti­ves to print pass­ports, mint coins and is­sue its own po­sta­ge stamps. He is he­aded by an En­glish­man Mat­thew Fe­sting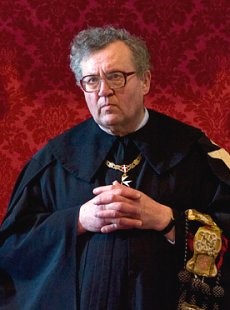 (2019).



Rodos

The Ho­spi­tal­lers ar­ri­ved in the Piast lands in the 12th cen­tu­ry in re­spo­nse to the invi­ta­tion of Du­ke He­nry San­do­mier­ski, esta­blis­hing com­man­de­ries in Za­gos­cie, Poz­nan, Ba­rdo and Strze­gom. In the area of the for­mer New March, and now the Lu­bus­kie Land and Po­me­ra­nia, they had cas­tles a­mong ot­hers in La­gów, Swob­ni­ca, Swid­win and Sta­re Draw­sko. Cur­ren­tly, about 160 ci­ti­zens of our coun­try be­long to the Or­der.

---
VIEW FROM THE SOUTH-WEST ON A POSTCARD FROM AROUND 1900, IN THE FOREGROUND THE MARTIAN GATE
---
THE LOOKING FROM THE MARCH GATE, AROUND 1915
esides estates lo­ca­ted in Bran­den­burg, the La­gów com­man­de­ry al­so ow­ned four vil­la­ges lo­ca­ted on the Po­lish si­de of the bor­der: Bo­ry­szyn, Tem­ple­wo, Za­rzyn and Wie­lo­wies. The di­vi­sion of the com­man­de­ry in­to the Po­lish and Bran­den­burg parts led to a con­flict be­tween the sta­rost of Mie­dzy­rzecz, Sta­ni­sław Mis­kow­ski, and the com­man­der, who was un­wil­ling to pay the sta­ro­sty. The cul­mi­na­ting point of this con­flict was an ar­med e­xpe­di­tion of com­man­der Veit von Thu­men (+1544) to Mie­dzy­rzecz in 1527, which en­ded with the con­quest of the town and then the sig­ning of an agree­ment o­bli­ging Ho­spi­tal­lers to pay the Po­lish si­de 2000 Rhi­ne flo­rins as a re­pa­ra­tion for the un­just­ified as­sault and da­ma­ges cau­sed by it. The Or­der, ho­we­ver, sought to re­so­lve the dis­pu­ted is­sue in a ju­di­cial man­ner and they a­chie­ved this with suc­cess, as the a­rea was fi­nal­ly in­cor­po­ra­ted in­to the Bran­den­burg Mar­ches by de­ci­sion of the mi­xed court. It seems in­te­res­ting that de­spi­te the un­fa­vo­ra­ble sen­ten­ce for Po­land, al­most un­til the end of the 18th cen­tu­ry a tax col­le­ctor from sta­ro­sty en­for­ced du­ties from th­ese a­re­as. When e­le­ctor Jo­a­chim I Ne­stor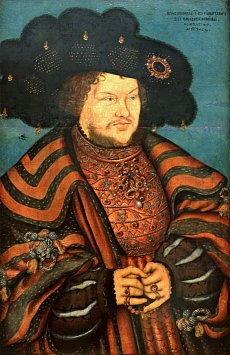 (+1535) died a few years la­ter, Jo­hann von Bran­den­burg-Küstrin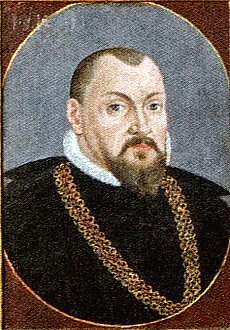 (+1571), a sup­por­ter of the Re­for­ma­tion, took o­ver po­wer a­fter him. At the end of the fourth de­ca­de of the 16th cen­tu­ry, he was con­si­de­ring se­cu­la­ri­za­tion of the order's pro­per­ty lo­ca­ted wit­hin the Mar­ches, pro­clai­ming that church in­sti­tu­tions should se­rve pri­ma­ri­ly sta­te pur­po­ses. This de­ter­mi­ned at­ti­tu­de of the mar­gra­ve, which thre­a­te­ned the exis­ten­ce of the who­le ba­li­vat, for­ced von Thu­men to act in a way that would e­na­ble the sur­vi­ving of or­ga­ni­za­tion, even at the cost of sa­cri­fi­ces in re­li­gious and fi­nan­cial mat­ters. Thus, it al­lo­wed Lu­the­ran pre­a­chers to e­van­ge­li­ze and ce­le­bra­te the mas­ses in the vil­la­ges un­der the ju­ris­dic­tion of Ho­spi­tal­lers, and mem­bers of the Or­der - to chan­ge their re­li­gious o­rien­ta­tion. Al­re­ady then, the half se­cu­lar cha­rac­ter of the Or­der and the pres­su­re from von Ho­hen­zol­lern deep­ened the up­co­ming chan­ges and con­tri­bu­ted to the ac­cep­tan­ce by the Bran­den­burg Ho­spi­tal­lers the Lu­the­ran faith. Re­or­ga­ni­za­tion of the Or­der took pla­ce a­gainst de­ci­sions of its au­tho­ri­ties, which, ho­we­ver, un­der the pres­su­re of the wa­ve of re­li­gious chan­ges co­ve­ring the north­ern part of Eu­ro­pe, we­re fi­nal­ly for­ced to ac­cept this sta­te of af­fairs. In 1543 An­dre­as von Schlie­ben (+1571) got mar­ried and be­ca­me the first mar­ried La­gow com­man­der.
| | |
| --- | --- |
| | |
A CASTLE ON COLOURED POSTCARDS FROM THE 1920S
espite the an­xie­ties ac­com­pa­ny­ing the loss of in­de­pen­den­ce of the Bran­den­burg Ba­li­vat, the town of La­gów, which had been o­pe­ra­ting sin­ce the mid­dle of the 16th cen­tu­ry un­der the pa­tro­na­ge of se­cu­lar au­tho­ri­ties, de­ve­lo­ped e­co­no­mi­cal­ly and mi­li­ta­ri­ly. The La­gów Ca­stle was al­so chan­ged, whe­re the main to­wer was rai­sed and the two-sto­rey north wing was ad­ded, and its ou­ter walls we­re re­in­for­ced by ad­ding a ga­te buil­ding and two short to­wers. Such for­ti­fied strong­hold ex­pe­rien­ced the on­ly sie­ge in its his­to­ry, when in 1640 the Bran­den­burg troops com­man­ded by gen. Bur­chard von Gold­acker tried to con­quer it in or­der to force out the Swe­dish crew. The sie­ge fail­ed - the Swe­des re­pul­sed at­tack by kil­ling 30 sol­diers and 7 of­fi­cers. In 1656, a troop of 3000 sol­diers from Wiel­ko­pol­ska un­der the com­mand of Piotr Opa­lin­ski sta­yed at the walls of the ca­stle. Its ar­ri­val was a re­ac­tion to the vio­la­tion of the bor­ders by the Bran­den­burg ar­my and the oc­cu­pa­tion of se­ve­ral towns on the Po­lish si­de of the bor­der. We do not know what ar­gu­ments Opa­lin­ski u­sed, but the fact is that he en­te­red the ca­stle and then oc­cu­pied it for se­ve­ral months un­til the sig­ning of the tru­ce, by vir­tue of which the Ger­mans com­mit­ted them­selves to with­draw from Mie­dzy­rzecz and Zba­szyn. Si­gni­fi­cant de­ve­lop­ment of La­gów was ob­ser­ved in the first de­ca­des of 18th cen­tu­ry, when Chris­tian Lud­wik von Ho­hen­zol­lern
(+1734) be­ca­me the com­man­der. On his ini­tia­ti­ve, a church was built, and the town re­cei­ved new pri­vi­le­ges with the right to col­lect ex­ci­se du­ty and or­ga­ni­ze three fairs du­ring the year. Von Ho­hen­zol­lern al­so foun­ded the town park, and at the sho­re of La­ke Trze­sniow­skie he esta­bli­shed a small zoo. The chan­ges did not o­mit the spa­tial la­yout of the com­man­dant's head­quar­ters, which re­cei­ved the cloisters in the south­ern and east­ern part of the court­yard, and la­ter - new Ba­ro­que fa­ca­des and in­te­rior de­sign.
---
PANORAMAS OF THE CASTLE FROM LAKE LAGOWSKIE, PHOTOGRAPHS FROM THE 1930S AND 1940S
n 1810, the Order of St. John in Prus­sia was can­cel­led by the e­dict of Frie­drich Wil­helm III
, and its e­sta­te was ta­ken o­ver by the sta­te in or­der to se­cu­re funds for the re­pay­ment of the war con­tri­bu­tions after lo­sing the war with Fra­nce. A few years la­ter, the king han­ded o­ver part of the for­mer com­man­de­ry, in­clu­ding the park, the zoo and six esta­tes, to Ge­ne­ral Frie­drich Wil­helm von Zas­trow (+1830). In 1832 Frie­de­ri­ke Do­ro­thea Lu­de­man (+1840) bought the ca­stle for 10,000 tha­lers and soon sold it to Ge­n­eral Wil­helm von Bar­fus-Fal­ken­berg (+1863). After the fi­re in Ju­ne 1842, which da­ma­ged the ca­stle to­wer and its cu­po­la, the ca­stle was bought by Her­mann von Op­pen, and then, by suc­ces­sion, the pro­per­ty pas­sed in­to the hands of his son-in-law, Count von Ar­nim. Sin­ce 1856, the for­mer seat of the Or­der was ow­ned by Hu­go Wrscho­wetz-Se­ker­ka von Sed­czic, Ba­ron Wurmb von Finck, Count von Pueck­ler-Lim­burg and Wan­da von Pueck­ler-Lim­burg, the last hos­tess of the ca­stle, who left La­gów in 1945. After the war, the town was in­cor­po­ra­ted in­to Po­land, and the As­so­cia­tion of Art and Cul­tu­re Hi­sto­rians took ca­re of the ne­glec­ted he­ri­ta­ge, orga­ni­zing a Cre­a­ti­ve Work Ho­use the­re. In 1962 it was ta­ken o­ver by the Hen­ryk Wie­niaw­ski Mu­sic So­cie­ty, hos­ting ma­ny out­stan­ding ar­tists and scien­tists, or­ga­ni­zing open-air art schools and pre­pa­ring mu­si­cians for in­ter­na­tio­nal com­pe­ti­tions. After the re­no­va­tion in the years 1966-71, the buil­ding went un­der the ma­na­ge­ment of the Sports and Tou­rism Cen­tre, which ar­ran­ged the­re a ho­tel for "dol­lar tour­ists".
KNIGHT'S HALL, INTERWAR PERIOD
---
IN THE COURTYARD OF LAGÓW CASTLE, INTERWAR PERIOD
---
COMMANDERS FROM LAGÓW (tenure)

* Albertus heres de Lagovo (1362) - probably the first, not confirmed by source, Lagów commander.
* Henryk von Wedel (1372-82) - a representative of a powerful noble family from the German Holstein, a close associate of Otto V. After 1372 he was probably commander of Chwarszczany.
* Busso von Alvensleben (1382-92) - previously in office as commander of Czaplinek.
* Anno von Heimburg (1403-07) - after leaving Lagów, he became a commander in Süpplingenburg.
* Bernard Bruker (-1435) - commander of Chwarszczany, accused by the Teutonic Knights of cooperation with the Polish army, and then regarded by them a traitor and deprived of the possibility of holding any office in the lands subject to Teutonic Order.
* Miklosz Colditz (1435-58) - he came from a Czech-Misnia family, and in the Order of St. John he was previously the commander in Swobnica, Süpplingenburg and Tempelhof.
* Liborius von Schlieben (1458-60) - in 1460, he was elected master of the Brandenburg balivat.
* Hildebrand Selchow (1463)
* Baltazar List (1468)
* Jakub von Barfuss (1474-90) - engaged in diplomatic affairs between Brandenburg and Poland; also participant in the war for the Duchy of Glogów, during which he was briefly imprisoned. After leaving Lagów, he held the office of Chwarszczany commander.
* Liberius von Schapelow (1505-)
* Veit von Thumen (1523-1539?) - in 1527, raised to the dignity of a Brandenburg master; since then, he has combined this function with the management of the Lagów commandery.
* Andreas von Schlieben (1541-71) - a trusted associate of Jan Hohenzollern and a follower of the Reformation. In 1543 he married as one of the first Brandenburg commanders.
* Abraham von Gruneberg (1572-81)
* Konrad von Burgsdorff (1628-52) - he was the chief fiscal officer and private councillor of the Brandenburg electorate, as well as the chief commander of all strongholds in Mark Brandenburg and the parish priest of the cathedral collegiate churches in Halberstadt and Brandenburg. Recognized as the founder of the modern Brandenburg-Prussian army.
* Georg Friedrich von Waldeck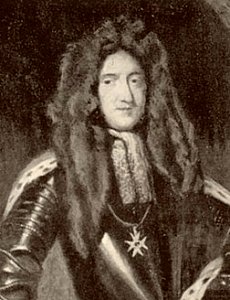 (1654-59) - a German field marshal and a Dutch general. Commander of the Brandenburg-Swedish Corps in the war with Poland, during which he failed at the battle at Prostki. He also took part in the memorable Battle of Vienna in 1683 as commander of Bavarian troops.
* von Loben (1660-68) - recommended by the elector after removal of von Waldeck from his command post as a punishment for the cooperation between the Dutchman and the Swedish army.
* Georg Friedrich von Waldeck (1668-92)
* Christian Ludwig von Hohenzollern
(1705-35) - after 1712 he extended the Lagów Castle by the fourth, eastern wing. On his commission J. S. Bach composed six concerts, which came to history as Brandenburg concerts. During the reign of von Hohenzollern, Lagow was granted town rights and a small zoo was established near the castle.
* Adam Otto von Viereck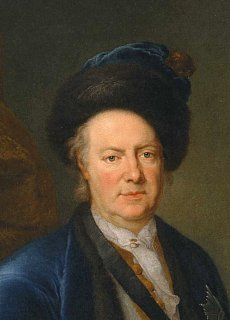 (1735-) - Prussian Minister of State and private budget advisor. He was the hereditary ruler of Weitendorf. In 1747 he became an honorary member of the Royal Prussian Scientific Society.
* Friedrich Wilhelm von Pannwitz (1765) - son of General Wolf Adolf von Pannwitz, owner of the manor house Schönfließ near Oranienburg, where he and his father created an exemplary manor house and agricultural village according to modern agricultural and forestry methods.
* Joachim von Burgsdorff (1802-10)
* Fryderyk von Hessen-Philippstahl (1810)
---
WEST WING WITH MAIN ENTRANCE
---
he Gothic ca­stle was built of brick and par­tly of sto­ne, on a plan si­mi­lar to a 30x34 me­ter tra­pe­ze. Ini­tial­ly, it con­sis­ted of re­si­den­tial hou­ses si­tu­ated in the west­ern and north­ern part of the court­yard and a to­wer e­rec­ted on the plan of a squa­re with a si­de of 8.5 me­ters, la­ter in­cre­ased in the form of a cy­lin­der, flan­king the en­tran­ce ga­te in­te­gra­ted in­to the east­ern wall cur­tain. Its lo­west sto­rey was oc­cu­pied by a small dun­ge­on me­asu­ring 3.5x3.5 me­tres, abo­ve it the­re we­re rooms for guards, then shoot­ing stands and a la­tri­ne, and the peak, which was first 17 and la­ter 24 me­tres high and top­ped with blanks, ser­ved as an obser­va­tion point and a pla­tform for shoot­ers. Ori­gi­nal­ly, the en­tran­ce to the to­wer was 13 me­tres high and was ac­ces­si­ble from the porch for de­fen­ders. The west wing pla­ced op­po­si­te the ga­te me­a­su­red 27 me­tres in length and 8 me­tres in width, and fil­led the en­ti­re length of the cur­tain. It was part­ly cel­la­red, with two rooms on the ground floor and win­dows fa­cing the court­yard. In the south­ern part the­re was a cross-rib­bed re­fe­cto­ry, and in the north­ern part - pro­ba­bly a cha­pel. The cha­pel was e­quip­ped with, among ot­her things, an al­tar de­pic­ting Ma­don­na and Child and wood­en ar­ti­facts: a cru­ci­fix and a bowl with the ima­ge of the pa­tron of the Or­der, which to­day is in the col­le­ction of the Na­tio­nal Mu­se­um in Poz­nan. Even be­fo­re 1533, the re­fe­cto­ry was di­vi­ded in­to smal­ler rooms with an ar­mou­ry, a court­room and - pro­ba­bly - a sol­dier's room. The West Ho­use floor and both floors of the North Buil­ding fil­led the li­ving quar­ters, in­clu­ding the cham­bers of the ma­ster, the com­man­dant and his court­iers. The re­mai­ning, south­ern part of the floor of the west wing was oc­cu­pied by the vi­si­tors' area, men­tio­ned in 1533 as Grroey gast­ka­mern. Ho­ri­zon­tal com­mu­ni­ca­tion be­tween in­di­vi­du­al cham­bers was pro­ba­bly car­ried out by means of wood­en cloi­sters and por­ches run­ning a­long the top of the wall, while ver­ti­cal com­mu­ni­ca­tion was car­ried out by means of wood­en stairs at­ta­ched to ex­ter­nal walls.
| | |
| --- | --- |
| | |
GATE NECK LEADING TO THE COURTYARD FROM THE EAST / IN THE TOWER
---
VIEW FROM THE TOWER ON THE ROOFED COURTYARD AND THE POLISH GATE
he residential and uti­li­ty buil­dings we­re clo­sed from the east and south with a cur­tain wall top­ped with a cre­nel­la­tion, with an en­tran­ce to the court­yard pre­ce­ded by a long wood­en brid­ge. Pre­su­ma­bly, at the turn of the 14th and 15th cen­tu­ries, the high ca­stle was sur­roun­ded by a li­ne of brick walls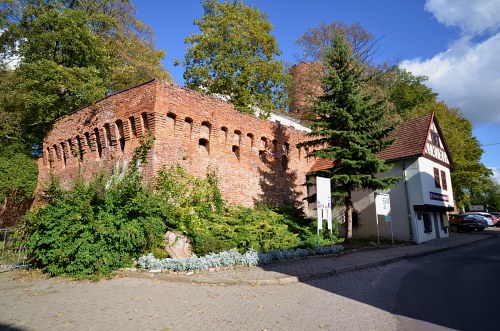 me­a­su­ring 70x70 me­tres and 8 to 11 me­tres high, which, in spi­te of its de­fen­si­ve tasks, al­so ser­ved as a sup­por­ting stru­ctu­re for the ar­ti­fi­cial­ly e­rec­ted ca­stle hill. This ad­di­tio­nal pe­ri­me­ter in the north­ern and west­ern parts was e­quip­ped with two se­mi­cir­cu­lar ba­stions, and in the south­ern cur­tain with den­se­ly spa­ced shoot­ing stands and wood­en ho­ards. The third li­ne of de­fen­se of the or­der's seat we­re the town walls sur­roun­ding the for­mer bai­ley with the 15th cen­tu­ry Po­lish Ga­te in the south-east­ern part and the Ger­man Ga­te e­rec­ted in the 16th cen­tu­ry at the south-west­ern en­tran­ce. In the 16th cen­tu­ry, the to­wer was rai­sed and a ga­te to­wer was ad­ded to the east­ern cur­tain, which was la­ter in­cor­po­ra­ted in­to the en­tran­ce neck and co­ve­red with a man­sard roof. At the end of the cen­tu­ry, the north­ern wing was re-erec­ted, and in the 17th cen­tu­ry - after the end of the Thir­ty Years' War - the hou­sing was sup­ple­men­ted with a south­ern wing, whe­re in ad­dit­ion to the kit­chen, a ba­ke­ry, a bre­we­ry and meat and cheese wa­re­hou­ses we­re lo­ca­ted. The for­mer ar­mou­ry in the west wing was then trans­for­med in­to ge­wol­bte Fleich­kam­mer - a meat pan­try for the neigh­bou­ring ki­tchen.
THE CONTEMPORARY PLAN OF THE CASTLE, THE MEDIEVAL WALLS ARE MARKED WITH A GRID, AND THOSE FROM THE XVII-XVIII CENTURY ARE HATCHED:
1. WEST WING, 2. SOUTH WING, 3. NORTH WING, 4. MAIN TOWER, 5. GATE NECK, 6. MAIN STAIRCASE, 7. ARCADES AT THE EASTERN WALL
SOURCE: LEKSYKON ZABYTKÓW POMORZA ZACHODNIEGO
---
PLAN OF CASTLE FORTIFICATIONS ACCORDING TO H.E. KUBACH: 1. CASTLE, 2. EXTERNAL WALL,
3. BASTIONS, 4. TOWN WALL, 5. GERMAN GATE, 6. POLISH GATE, 7. CHURCH
uring the Ba­ro­que mo­der­ni­za­tion of the ca­stle, an east­ern cur­tain of the walls was built up with two-sto­rey ar­ca­des, and a stair­ca­se le­ading di­rec­tly to the court­yard was ad­ded to the ga­te to­wer. A ga­te was for­med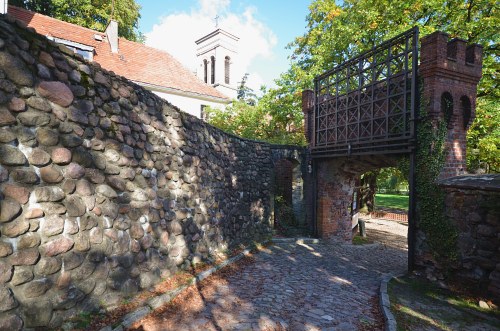 in the south­ern part of the east­ern cur­tain of the ou­ter pe­ri­me­ter, from whe­re a dri­ve­way was led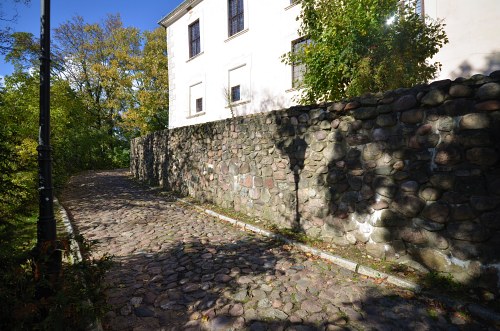 a­long the south­ern wing to the en­tran­ce lo­ca­ted in the west­ern wing. The in­te­riors of the west wing, whe­re the stair­ca­se was built and new fi­re­pla­ces we­re in­stal­led, we­re al­so trans­for­med. The ex­te­rior e­le­va­tions of all buil­dings we­re ar­ran­ged by in­tro­du­cing a re­gu­lar la­yout of win­dows and por­tals, then their cor­ners we­re pla­ste­red and fi­ni­shed with pi­la­sters. The last si­gni­fi­cant mo­di­fi­ca­tions in ar­chi­te­ctu­re and de­co­ra­tion we­re ma­de in the first half of the 19th cen­tu­ry, when the north­ern and south­ern wings we­re en­ri­ched with new en­tran­ces, and the lar­ge hall in the west­ern wing was di­vi­ded in­to four smal­ler rooms.
CROSS-SECTION OF THE CASTLE ALONG THE NORTH-SOUTH AXIS, IN THE CENTRAL PART THE ELEVATION OF THE WEST WING VISIBLE FROM THE COURTYARD
---
CASTLE IN LAGÓW, VIEW FROM THE RAILWAY VIADUCT IN THE EASTERN PART OF THE TOWN
---
he pre­sent-day ap­pe­aran­ce of the ca­stle is the re­sult of its Ba­ro­que re­con­struc­tion and trans­for­ma­tion of the 19th cen­tu­ry, but un­der­neath this form the­re are al­most en­ti­re­ly pre­ser­ved me­die­val walls. To­day, the Go­thic cha­rac­ter is re­pre­sen­ted on­ly by the to­wer and frag­ments of the de­fen­si­ve walls, and in­si­de - by a room in the west wing co­ve­red with a cross-rib­bed vault, pre­su­ma­bly se­pa­ra­ted from the mo­na­stic re­fe­cto­ry, as well as the cel­lars lo­ca­ted un­der­neath. The Ba­ro­que de­co­ra­tions are re­pre­­sen­ted by the re­mains of stuc­co or­na­men­ta­tion and fi­re­pla­ces. The ca­stle be­longs to the mu­ni­ci­pa­li­ty, which le­ases it to a pri­va­te com­pa­ny, run­ning a ho­tel with a con­fe­ren­ce cen­tre, res­tau­rant and ca­fé. The ca­stle is not open to the pu­blic, but du­ring the sum­mer se­ason a to­wer with a vie­wing pla­tform is avai­la­ble for tou­rists, whe­re you can a­dmi­re the char­ming pa­no­ra­ma of the town and its sur­round­ings with la­kes: Trze­sniow­skie (Ciecz)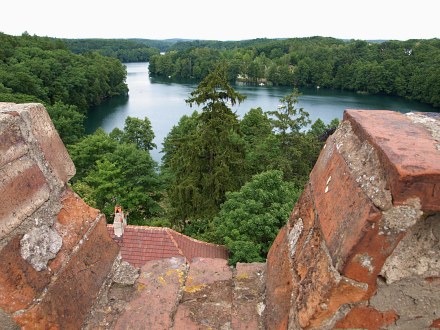 and La­gow­skie
. From the south, the ca­stle is ad­ja­cent to a hi­sto­ric small-town buil­ding, which stre­tches o­ver a 120-me­tre se­ction of road clo­sed by the Ga­tes: Ger­man and Po­land. On the west­ern si­de the­re is a small am­phi­the­atre which is a­re­na for Lu­bus­kie Film Sum­mer or­ga­ni­zed he­re.
---
---
THE CASTLE IN 2019, ABOVE THE VIEW FROM THE SOUTH-WEST, BELOW FROM THE EASTERN GATE SIDE
AND FROM THE WEST ON THE COBBLED DRIVEWAY ALONG THE SOUTH WING
---
he town is lo­ca­ted ap­pro­xi­ma­te­ly half­way be­tween Go­rzów Wiel­ko­pol­ski and Zie­lo­na Gó­ra, a few ki­lo­me­tres north of the A2 high­way in Poz­nan-Swie­cko se­ction. La­gow can be re­ached by bu­ses from Zie­lo­na Gó­ra, but they run on­ly se­ve­ral ti­mes a day. Du­ring the se­ason it is so­me­ti­mes crow­ded he­re, so par­king your car in clo­se vi­ci­ni­ty to the ca­stle can be a chal­len­ge. The­ore­ti­cal­ly, it is pos­si­ble at Kos­ciusz­ki Street, just next to the south­ern cur­tain of the walls, or on the squa­re at Zam­ko­wa Street, but I re­com­mend he­ading straight to the lar­ger car park lo­ca­ted at Mostowa Street, from whe­re we ha­ve a­bout 400 me­ters to the for­mer seat of the Or­der. Being clo­se to this car park, it is worth clim­bing the hi­sto­ric rail­way via­duct, about 100 me­ters away, from which you can o­bser­ve the ca­stle from an in­te­res­ting per­spe­cti­ve, inac­ces­si­ble from its clo­se vi­ci­ni­ty.
---
1. D. Hein: Zamki joannitów w Polsce, Poznan 2009
2. L. Kajzer, J. Salm, S. Kolodziejski: Leksykon zamków w Polsce, Arkady 2001
3. K. Stepinska: Palace i zamki w Polsce dawniej i dzis, KAW 1977
4. A. Wagner: Murowane budowle obronne w Polsce X-XVIIw., Bellona 2019
5. K. Wasilkiewicz: Templariusze i joannici w biskupstwie lubuskim, UAM Poznan 2016
6. K. Wasilkiewicz: Zarys dziejów komandorii joannitów w Lagowie..., Studia Europaea Gnesnensia 10/2014
7. K. Wasilkiewicz: Zarys dziejów baliwatu brandenburskiego..., Studia Europaea Gnesnensia 18/2018
8. K. Wronski: Zamek w Lagowie w swietle najstarszego inwentarza z 1533 roku, Rocznik Chojenski 2018
PANORAMA OF THE TOWN FROM CHROBRY STREET
Castles nearby:
Swiebodzin - relics of duke's castle from the 13th-14th century, 21 km
Miedzyrzecz - the ruin of the 14th century royal castle, 26 km
---
| | |
| --- | --- |
| | Situated to the east of the ca­stle, the neo­clas­si­cal church of St. John Bap­tist from 1726, ex­ten­ded in 1887 with a to­wer and a tran­sept. In­si­de the tem­ple the­re are gal­ler­ies, as well as se­ve­ral tomb­sto­nes from se­cond half of the 16th cen­tu­ry in the la­te Re­nais­san­ce sty­le, ori­gi­nal­ly lo­ca­ted in the cha­pel of the ca­stle, among others Com­man­der of La­gów An­dre­as von Schlei­ben and his son, al­so An­dre­as. |
| | |
| --- | --- |
| | Located between the ca­stle and La­ke Trze­sniow­skie, a small beech park with an old trees, found­ed in the 18th cen­tu­ry on the ini­tia­ti­ve of Chris­tian von Ho­hen­zol­lern. Par­ti­cu­lar­ly in­te­res­ting he­re is the beech with al­most ho­ri­zon­tal bran­ches, whose crown is over a do­zen me­ters in dia­me­ter. Hi­king trails lead from the park to La­gow­sko-Su­le­cin­ski Land­sca­pe Park. Ne­ar­by the­re is a small ma­ri­na whe­re you can rent pe­dal boats in the se­ason. |
| | |
| --- | --- |
| | Marchijska Gate, al­so so­me­ti­mes cal­led Ger­man Ga­te, clo­sing the area of the for­mer bai­ley from the south-west­ern si­de. It is one of two me­die­val town ga­tes of La­gów. It was e­rec­ted in the 16th cen­tu­ry, in the lo­wer part ma­de of brick, in the up­per part ma­de of wood and clay fil­led with plant stuff (half-tim­be­red con­struc­tion). Cur­rent­ly the­re are guest rooms he­re. |
| | |
| --- | --- |
| | Standing in the south­east­ern part of the hi­sto­ric ur­ban area Po­lish Ga­te, al­so cal­led Poz­nan­ska Ga­te. It is a two-sto­rey buil­ding e­rec­ted of brick, co­ve­red with a ga­ble roof. Un­der the Po­lish Ga­te - as in the ca­se of the Ger­man Ga­te - a nar­row pas­sa­ge was car­ved, in which traf­fic is con­trol­led by traf­fic lights. Due to si­ze of the ho­les in both ga­tes, trucks and co­aches can­not pass through them. |
text: 2020
photographs: 2008, 2019
© by Jacek Bednarek